NAJGA E-News
August 2015
Message From the Board President
Dear

NAJGA Friend / Member,
Gardens are magical places. They connect us to nature, to ourselves, and to each other. At NAJGA's Midwest regional workshop, "It's All in the Details," 45 guests and 15 NAJGA facilitators, under the dynamic leadership of John Powell, connected to learn new skills and create a nobedan path at Como Park's magnificent Ordway Japanese Garden. We then toured four more compelling public and private gardens with talks by gardens designers, patrons and curators. Be sure to read the reports by NAJGA members Marcia Meggs and Scott Solomonson to learn how and why this event, and by extension the forthcoming programs listed below, are so valuable to garden enthusiasts and garden professionals.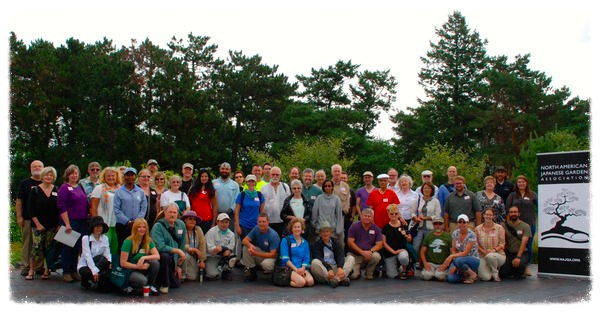 August 7 Workshop Participants in Como Park, St. Paul, MN
The next opportunity to connect is at our East regional meeting, "Fostering Mature Cultural Landscapes," in New York on October 1st and 2nd. We thank The Pocantico Center and Rockefeller Brothers Fund for hosting us on Thursday. And we deeply appreciate Scholten Japanese Art as a sponsor of the Friday tour, and for suggesting that the art of Japanese gardens can also be enjoyed through Japanese landscape prints and paintings.

NAJGA is pleased to announce that we have opened registration for our final 2016 regional, "Branching Out in the South," at the Sarah P. Duke Gardens in Durham, NC on October 22nd and 23rd.

These regional events gather Japanese garden enthusiasts and professionals so you can learn from each other, share your experiences, and make connections. They also build momentum for our 2016 international conference, which we will announce very soon.
Please plan on making an early March trip to somewhere warm and lovely.

After the Twin Cities workshop, I dined with several of the participants, both now working to create and maintain Japanese gardens in the Midwest. I asked how they entered the field and heard two wonderful responses. The first said that in 2009, curious about Japanese gardens but knowing no one, he attended the International Conference on Japanese Gardens Outside Japan in Long Beach. There he met someone who introduced him to John Powell, who invited him to create gardens together. The next person told a similar tale: with curiosity but no connections, he went to the 2010 conference in San Diego where he met a garden maker who offered him a job in Japan. Indeed, gardens—and garden events—offer us opportunities to be inspired and restored, and to connect with people who share our passion. That is magical.


Respectfully,

Ken Brown
---
Transportation & Hotel Update
"Fostering Mature Cultural Landscapes:
The Japanese Gardens Of New York"
Symposium & Garden Tour

October 1-2, 2015

The Pocantico Center and the Japanese Garden at Kykuit
Brooklyn Botanic Garden - Innisfree Garden
Hammond Museum & Japanese Stroll Garden

On October 1 (Thursday), NAJGA will provide transportation from mid-town Manhattan to The Pocantico Center/Kykuit and back. Details on place and time of pick-up will follow closer to the date.

Because of the many hotel options in New York City, NAJGA is not offering a preferred hotel, but encourages out-of-towners to stay somewhere that allows direct access to mid-town on Thursday morning, and the Brooklyn Botanic Garden (reached easily by subway) on Friday morning.
​
Registration for the October 1 symposium is limited to 30 participants so reserve your slot now!

---
Online Registration Now Available
"Branching Out In the South"
Pruning Small Trees & Shrubs
In the Japanese Tradition
October 22-23, 2015

Sarah P. Duke Gardens, Culberson Asiatic Arboretum
Durham, North Carolina

The event will feature two days of in-depth pruning workshops and lectures led by nationally recognized experts in the field. It will also mark the public opening of Pine Clouds Mountain Stream 松雲渓、, the new Japanese garden in the Culberson Asiatic Arboretum at Duke Gardens with a pre-workshop reception on October 21.

This auspicious occasion also includes a private garden visit, garden history lecture and open forum for regional garden professionals. Finally , visitors have a unique opportunity to sample some great Southern fare in a garden setting through an optional farm-to-fork dinner.
REGISTER
---
Welcome, New Members!
Katherine Martin
New York, NY
Dorothy Linblade
Eagan, MN
William Linblade
Eagan, MN
Milo Mietzner
St. Paul, MN
Nancy Olson
Hamden, CT
Patricia Pukkila
Chapel Hill, NC
Yoshinobu Shiota
Owings Mill, MD
Kathleen Shiota
Owings Mill, MD
Jonathon Cummings
Durham, North NC
Current members, please update your membership profiles.
NAJGA occasionally receives inquiries for garden-related products and services from other members and the general public. If you're a garden professional or business owner, an updated and complete membership profile as well as an optional listing in the members' directory might pave the way for new professional or business opportunities.
LOG IN
---
MEMBER SPOTLIGHT
---
Learning About Japanese Gardens in Minnesota
"It was great to learn from instructors who are some of the most skilled artisans in their field...," writes long-time NAJGA member Dr. Marcia Meggs of Olympia Fields, Illinois about her participation in the recently concluded NAJGA regional event in Minnesota.
She also relished the "invaluable learning experience" of finally visiting a garden she had only seen in a video before and gaining insights on garden maintenance and upkeep.

---
Creating A Nobedan In A Day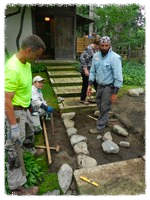 NAJGA member and Minnesota workshop facilitator
Scott Solomonson
writes about the challenge and excitement of completing a
nobedan
and
tobi ishi
project in one day for the Charlotte Partridge Ordway Japanese Garden
in St. Paul, MN.
"It was a true group effort and everyone seems to be enjoying the challenge...Going through the frustrations and victories together was a real learning experience."
Scott writes about the nobedan-making portion of the workshop.
Scott (left) with fellow workshop facilitators
Hiro Kamoshita and Nick Esthus.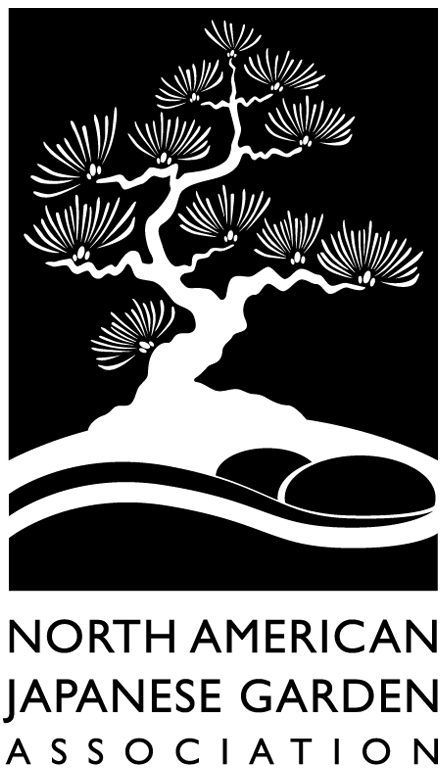 Promoting the Art, Craft and Heart of Japanese gardens
in the USA and Canada.
---
---
August 28
Exhibition Tour:
Discovering Japanese Art
American Collectors
and the Met
The Metropolitan Museum
of Art, New York, NY
August 29
49th Annual
Moonviewing Concert
Hammond Museum
& Japanese Stroll Garden
August 29
Kezuroh-kai Mini
Japanese Woodworking
Festival
Mokuchi Woodworking
Brooklyn, NY
August 29
Moon Viewing
Festival
Seattle Japanese Garden
Seattle, WA
August 30
3rd Philadelphia
Obon
Festival
Clark Park, Philadelphia, PA
August 31
Sounds of Antiquity - Gagaku
Storrier-Stearns Japanese Garden
Pasadena, CA
September 9
Stroll For Wellbeing
Fall Program
The Bloedel Reserve
Bainbridge Island, WA
September 11
Japanese Bamboo &
The World Expo:
A Century of Discovery
Japanese Friendship Garden
San Diego, CA
September 10
The Japanese Tea Ceremony: Tea For All Nations Exhibition
In Memory of Bro. Joseph Keenan Ph.D., FSC
Shofuso Japanese House and Garden
Philadelphia, PA
September 17
Member Introduction to Sake
Hosted by Portland
Japanese Garden
Union / Pine, Portland, OR
September 18
- January 3, 2016
Tradition and Innovation:
Japanese Ceramics Now
Frederick Meijer Gardens
& Sculpture Park
Grand Rapids, MI
September 19
Kubota Garden Foundation
26th Annual Meeting
Kubota Garden, Seattle, WA
September 25
Traditional Japanese
Tea Gathering:
Moon Viewing Tea
Sarah P. Duke Gardens,
Durham, NC
September 26
Fall Bamboo Festival
University of North Florida
Jacksonville, FL
September 26
Tea Ceremony Classes
Japanese Friendship Garden
San Diego, CA
September 26
Normandale Japanese
Garden Festival
Bloomington, MN
September 27
Hakone Centennial Gala
Hakone Estate & Gardens,
Saratoga, CA
---
Share the NAJGA Journal
with your garden members, volunteers, customers
and friends thru
a special discount
for bulk purchases.
DETAILS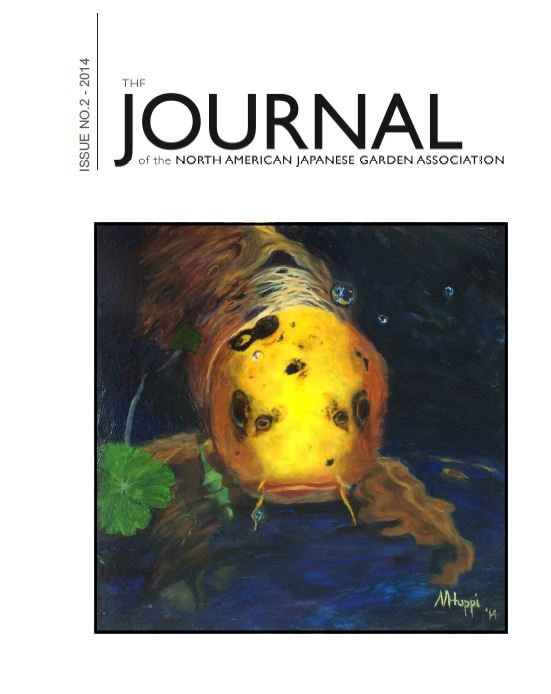 ---
Shop at

and Amazon will make
a donation to the
North American Japanese
Garden Association.