Varroa in Africa
What is the impact on beekeeping?
Varroa destructor (formerly Varroa jacobsoni) is a very serious parasite of honeybees (Apis mellifera). The mite is somewhat harmless on its natural host, the Eastern honeybee, (Apis cerana) however the varroa mite has crossed onto Apis mellifera and has spread from Asia throughout most of the world. In 2009 Varroa was discovered in Kenya by researchers from the US and Kenya and additional surveying across Kenya, in Tanzania and Uganda showed that Varroa is wide-spread throughout Kenya and present in Tanzania. It is not clear yet what impact varroa is having on bee populations.
What should beekeepers do?
Mary Ann Frazier of Penn State University and her ICIPE, Nairobi colleagues are strongly advising beekeepers NOT to employ chemical controls. In other places (US, Canada, Europe) chemical controls have kept bees alive in the short run but have resulted in pesticide accumulation in wax and the inability of the bees to develop resistance to the mites on their own. In Ireland for example, where mites were first discovered in 1998, the mites are now developing resistance to the chemical treatments for Varroa. According to Mary Ann in South Africa where chemicals were not employed, "the bees appear to have developed resistance in 7-8 years and are now considered a minor pest".
Perhaps beekeepers have observations concerning Varroa, and the health of honey bees over the past 10 years in Kenya and other African countries where bees are infected by Varroa.
Have you seen Varroa in your hives or do you have any views to share on bee health in Africa? Please post your comments to the Varroa thread on the Apiconsult website: Click here
Mites of Safari
You are welcome to download Chris Davey's article which gives a detailed overview on Varroa in Africa (provided here with the kind permission of the author). The article was first published in the April 2010 issue of the UK journal, Beekeepers Quarterly.
Click here
Learning from Failure
Why we need to embrace our disappointments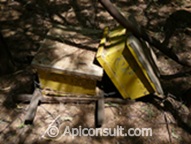 There is a very interesting video on the TED website about the need to learn from failure in development projects. I have embedded the video on the Apiconsult website – click here to watch. The video really grabbed my attention because I immediately saw the parallels between beekeeping development in Africa and what David talks of in relation to water projects in Malawi. As human beings we have a natural tendency to fear admitting mistakes. What will our donors think? As David says, how can we go back and tell the donor "well actually the money you so generously donated was wasted" hmm….. That wouldn't go down too well! So the natural reaction is to gloss over failure and mistakes and present things in the best light possible. Yes, all the beekeepers improved their livelihoods, they got great yields of honey from their brilliant 'modern hives' which they then sold without any problems. Problems encountered are not mentioned. For example the defensive nature of the African bee is generally not mentioned at all as being an issue for African beekeepers. Low hive occupation rates in African beekeeping is another issue which is frequently overlooked. For example less than 40% of my own beehives in Nakuru were in production over a 4 year period.
This inclination to show everything in the best possible light however has the effect of not allowing us to reflect , learn and improve our practice. Since we are not open to sharing mistakes others following behind us come and repeat our mistakes over again. Failed projects get repeated again and again. See more on learning from failure in development at: http://www.admittingfailure.com/
Note: The African beekeeping Resource Center (ABRC), a Kenya registered NGO, is currently undertaking an evaluation of beekeeping projects in East Africa in order to learn the lessons from both the successes and failures of beekeeping interventions. Please get in touch for further information: tcarroll@apiconsult.com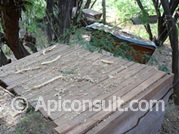 Contact Apiconsult for Expert Advice on African Beekeeping
If you are a Business, Charity, NGO or Donor Agency and thinking of a beekeeping intervention in Africa, Apiconsult can help. Get off on the right track - make sure your money will be wisely spent and will actually help beekeepers to improve their livelihoods.

New Beekeeping Gallery
Additional photographs have been added to the Apiconsult website on beekeeping in Africa and also in Ireland. Catching a swarm, bee management and a variety of African beekeeping pictures.

Apiconsult Forum
Knowledge is key to beekeeping success. Join the discussion on African beekeeping at the Apiconsult forum. You can now log in using your facebook account.

Apiconsult is now on Facebook. You are invited to connect with Apiconsult on Facebook.
Beekeeping Links
On the
Apiconsult links page
you can find links to websites and other useful resources on African beekeeping. If you know of any other useful links/resources not listed please email your suggestions to webmaster@apiconsult.com
Thank You
for subscribing to this newsletter. I hope you find it useful. Please send any comments or suggestions on the newsletter to: tcarroll@apiconsult.com