Meeting Ban Ki-moon, Helping Refugees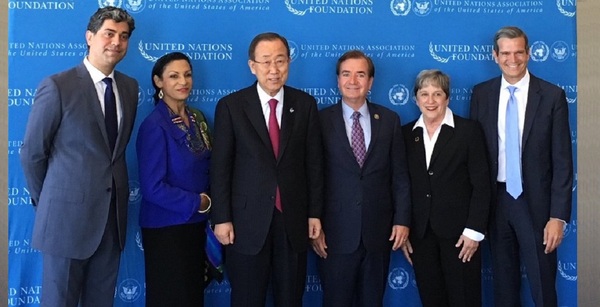 Last week I attended a meeting in Los Angeles with UN Secretary General Ban Ki-moon. The subject was United Nation's ambitious campaign to support sustainable development and promote a fair and more humane world. I was provided the opportunity to provide information about what Child Foundation's work with refugees in Europe and the Unites States. UN chief highlighted the problem and challenge stating "The refugee crisis is a crisis of children. More than half of refugees and displaced people worldwide are under 18."
Although, our effort on behalf of refugees in Europe have recently lessened, our work in the United States has increased. In Detroit, Michigan, with the assistance of dedicated volunteers, sixty Syrian families have been provided much needed resettlement assistance. However the need is great and continuing and your generous assistance in the form of monetary contribution is sincerely appreciated. You can make your donation at Refugees in the US Fund.
It has been reported that 470,000 person have been killed in the last five year conflict in Syria. News reports often display the carnage and misery with photographs such as that of the lifeless body of a child washed onto a beach in turkey or more recently the photograph of stunned, bloodied and soiled five year old in an ambulance having recently extracted from rubble that was his home. The images are a powerful reminder of the dire human tragedy unfolding every day in Syria. However the twenty four hour news cycle rolls on numbing memories as we attempt to regain our regular lives.
Child Foundation endeavors to help innocent victims of conflicts, women and children, by disclosing the horrors of the war and by providing lifesaving assistance. It is estimated that Syrian war to date has resulted more than 4.8 million refugees and additional 6.5 million displace person in Syria, half of the displaced persons are children. Please join us in helping these children in need.
Thank you,

Peyman Raoofi Psy.D.
President & CEO
Back to School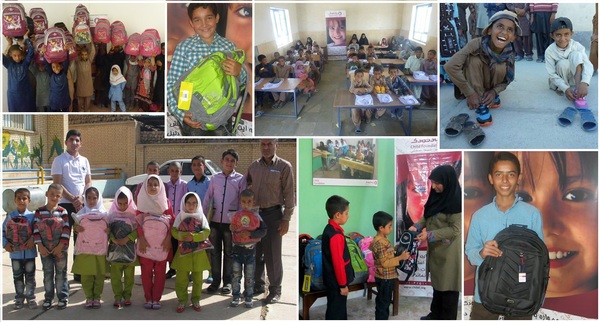 Fall is almost here which means schools starts soon. With the new school season nearly upon us, we need not remind our friends and supporters of the great sense of responsibility we all share when we hear about less fortunate school kids across the globe who spend their summer days working hard so that they can earn enough money to pay for their school clothes, textbooks and supplies.

This year, Child Foundation is once again having a Scholastic Fund Drive to help young and needy school children with special educational backpacks called "Backpack of Hope" that containing books, notebooks, school supplies, and in some areas clothes. Our goal is to finish this drive with your help and support at the earliest possible time so that these packages can be delivered well in time for the start of the new school year. Last year, we were able to distribute more than 1,000 Backpacks of Hope and hopefully with your help we help more children this year.

Child Foundation invites all those who are willing to participate in this worthy and timely cause, to contribute online. Each backpack with its content costs is about $75. For those who donate at least 10 Backpacks of Hope, we will send pictures and information of children who have benefited from their generosity.

Either way, you will have the collective thanks and enormous gratitude of thousands of very grateful school children who will now experience a happy start to their school year.
Child Foundation in Summer Action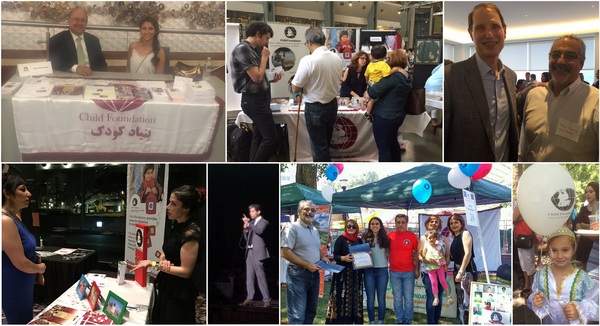 For the last two weeks, Child Foundation staff, Board members and volunteers were very busy participating in different programs throughout United States.

On Friday, August 12th, Dr. Namazi and a CF volunteer represented Child Foundation's booth in SUTA's gathering in the Washington DC area, where hundreds of Sharif University alumni gathered.

On Saturday, our office participated in an all day Iranian Festival in Portland where thousands of Iranian-American came out to enjoy Andisheh's 17th annual festival. This year, Child Foundation's Scholarship recipient was Kiana Rahni with a GPA of 3.99. She will attend University of Washington to study political science. Her
Scholarship
award was presented to her in the festival.
On the same day, in city of Irvine, California, Dr. Raoofi, CF's president had a presentation before a sold-out concert by Shahab Tiam and talked about our activities. Our informational desk received many inquiry thanks to Parisa, our volunteer, who helped us set up our booth and presented information.

​On Saturday, August 13th, Mr. Modarres our outreach director attended Seattle Iranian Festival along with Niloufar, our volunteer who drove all the way from Vancouver to help us for this event. Seattle Festival was also very successful and thousands participated.

On Thursday, August 18th, Mr. Modarres met with Senator Wyden of Oregon and provided him with information about CF activities and expressed our concerns for continuation of some of the sanction laws that still requires us seeking licenses for our humanitarian activities.

Many thanks to our devoted volunteers, Board Members and our wonderful staff for helping out, and of course the hundreds who stopped by and many who sponsored children. You are all great.
I'm Alireza, a talented eleven-year old student in the fourth grade from Rasht. I lost my father to drug overdose when I was 3. My mom cannot work and we can hardly afford life expenses. I need your support in order to continue my education.

Please consider helping this young student so that he may continue to attend school.

See more children waiting for sponsorship.
---

Tabriz School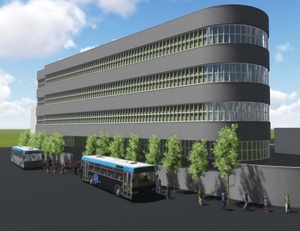 A generous woman donated a large piece of land to be used for building a school for children in need in Tabriz. Child Foundation has finished surveying the land and have blue prints ready.

For additional information, and to participate in this project, please visit our page here

---

AC for Sadegh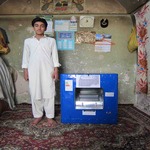 Summers of Zahedan are brutal. Our sponsor Anahita knows that very well since she lives in Qatar with the same heat index as Zahedan. When she found out Sadegh's house lacks air conditioner, she purchase one for him. In a letter Sadegh thanked Anahita for cooling their hot summer!

---

Armin's Refrigerator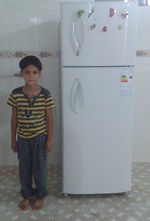 Our kind donor, Shahrzad from Massachusetts purchased a refrigerator for Armin's family when she found out theirs had been broken for a while.
Armin is 7 years old and lives with his family in city of Darab. Armin's writing is still rust, so he sent Shahrzad one of his drawings.

---
Mobin's Bicycle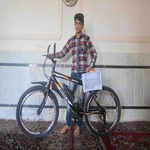 Denis from Massachusetts, surprised his child Mobin with a surprise gift, a bicycle. Mobin is 12 year old living in Zahedan. In his thank you letter he wrote that he will show his appreciation by getting even much better grades.
---
Child Foundation is teaming up with a group of volunteers, medical doctors and activities in Detroit, Michigan to help children of new refugees. Most of these children are in need of medical attention and all need education. To help us help them, please donate generously to our Refugees in US Relief Fund.
---
Abulfazl 's Bicycle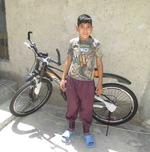 Jan from Dubai wanted to make his sponsored child Abulfazl happy, so he ordered a bicycle for him. Abulfazl who lives in Darab, could not believe his gift in his thank you letter wrote that he will share his bicycle with his friend. Jan, has been sponsors total of three children with Child Foundation and had always donated generously for his children's birthdays.