Thank You Ziba!

Labor Day weekend is here which means summer has come and gone too fast and it is time for school again. Our colleagues are working hard to provide more than a thousand backpacks to children, please see its report below and how to participate in purchasing one or more backpacks for children in need.

This weekend, many celebrate Labor Day with gathering around friends/family and having a barbeque. It is also a good time to think and talk about thousands of refugees who need our help. This week, the United States announced the settling of 10,000 new refugees is almost complete. We know that first hand since some of our volunteers are working with them in Michigan and they have reported how their new life is tough and they all need assistance. To help refugee children you can donate to our refugees fund here.

I would also like to take this opportunity to thank Ziba Design. Ziba is one of the world's preeminent design consultancies that is helping Child Foundation with marketing and branding advice. Ziba is beyond product design, they usually design experiences, graphics and software interactions and diving deep into businesses, facilitating innovation by identifying trends, and sharpening brands. They have created new values for clients like Microsoft, Heinz, Umpqua Bank, REI and Reebok.

We are very fortunate to enjoy their input on how our donor's journey could be more effective and lasting. We thank their wonderful team of Moly, Erin, Melanie, Derin and specially Parisa and Sohrab.

Have a wonderful weekend,
Peyman Raoofi Psy.D.
President & CEO
Working Hard to Prepare Backpacks of Hope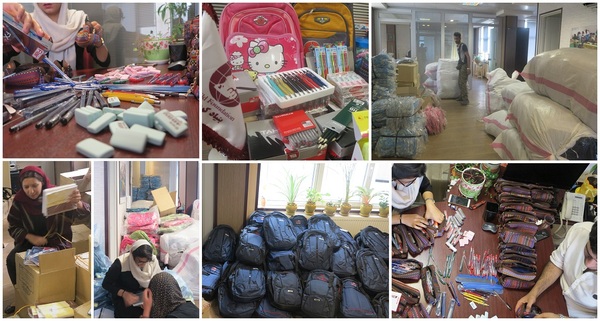 In a couple short weeks, schools start in most of the countries that Child Foundation is active. Our local social workers are busy preparing "Backpacks of Hope" to make sure children start their school year with enthusiasm and hilarity as well as a nice backpack and fresh stationaries.

Last year, we were able to provide more than one thousand backpacks and this year are planning to do even more. Our back to school campaign has already had a good start but we have not achieved our goal yet. So, please join us in providing a gift to a student that helps them to have a fantastic start.

Our "Backpack of Hope" contains notebooks, school supplies, and in some areas, clothes. Each backpack with its content costs about $75. For those who donate at least 10 Backpacks of Hope, we will send pictures and information of children who have benefited from their generosity. We invite all those who are willing to participate in this worthy and timely cause to contribute online.
I'm Home Now, Thank You!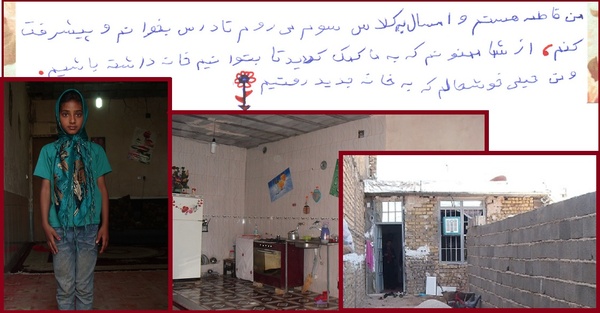 Do you remember Maryam? The girl who used to live with her mother and sister in a tent at the end of alley? We covered her story in our July 22 newsletter. Thanks to some generous donors, Child Foundation was able to rent them a small apartment and last week they moved in to their new place.

It is ironic that this apartment is also at the end of another alley! In her letter, Maryam thanked all donors and said that she is now very happy. We are happy for her too and looking forward to share with you her success stories.
Supporting Some Youngest Victims of Terrorism!




As we reported in our April newsletter, our staff in Mazar-e-Sharif visited a few children who were victims of terrorists and had lost their legs for walking on an old and undeclared mine field. Their story is very sad and especially since all of them said how they loved to go to school but they had been forced into hard labor work due to poverty.

Child Foundation arranged to help them to go to school again, our office started their sponsorship application and added them to our waiting list.

Please consider Hamidulah and Khalmohammad for sponsorship. They both are still in need of help for their medical bills but if we support them, they can once again enjoy school rather than be forced to work to support their family.
Welcome New Sponsors, You Are All Amazing

During the last two weeks, the following individuals have joined thousands of our sponsors who provide monthly assistance to children. We sincerely welcome them and at the same time warn them to prepare for many years of enjoying the wonderful feelings of helping a child achieve his/her dreams through education.



On behalf of children supported, we thank them for their kindness and generosities.

From the United States:
Ali (NY), Amir Reza (GA), Armin

*

(NJ), Bahman*(CA),
Bahar(CA), Babak
*
(CA),
Damon (PA),
Farzaneh (TX), Fatemeh (CA),
Hamed
*
(FL), Katayoun (CA), Kelsey (MN),
Sara (MD),
Maryam.N
*
(CA), Maryam.S (CA),
Mahboubeh(NJ), Mitra (NY),
Mojtaba (GA),
Nasim (NY), Nariman(CA), Roxana(CA),
Shirin (MI),
SeyedAli (IN) and Moein (France), Shahrzad (Sweden)
*
sponsored two Children
*
sponsored three Children
To join this list of wonderful people, please visit our sponsorship page.
Hi, I'm Amir Hossein!
I'm Alireza, a talented ten-year old student in the third grade from Maragheh. My father is diabled because of his severe ling disease and depression.

My mom cannot work and we can hardly afford life expenses. I need your support in order to continue my education.

Please consider helping this young student so that he may continue to attend school.

See more children waiting for sponsorship.
---
Tabriz School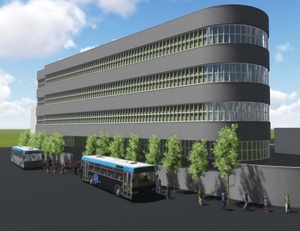 A generous woman donated a large piece of land to be used for building a school for children in need in Tabriz. Child Foundation has finished surveying the land and have blue prints ready.

For additional information, and to participate in this project, please visit our page here

---
Mahabad Office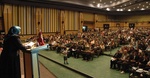 Iran's Child Foundation opened its 27th office in Mahabad. Mahabad is located in the West Azarbaijan province south of Lake Urimia. The city population is mostly Kurdish.

Child Foundation has been active in Mahabad for more than ten years now through its Urimia office but now that the new office is established, more Kurdish children can be sponsored through our new office.

List of other office can be found here.

---
Armin's Refrigerator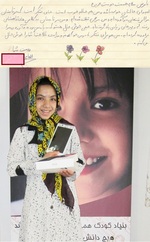 Elham always wanted to have an iPad, and when her sponsor, Faideh wjo lives in Chicago learned of her wish, she contacted Child Foundation to order one for her.

Elham lives in Shahr-e-Kord and in her letter she thanked her sponsor for granting her wish.
---
Matinn's Bicycle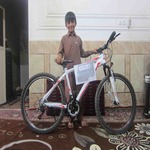 Hossein from San Jose surprised his child Matin fromm Zahedan with a wonderful gift, a bicycle.

Mobin is 10 years old and when he got his gift said that he always dreamed of having a bicycle but never thught he could ever get one.

Thank you Hussein!
Child Foundation is teaming up with a group of volunteers, medical doctors and activities in Detroit, Michigan to help children of new refugees.

Most of these children are in need of medical attention and all need education. To help us help them, please donate generously to our Refugees in US Relief Fund.
---
Our Short video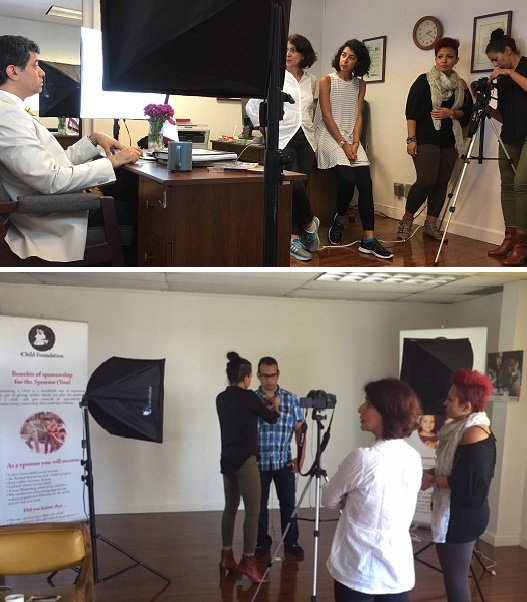 Our LA office along with our local volunteers and a few of our devoted sponsors are producing a short video as part of our Back to school campaign.

Mona Zandi is directing this video. She is a director and editor of short films, documentaries and feature films and have received many awards and recognitions by international film festivals in France, Germany, Iran and India.

Many thanks to Orange County Persian Community and their wonderful production team to make this possiable.

You can see the video here.

Social Media Corner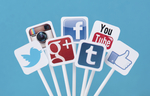 Please follow us on our social media outlets and show your support by your likes:

Facebook (Perisan)

Facebook (English)

Facebook (Afghanistan)

LinkedIn Twitter

Instagram Telegram

Google+ YouTube