The 4th Annual Girls in Action I AM Fundraiser Breakfast was a great success! We were thrilled to be joined by 220 people who came to celebrate and support our girls! Thanks to our major sponsor Wells Fargo and Virtual Offices and to the over 15 corporations who supported as table sponsors. We raised $31,000 and many committed to continued support for the program for the 2016-17 school year. See highlights below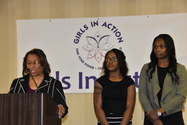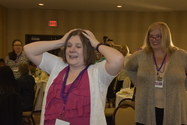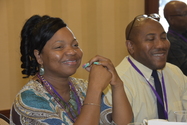 Cora McCorvey, Executive Director/CEO of the Minneapolis Public Housing Authority (MPHA) was the first recipient of the Girls in Action Woman of the Year Award! Ms. McCorvey, has been committed to Girls in Action almost since the day it began 11 years ago. She has been a leadership speaker, a mentor, a career coach and a board member. We love you Ms. McCorvey!! Congratulations! Thanks for ALL you have done for our girls, our community, our state and our world!! You epitomize the Girls in Action motto of a woman leader who "Found her power and changed her world!!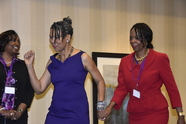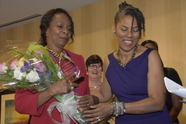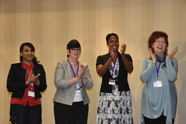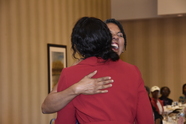 Niara Keys, senior from Patrick Henry School was the first recipient of the Girls in Action Girl of the Year Award! Niara has been in Girls in Action throughout her high school years. In her four years in the program Niara has demonstrated her commitment to the Values and Standards of Girls in Action and has shown herself as a true ADDER and positive leader in her school, family and community. Niara has already been accepted to Spelman College, is a Girls in Action Scholarship Recipient and was recently awarded another scholarship from Executive Women International.