Combining aerial photography with ground-based photography like architecture photography or event photography, provides a complimentary package that ensures a unique set of photos. For documenting and marketing commercial, industrial, and residential real estate property for example, a complete package of both aerial and architecture photography are often needed. The complete and complimentary photos are aften needed by property managers, owners and brokers. In the photo above you can see how the air and ground perspectives give that complete view of a building. The same building captured with aerial photography appears in the top half of the photo, compared to how the building looks on the ground with architecture photography. Aerial photography and architecture photography are two aspects of commercial photography that we provide through our San Diego, California studio.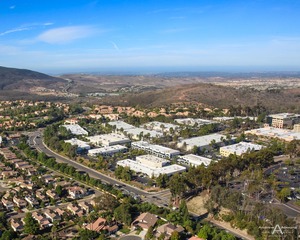 Because a picture is always worth at least a thousand words, it's essential that only the very best and most complete set of photos are created. Therefore, we shoot our aerial photography using full-size professional cameras and lenses, which along with proper image processing, ensures the most accurate, detailed and highest image quality photos of specific buildings, project sites, and more. This same type of equipment are also essential to ground-based architecture photography. And perspective of a location, from multiple heights, is important, too. All of these elements and more combine to create descriptive and good-looking photos.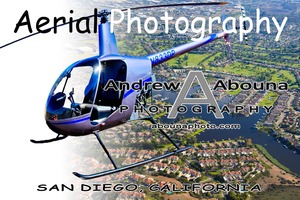 To help in capturing the proper perspective in aerial photography the clear choice is to use a helicopter. The great maneuverability and precision placement above the project site provide us the ability to orbit and capture photos at multiple heights and perspectives, all within the sometimes tight flight constraints of restricted airspace or client's turnaround time frame. At right is a graphic of our latest T-shirt design, and it shows the low-cost helicopter we use for aerial photography in San Diego, California.

Aerial photography combined with our other services, like architecture photography and even event photography, provides our clients with an affordable and complete set of high-quality, high-resolution images that are accurate, descriptive and look great! Contact us for more details.