High-Level Panel on Eminent Persons on post-2015 agenda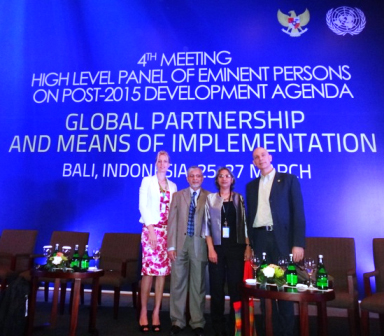 An ADB delegation joined public sector, CSO, academe, youth, and private sector representatives that interacted with HLPEP on principles and content for the post-2015 development agenda on 25 March in Indonesia. Discussions addressed inequalities and exclusions as part of poverty reduction.

Briefings on 2012 ADB Accountability Mechanism in Astana and Almaty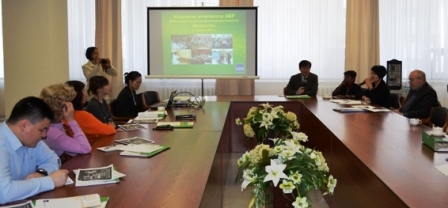 Executing and implementing agencies, private sector, and civil society attended briefings on the 2012 Accountability Mechanism on 1 and 3 April. The event, organized by OSPF and OCRP with support from KARM, discussed engagements at the earliest stage in the project cycle to avoid complaints.

CARM: NGO dialogue on monitoring resettlement held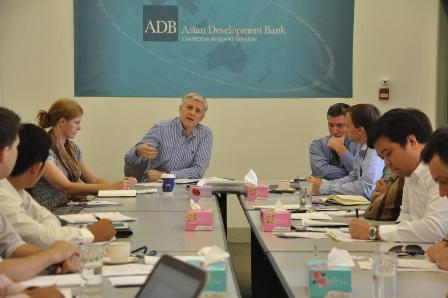 CD Eric Sidgwick on 3 April discussed with 15 CSO representatives the internal monitoring report for the railway rehabilitation project, made by resettlement specialist Michael Cernea. The government is reviewing recommendations to improve involuntary resettlement under the project.


OAI conducts anticorruption seminars to private sector partners in Viet Nam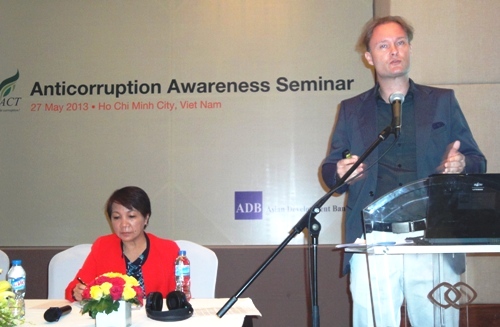 Over 100 consultants, contractors, suppliers, and NGOs attended seminars on 21 May in Ha Noi and 27 May in Ho Chi Minh City on requirements of ADB's Anticorruption Policy. VRM's Jesper Petersen gave opening remarks and encouraged participants to join the fight against fraud and corruption.


NRM: Construction on community irrigation project begins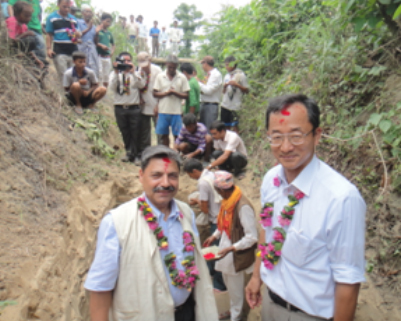 CD Kenichi Yokoyama and Local Infrastructure and Agricultural Roads DG Bhupendra Basnet on 25 May laid the foundation stone of the Kothi Bandh Irrigation Subproject. The officials stressed the importance of community participation, transparency and accountability, gender and social inclusion, and judicious use of water in agriculture.


PRCM: Presentations on gender awareness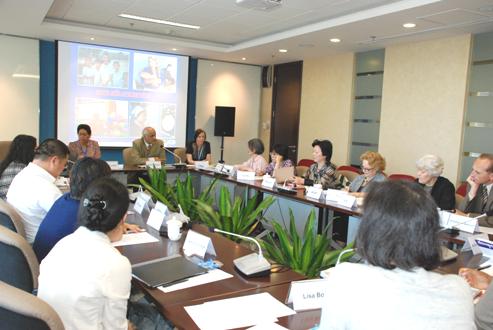 Senior Advisor for Gender Shireen Lateef on 30 May presented ADB's gender strategies and operational plan to PRCM staff and at meetings on project GAPs. She also led a roundtable with senior staff from UN agencies, Central Party School, and local women's CSOs.

Opportunities
Project Opportunity

Access to Green Finance Project

Promoting Cooperation in Sanitary and Phytosanitary Measures for Central Asia Regional Economic Cooperation



Featured Vacancy

Senior Social Development Specialist (Safeguards)

Social Development Officer (Gender)

Civil Society Country Brief Writer - Tonga


More project opportunities
More vacancies
e-Notification
E-notification is a useful tool for NGOs who want to keep informed of news about ADB's work in a specific country, sector, policy, or on a project. Subscribe to ADB's free e-mail notices. Select the items you're interested in and your delivery preference. We will e-mail you when we post those items.
Comments and Feedback
Partnership Newsletter welcomes contributions and feedback from readers. Write to ngocoordinator@adb.org.