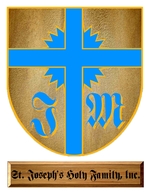 Dear Handmaids and Servants of the Gardener,

Praise the Lord!

I am so thankful today for your faithfulness and for the faithfulness of a multitude of Catholics throughout this land. Sometimes, this story is overshadowed by the evil that seems to be marching across our society. Yet, Christ is even more faithful than we are. He promises that He will never abandon His Church nor let Her be lost because He has laid down His life for His Bride to cleanse her and to make her holy (see Eph. 5:21-32).

8 things
Donation of Priest's Vestments
First Saturday Devotions
TrailLife USA visit
2nd Thursday Holy Hour
2nd & 4th Saturday Catechism Classes
Love Is Our Mission Catechesis - Not Fifty Shades of Darkness
Women's Conference is SOON!
Paraclete CEO Ministries
+ + +


Thanks to Fr. Raymond Brenner, Pastor of St. Joseph Parish in Jasper, IN, and Fr. Gary Kaiser, Pastor of Precious Blood Parish in Jasper and St. Mary Parish in Ireland, IN, we were given a beautiful gift on Friday! The priestly vestments from Providence Home and Health Care Center in Jasper and some altar server vestments were donated to St. Joseph's Holy Family, Inc. This generosity has an amazing story behind it.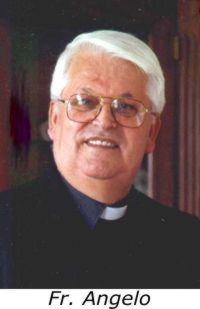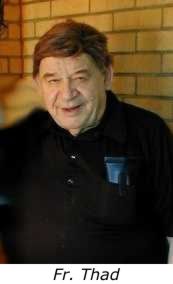 When I had called Fr. Ray about one month ago to see if St. Joseph Parish could donate any vestments, he said, "...Let me talk to Fr. Gary and I will get back to you." He spoke with Fr. Gary, who, unbeknownst to me, had just cleaned out all of the items in the Providence Home Chapel. Providence Home was founded in 1933 by the Sons of Divine Providence in Jasper, but it was recently sold to a for-profit corporation since the Sons of Divine Providence could no longer provide any more priestly service or management of the Home. Fr. Gary had the vestments from Fr. Thad Sztuzcko, F.D.P. and Fr. Angelo Quadrini, F.D.P., and he was looking for a missionary organization to which he could donate them. In Fr. Ray's words, "Your phone call came at the right time." I said, "I think that it was the Holy Spirit."

There is more to the story, though. Fr. Thad was a dear friend of Joseph and Roberta Ubelhor, Greg and Elizabeth Haas, and St. Joseph's Holy Family, Inc. He often celebrated the sacraments on First Saturdays at God's Country while he was still physically able to do so. He died on Sept. 5, 2008. He was a prolific painter, and his own artwork is being auctioned today. However, he secured the services of famed Italian artist Antonio Boatto to make the stained glass windows in the Providence Home Chapel in Dec. 1999. One of those windows was donated by Greg and Elizabeth Haas in memory of Joseph and Roberta Ubelhor. The subject of that window is Padre Pio. St. Pio of Pietrelcina died on Sept. 23, 1998. Joseph Ubelhor died on Sept. 23, 1997. Greg Haas asked me to take over SJHF on Sept. 23, 2009. So, to have the vestments from Providence Home now at SJHF is a completely unexpected and amazing gift!


+ + +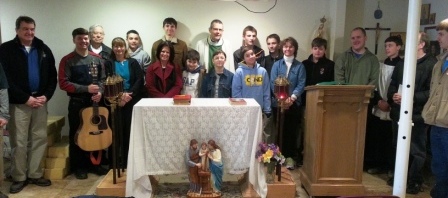 Fr. Ray Clark, chaplain of St. Joseph Passionist Monastery in Whitesville, KY, celebrated the sacraments for us on First Saturday, and used the vestments donated by Fr. Ray and Fr. Gary. Here he is pictured with the other pilgrims from Saturday, Feb. 7, 2015. (We couldn't fit everyone into the picture.)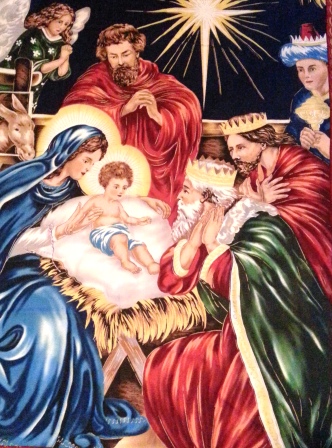 With the vestments, there was this beautiful banner of the Holy Family. This banner is another answer to a little prayer. I asked the Lord about a week ago for a banner that we could use at the World Meeting of Families in Philadelphia so that everyone in our community could easily see where we are amidst the tens of thousands of pilgrims in September.

Thanks be to God, we are now blessed with enough priests' vestments for every litugical season and a new banner for our apostolate.



Thanks, Fr. Ray Clark. Thanks, Fr. Ray Brenner. Thanks, Fr. Gary. Thanks, Fr. Angelo. Thanks, Fr. Thad. Thanks, Joseph and Roberta. Thanks, Greg and Elizabeth. Thanks, Padre Pio. Thanks, Don Orione (Founder of the Sons of Divine Providence). Thanks, Holy Spirit!


+ + +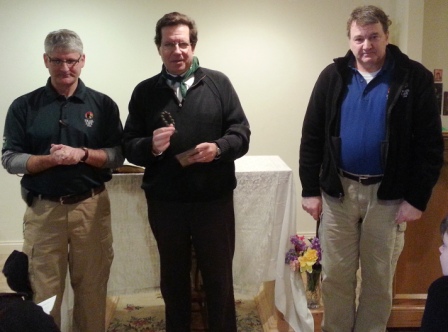 We have new pilgrims almost every First Saturday. That happened again a couple of days ago. We were joined by local Catholic leaders of TrailLife USA. It is a new organization that formed in the past couple of years by mostly former members of the Boy Scouts of America. The distinguishing feature of TrailLife USA is that it is a Christian organization. Furthermore, there is a National Catholic Committee for TrailLife USA that suggests many possibilities for strong formation of boys and young men in their faith.



We are always looking to build bridges that correspond to our mission of the renewal of Catholic family life.

This is one of those opportunities to build bridges. Just as we hope to host more Eagle Scout Projects of the BSA and any other events proposed by local BSA Venture Crews, Boy Scout Troops, or Cub Scout Packs, so we hope to host more TrailLife events.

Here, I welcome, on the left, Morris Thomas and, on the right, Chuck Brown just before Mass. They brought along three boys. From the comments at the end of the day, I'd say that they thought it was all rather amazing.


+ + +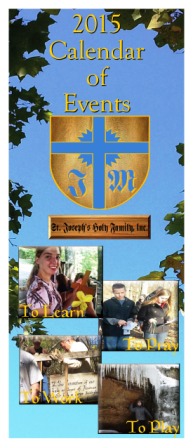 We have many upcoming events on-campus and off-campus, and we hope that you can join us for as many of those as possible. As a matter of fact, we have just received from Schwartzkopf Printing our entire 2015 Calendar of Events. Some of you will receive a copy in the postal mail with your 2014

Twice Blessed Campaign

receipts, but all of you can get copies to share with your friends. Simply call or send us an e-mail (sjhf@psci.net) to let us know how many you want.

I'd like to ask parishes to hand them out at Religious Education Classes so that families know what amazing events are taking place this year at God's Country.

(We will be updating our online calendar.)

Our next event is our 2nd Thursday Holy Hour at the Grotto of Our Lady of Lourdes on Feb. 12, 2015 under St. Boniface Catholic Church in Evansville, IN. Her Feastday is Feb. 11. We begin at 6:30 p.m. Dcn. Thomas Kempf, Jr. is scheduled to preside and to preach. Dcn. Tom Lehman usually leads the rosary.

I thank all of you for your prayers for our apostolate. Here is a special prayer request that we will lift up at the Holy Hour: Greg Haas wants discernment about what should be done on God's Country.

On the one hand, we have some repair work that is not open to question. For example, we have many trail signs that must be repaired. That price tag is about $2500 just for materials. In addition, we need to compensate Greg's and his crew's labor. That would be as much. So, the whole project would be in the range of

$5000.

Likewise, we have the roof on the cabin that needs to be fixed ASAP, and the ceiling inside needs to be fixed also because of the damage from the leaky roof. That job is at least $5000, but probably closer to

$7500

.

You may use this donor card to help with those repairs or go online to make a donation.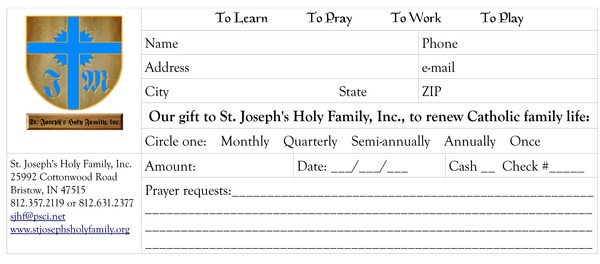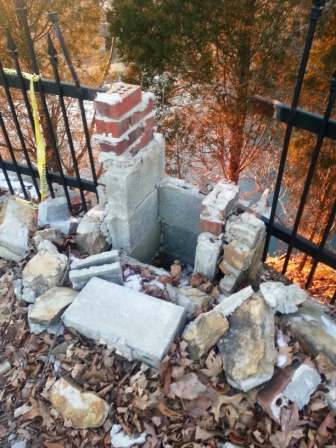 On the other hand, we have the issue of the stone posts on the top of Mercy Ridge. They were damaged by lightening in Dec. 2013. That was the second time that we know for sure that lightening struck there in the past six years. For those of you who have visited, you have seen the damage. Greg wonders

if it should remain as a permanent sign of God's power and our littleness

. Yet, it's stark messiness contrasts with the beauty that surrounds it. Wouldn't it be better to have beauty everywhere?

In the past, Greg proceeded with his inspirations sometimes with support from family and friends and sometimes without. We know that many of you pray for us everyday and make spiritual sacrifices on our behalf regularly. Oh, we are so thankful to you for that!

Could we not lift Greg up in a special way now so that he knows how he should proceed, keeping in balance his duties to God, his family, and to the apostolate that he and Elizabeth founded? If you can join us on Thursday, that will be one main intention.


+ + +


Aren't you hungry for more of your Catholic faith? Aren't there issues or questions that come to mind during Mass, and you've wondered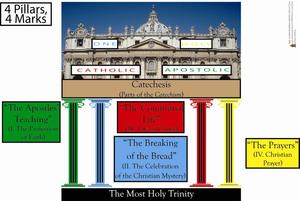 where you could get the answer? Did you feel cheated by the catechesis that you got - or didn't get! - when you were younger? Have you wondered why the Catholic Church couldn't be more influential in society? Are you a convert or a revert, and have you been wondering when the serious formation in the faith is going to begin so that you can make a difference for Christ?

NOW is the time.

2nd and 4th Saturday Classes on the Catechism of the Catholic Church at St. Philip the Apostle Catholic Church, Mt. Vernon, IN from 9:00 -12:00 in the morning. No previous knowledge of the Catechism is required.

We begin this Saturday, Feb. 14.



This will be an extended study of the Catechism. So, bring your Bible, your Catechism, and your questions and a yearning for the truth, goodness, beauty, and unity of Christ in His Holy Catholic Church. What a great study for your group. Contact us for more information.


+ + +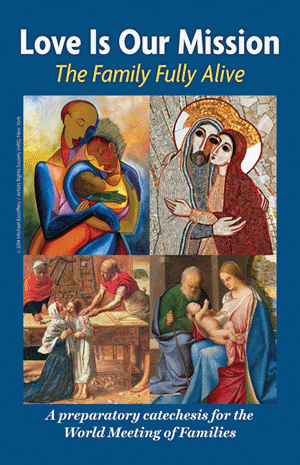 Love Is Our Mission not fifty shades of darkness-posing-as-socially-acceptable-but-morally-ambiguous-grey. Valentine's Day is Saturday, but give your spouse one of the best Valentine's Day presents ever by immersing yourself more deeply in the purity of married love through a study of the preparatory catechesis for the World Meeting of Families.

We begin our serious preparation for the World Meeting of Families on Sunday, Feb. 15 at 6:30 p.m. at Holy Family Parish in Jasper, IN. For five weeks, we will study the Preparatory Catechesis in 4 different parishes: Holy Family, St. Joseph, St. Ferdinand, and St. Anthony. The same content is repeated each night. So, if you miss one night in one parish, you can come another night that week to a different parish and not miss a thing.

We have every intention of casting the light upon the darkness, and the darkness has not overcome it (see Jn. 1:5). So many of our family and friends have been enticed by the Evil One to become ensnared in this web of lust, pornography, and immorality, but they either do not know that they are endangering their souls or they do not know how to get out.

Can you join the Women of Grace in #50SHADESOF GRACE rosary novena to combat the ugliness of that movie? This will be another of our intentions at the Holy Hour on Thursday.

Prayer works, and it works better when it is joined to fasting from other superficial pleasures and feasting upon the truth given in God's Revelation.


+ + +




3rd Annual Women's Conference is coming SOON!

Sat. Feb. 21, 2015. You don't want to miss this one. We are so blessed to be led by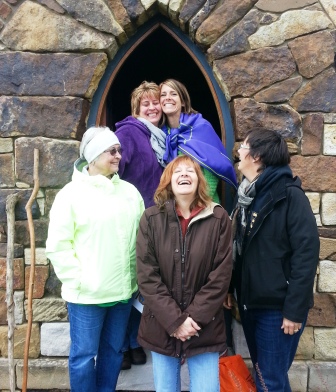 Elaine Robertson from the Diocese of Owensboro. Elaine will blow us away with the data from the very important National Study of Youth and Religion.
Who is the most influential force in the life of young people? What has the greatest impact upon a young person's faith? Where do young people go to get their questions answered about the most important matters? What hope can Catholic parents have for their children to remain in the Church?
Get your answers to these questions and more at this year's Women's Conference.

Fr. Josh McCarty, founder of Lolek Productions and Parochial Vicar of Blessed Mother Church in Owensboro, will celebrate the sacraments for us. Fr. Josh is amazingly gifted as a priest, a preacher, a videographer, a film director, and a Catholic man. Confront your tendency to indifference and join us for this conference.

This conference will help you to participate already in the graces of the World Meeting of Families.

Please RSVP to 812-357-2119 or sjhf@psci.net ASAP to let us know how many of you will be attending.

It will be a blessed time with other sisters in Christ.


+ + +


Along the lines of building more bridges..., from our dear friends at Paraclete CEO Ministries, here is another idea for a family-friendly Valentine's Day Date Night: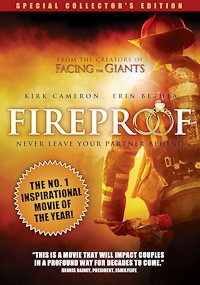 Paraclete
CEO
Ministries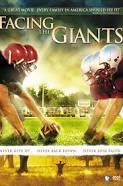 (Catholic Evangelization and Outreach)

Invites you to join us at

FOOD and FELLOWSHIP FRIDAY plus Movie Night

February 13

Starting at 6:00 PM

St. Mary's Activities Center, Huntingburg

This is a free event. Invite your family and friends. Enjoy good food and Christian fellowship. We will be showing 2 Christian based movies. One for adults in the gym (Fireproof) and one for children in the media room. Feel free to bring a lawn chair or the kids can bring their bean bags. Meal is being provided by an anonymous donor.

You may bring a dessert or covered dish if you would like but it is not necessary.

Call Kim at 812-630-8933 for more information.


+ + +


For you, we are so thankful. Please forward this e-mail to your friends. Like us on Facebook for updates.

Let's keep walking and working together for the renewal of Catholic family life.

Blessed Louis and Zelie Martin, pray for us and for the renewal of Catholic family life.
St. Joseph, provide and protect our families.
Our Lady of Lourdes, pray for healing from sexual sins especially and for fairest love to fill our lives.

God's PEACE!
Mark



---
---
St. Joseph's Holy Family, Inc.
25992 Cottonwood Road
Bristow, Indiana 47515
US


Read the VerticalResponse marketing policy.