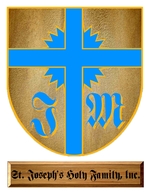 Dear Servants of the Gardener,

Real men lead families and their communities in love, just as Jesus Christ did. That's why we are sponsoring our 4th Annual Men's Retreat and Work Session on Sat. March 28, 2015.



Men: Families who come to God's Country need your help!

A donor just gave us 50 8' 4 x 4 treated posts. God bless John Krempp and his family abundantly! However, we still need:
45 8' foot posts,
5 10' posts,
5 12' posts,
200 lag screws,
200 spring snaps, and
100' of chain,
plus 10# of 2 1/2" Philips head screws
to refresh the entire Joyful Mysteries Trail. Can you match John's gift? Just $700 will get us all the rest of the materials.

In the past couple of years, we have begun replacing all of the rosary trail signs. However, we have decided to concentrate on the Joyful Mysteries Trail at this time to finish it.

So, men please bring:
battery operated drills/screwdrivers and extra batteries,
post hole diggers,
tile shovels,
bolt cutters,
3' levels,
gloves
We had previously announced that we were going to work on the cabin roof, but we have decided to delay that project, due to concerns about finishing it within our time constraints.

You do NOT want to miss the dynamic, courageous, faithful witness of Deacon Greg Gitschier. His testimony at the Source & Summit Retreat in Evansville a couple of years ago is now legend.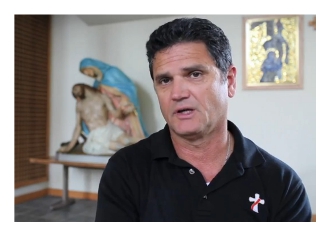 Dcn. Greg Gitschier was a proud member of the U.S. Secret Service for over twenty-one years. He was assigned full time to protect President Ronald Reagan and his family as well as temporarily assigned to all the Presidents since President Nixon. He has protected many Heads of State, including the Queen of England, Emperor of Japan, as well as Pope John Paul II. He continues as a bodyguard for the Mayor of Louisville, KY.

He is the founding Grand Knight of Bishop Flaget Council #13053 that serves parishes in eastern Louisville. In the 14 years since its inception, Bishop Flaget Council has launched three (3) new Knights of Columbus Councils: Father William Diersen #13304 in LaGrange, Mount Mercy #14604 in Pewee Valley, and Saint Margaret Mary #15979 in Louisville. On Aug. 21, 2010, he was ordained a permanent deacon of the Archdiocese of Louisville and was assigned to St. Patrick Parish while also assigned as a chaplain to the Louisville Metro Police Department. Presently, he also serves on the Board of Directors of the Kids Cancer Alliance and helps to run their summer camp. He has been an ardent defender of religious freedom in the face of assaults by the Obama Administration. His passion is Catholic apologetics, and he speaks to groups all over the region.



We are so thankful that Fr. John Boeglin, Chaplain of the Jasper Council of the Knights of Columbus, will celebrate the sacraments for us. His priestly service is priceless for our apostolate and our sanctification.

You've never been to God's Country? Well, this is a great opportunity to get a hands-on introduction.

Proposed Schedule (Central Time):

8:00 – 8:15 Welcome, Introductions, and Opening Prayer

8:15 – 9:00 Pancake and Sausage Breakfast (sponsored by Jasper K of C)

9:00 – 9:15 Examination of Conscience (at 10 Commandments)

9:15 – 10:00 Confessions with Fr. John Boeglin, K of C Chaplain (Gardener's House or Welcome Center)

simultaneously

9:15 – 10:00 Joyful Mysteries of the Rosary (Front Lawn)

10:15 –11:00 Holy Sacrifice of the Mass (Sacred Heart Outdoor Chapel or Welcome Center)

11:00 – 12:00 Conference 1 – "A Man's Responsibility to Lead His Community in the Mission of Love"

11:00 – 12:00 Confessions (if necessary)

12:00 – 1:00 Angelus and Lunch (Blue Ribbon Quality "Texas" Chili and Franks)

1:00 – 3:00 Work Session (See below)

3:15 – 3:30 Divine Mercy Chaplet (Gardener's House)

3:45 – 4:15 Conference 2 – "A Man's Responsibility to Lead His Family in the Mission to Love"

4:30 – Prayer for ourselves, our families, our Church, and our world. Departure.




We are asking for RSVPs by tomorrow to sjhf@psci.net or 812-357-2119

. So, let us know right away, and let us know if you can donate the $700 for materials.

Although belated, Happy Solemnity of St. Joseph to every man! May he continue to provide and protect you and your family.

God's PEACE!
Mark


---
---
St. Joseph's Holy Family, Inc.
25992 Cottonwood Road
Bristow, Indiana 47515
US


Read the VerticalResponse marketing policy.