Dear Handmaids and Servants of the Gardener,

Happy Feast of Sts. Basil the Great and Gregory Nazianzen!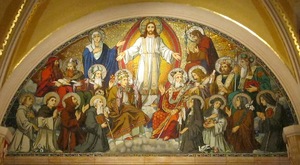 These Doctors of the Church from the Christian East did not become well-known on their individual merits. Rather, they are grafted on to Christ through the Church, and, by means of the Church, extend Christ's salvation and sanctification to everyone else who desires eternal happiness with God.

In this magnificent mosaic from St. Joseph Church in Jasper, IN, they are the two bishops on the far right in the second row.


+ + +


I am so thankful for being a member of Christ's Body, the Church. You sustain us with your prayers and sacrifices and your financial donations. With a heart full of joy and confidence in the Lord's goodness, thank you for a successful

Twice Blessed Campaign

.



Your generosity helped us to achieve our goal, and we have covered our bills for 2014, with $350 to begin 2015.

Quite honestly, we are going to need more than that to continue this apostolate of renewing Catholic family life, but I want to share this amazing accomplishment with you.

As always, your prayer intentions are lifted up whenever we assemble to pray. Personally, I pray over all of the intentions when we receive them, and I ask others to pray with me for those intentions if there are others around at the time that we receive them.


+ + +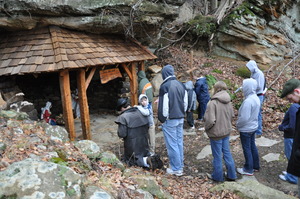 Tomorrow is First Saturday. It is the Feast of the Most Holy Name of Jesus. We hope that you can join us at God's Country for our monthly

First Saturday Devotions

. It is a family-friendly experience, and I hardly know a better way of teaching young people how to pray the rosary and to make the Stations of the Cross.

Fr. Joe Ziliak, a retired priest of the Diocese of Evansville, will celebrate the sacraments for us. We begin at 9:30 a.m. with registration. Please bring along a side dish and drinks for your family to share at our pitch-in meal. We will provide the fried chicken.

Dress for the weather. We will walk as many of the trails as weather permits, but confessions and mass will be indoors.

We always appreciate an RSVP so that we can make proper arrangements for the number of pilgrims. I realize that this is short notice. So, you may give me a phone call at 812.631.2377 to let me know how many will be making the pilgrimage with you, if you have not already called me.

+ + +

Next week, I hope to make an important announcement for this Amazing Year of the Family. Please look for the e-mail, and share with others the Good News of the renewal of Catholic family life.

Sts. Basil the Great and Gregory Nazianzen, pray especially for the return to the true faith of our loved ones.
Blessed Louis and Zelie Martin, pray for us and for the renewal of Catholic family life.
St. Joseph, provide for and protect our families.
Our Lady, Star of the New Evangelization, pray for all of the Handmaids and Servants of the Gardener to be conformed to the image of your Son.
Most Holy Name of Jesus, be adored and loved throughout all of creation.

God's PEACE!
Mark


---
---
St. Joseph's Holy Family, Inc.
25992 Cottonwood Road
Bristow, Indiana 47515
US


Read the VerticalResponse marketing policy.