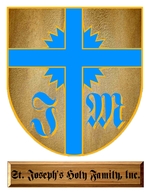 Dear Handmaids and Servants of the Gardener,

As we begin Lent, may your prayer be powerful, your fasting effective, and your almsgiving abundant!

Below are the flyers for the

rescheduled

Women's Conference and the upcoming Men's Conference. Before each flyer, I have included the information in text format. We think that you can

give your Lent-life a super charge with these two conferences

. So, please plan to join us.


RESCHEDULED 2015 SJHF 3rd Annual Women's Conference, Sat. March 21.


A workshop to help women, mothers, daughters, aunts, nieces, sisters, and friends to participate now and locally in the graces of the World Meeting of Families that will happen in September in Philadelphia.

(central time)
8:00 Continental Breakfast in the Cabin
8:30 Introduction in the Welcome Center by Dr. Mark Ginter
8:45 Examination of Conscience at Ten Commandments
9:00 Confessions and Quiet Time in the Cabin
9:30 Mass celebrated by Fr. Josh McCarty, Parochial Vicar,
Blessed Mother Parish, Owensboro; music by Sweet Clement Rain
10:15 Break in the Welcome Center
10:30 Confessions and Quiet Time Continue in the Cabin.

11:00 Conference 1 and Group Discussion led by Elaine Robertson in the Welcome Center

"National Study of Youth and Religion:

What Matters, What Doesn't and Why"

12:00 Angelus & Lunch in Cabin
1:15 Rosary on the Trail or in the Welcome Center
2:15 Break with refreshments in Cabin

2:45 Conference 2 and Group Discussion led by Elaine Robertson in the Welcome Center

"Love is our mission:

How to make our Families Fully Alive"


3:45 Divine Mercy Chaplet at Gardener's Hut
4:00 Evaluation and Concluding Prayer for Families

++++++++++++++++++++++++++++++++++++++++++++++++++++++++++++++++++++++++++++++++++++++++
Elaine Robertson was born in Ferdinand, IN. She graduated from Marian Heights Academy. She received her degree in Elementary Education from Brescia University and taught in Owensboro Catholic Schools for 15 years. She, then, became the Director of Religious Education at Our Lady of Lourdes Parish in Owensboro, KY. During that time, she returned to Brescia and received her second degree in Pastoral Ministry. In 2007, she became the Diocesan Director of Faith Formation for the Diocese of Owensboro. In 2010, she graduated from Saint Meinrad School of Theology with a Masters in Theological Studies.

She is the mother of three grown children: 2 sons and a daughter. She is also "Nana" to 4 wonderful grandchildren. She considers herself truly blessed to have both children and grandchildren close so that she can visit frequently. So, today her life is given to God through her ministry, her family, and her parish. To God be the glory!!!!
++++++++++++++++++++++++++++++++++++++++++++++++++++++++++++++++++++++++++++++++++++++++


Free Will Offering will be taken. RSVP by March 14, 2015 to sjhf@psci.net or 812-357-2119.


St. Joseph's Holy Family, Inc. stjosephsholyfamily.org
25992 Cottonwood Road facebook/stjosephsholyfamilyinc
Bristow, Indiana 47515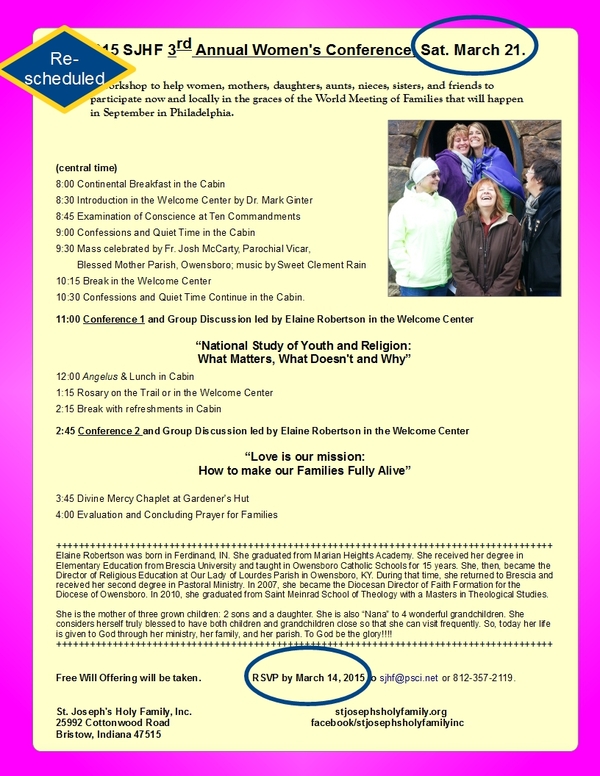 Fourth Annual Men's Retreat
at God's Country, LLC, in Perry County, IN
Saturday, March 28, 2014 (Retreat will be held, rain or shine.)
Love Is Our Mission:
Men Leading Their Families and Their Communities
with Deacon Greg Gitschier, St. Patrick Parish, Louisville, KY
Bodyguard to presidents, Pope John Paul II, celebrities, and the Mayor of Louisville, KY
NEED: Pope Francis will be closing the 8th World Meeting of Families in Philadelphia in September. The theme is: Love Is Our Mission: The Family Fully Alive. Catholic men need encouragement and tools to lead their families and their communities to fulfill this mission from God.

SOLUTION: Tell men how to achieve this mission. Show men how to achieve this mission. Work beside men to achieve this mission. This Fourth Annual Men's Retreat will identify a man's mission to love and to provide the direction for accomplishing it in his family and in his community.
Proposed Schedule (Central Time):
8:00 – 8:15 Welcome, Introductions, and Opening Prayer
8:15 – 9:00 Pancake and Sausage Breakfast (sponsored by Jasper K of C)
9:00 – 9:15 Examination of Conscience (at 10 Commandments)
9:15 – 10:00 Confessions with Fr. John Boeglin, K of C Chaplain (Gardener's House or Welcome Center)
simultaneously
9:15 – 10:00 Joyful Mysteries of the Rosary (Front Lawn)
10:15 –11:00 Holy Sacrifice of the Mass (Sacred Heart Outdoor Chapel or Welcome Center)
11:00 – 12:00 Conference 1 – "A Man's Responsibility to Lead His Community in the Mission of Love"
11:00 – 12:00 Confessions (if necessary)
12:00 – 1:00 Angelus and Lunch (Blue Ribbon Quality "Texas" Chili and Franks)
1:00 – 3:00 Work Session (See below)
3:15 – 3:30 Divine Mercy Chaplet (Gardener's House)
3:45 – 4:15 Conference 2 – "A Man's Responsibility to Lead His Family in the Mission to Love"
4:30 – Prayer for ourselves, our families, our Church, and our world. Departure.
Afternoon Work Project
In addition to the spiritual conferences, men will have the opportunity to make a difference in the lives of families through St. Joseph's Holy Family, Inc. Men will remove a damaged roof on the cabin and prepare for a new steel covering.
Bring Tools: gloves, shingle removal shovels, demolition shovels, claw hammers, wheel barrows
FREE FREE FREE FREE FREE FREE
All retreatants will receive a complimentary copy of Love Is Our Mission: The Family Fully Alive.
This is the preparatory catechesis for the World Meeting of Families. It is an easy to read, 10 point summary of Catholic teaching on sex, marriage, and the family. With all of the confusion in our society about these matters, this is a very helpful answer to the hard questions.
By March 21, 2015, please register your council and the men who will be attending with:
Steve Luegers, Coordinating Servant for Men, at 812.634.0012 or stevelueg7@gmail.com or
Mark Ginter, Ph.D., Head Coordinating Servant, 812.357.2119 or sjhf@psci.net
+ + + + + + + + + + + + +
A little about God's Country:
It is the 32 acres of Joseph Ubelhor's 200 acre farm in Perry County with most of the religious items on it. Joseph worked his land to make it a retreat for his family. In the 1970s, he invited other people to his farm for retreat who were not part of his family. His grandson, Greg Haas, built most of the religious items on the farm. After Joseph died in 1997, his five children divided up the property. His daughter, Joanne Haas, was deeded 32 acres, and she incorporated it as "God's Country, LLC." Greg Haas and his wife, Elizabeth, started a non-profit in 2001 called St. Joseph's Holy Family, Inc., to promote the Catholic faith by honoring the requests of Our Lady of Fatima for the observance of five First Saturdays in a row. In 2009, Greg asked Mark Ginter to take over St. Joseph's Holy Family to promote its rich, natural beauty. Since then, thousands have visited "America's Most Blessed 32 Acres."
A little about Deacon Gregory M. Gitschier, Retreat Director
Dcn. Greg Gitschier was a proud member of the U.S. Secret Service for over twenty-one years. He was assigned full time to protect President Ronald Reagan and his family as well as temporarily assigned to all the Presidents since President Nixon. He has protected many Heads of State, including the Queen of England, Emperor of Japan, as well as Pope John Paul II. He continues as a bodyguard for the Mayor of Louisville, KY.
He is the founding Grand Knight of Bishop Flaget Council #13053 that serves parishes in eastern Louisville. In the 14 years since its inception, Bishop Flaget Council has launched three (3) new Knights of Columbus Councils: Father William Diersen #13304 in LaGrange, Mount Mercy #14604 in Pewee Valley, and Saint Margaret Mary #15979 in Louisville.
He was born in Louisville, is married, and has three children who attend Louisville Catholic schools. On Aug. 21, 2010, he was ordained a permanent deacon of the Archdiocese of Louisville and was assigned to St. Patrick Parish while also assigned as a chaplain to the Louisville Metro Police Department. Presently, he also serves on the Board of Directors of the Kids Cancer Alliance and helps to run their summer camp. He has been an ardent defender of religious freedom in the face of assaults by the Obama Administration. His passion is Catholic apologetics, and he speaks to groups all over the region.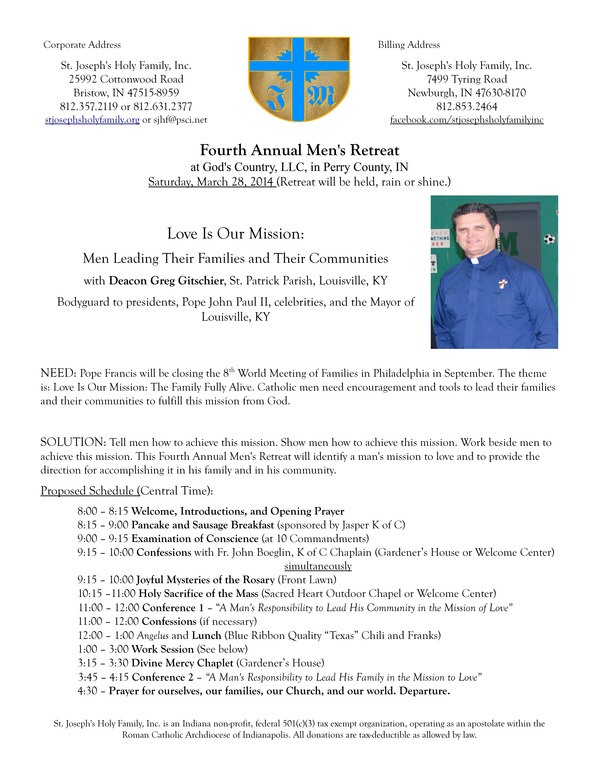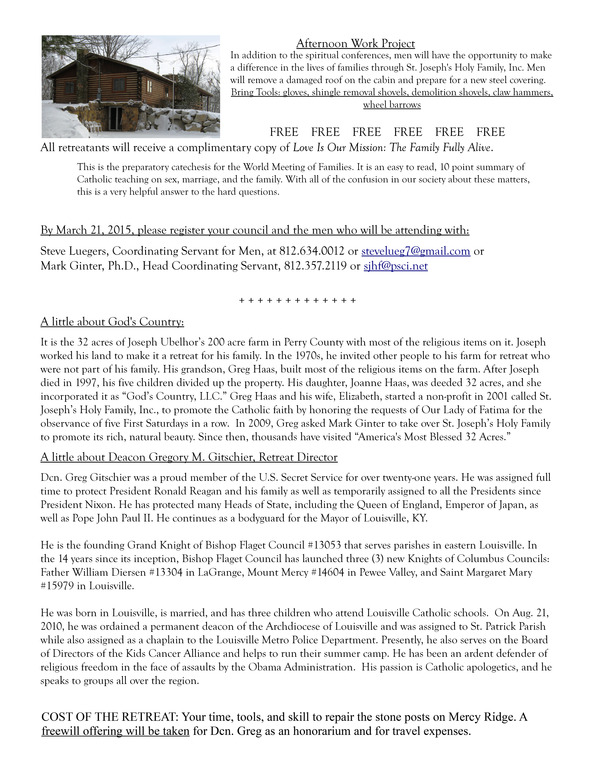 In the meantime, today would be a perfect day to begin your abundant almsgiving.
We need about $5000 to replace and repair all of the damaged trail signs.
We need about $7500 to replace and repair the roof on the cabin and the ceiling inside.
We need about $10,000 per month for operating expenses, in addition to the repairs.
So far, we are quite behind for the year.

I've included a donation card for your convenience. Otherwise, you can donate online.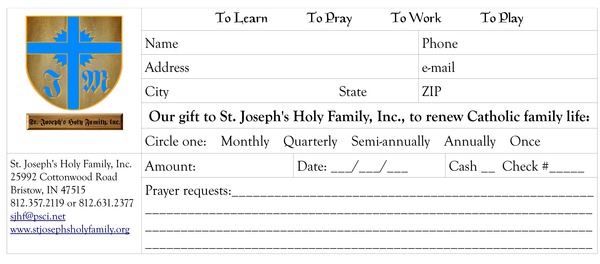 We continue to lift you and your loved ones up in prayer. I look forward to reporting to you on some amazing happenings.

God's PEACE!
Mark


---
---
St. Joseph's Holy Family, Inc.
25992 Cottonwood Road
Bristow, Indiana 47515
US


Read the VerticalResponse marketing policy.