35th Annual Barrel Tasting Weekends
March 1-3 & 8-10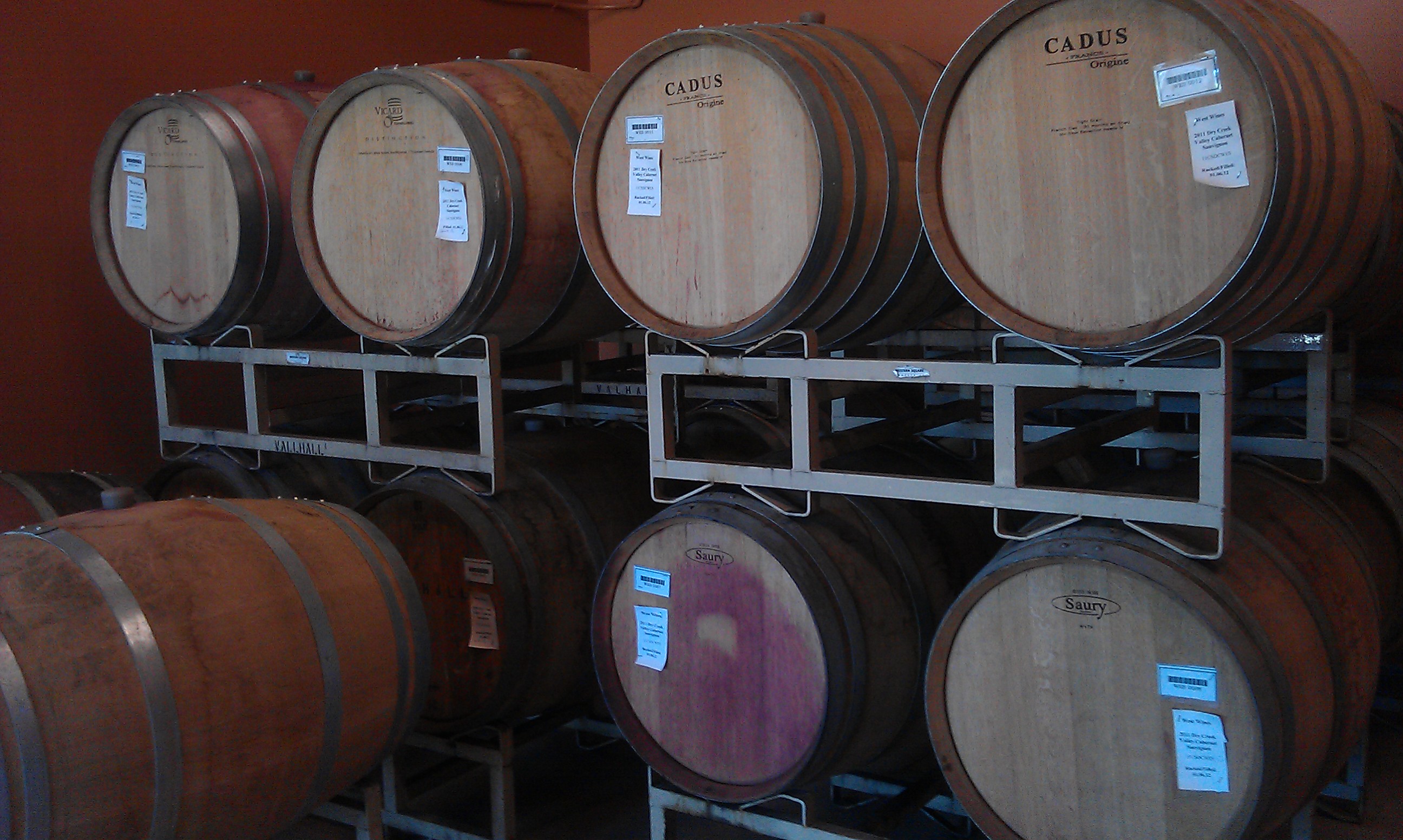 Join us for the upcoming Barrel Tasting Weekends along the Sonoma County wine road. Cabernet Sauvignon being our specialty, we will feature our 2011 Cabernet Sauvignon Reserve, which you will taste straight from the barrel in the barrel room. We encourage you to attend this event because it allows for a unique time to converse with the winemaker and to discover how winemaking techniques (barrel-aging, racking, and other techniques) effect the finished product of the wine. It includes all three valleys, Dry Creek, Russian River, and Alexander Valley. For more information, and to purchase tickets, visit the Wine Road's web site. We hope to see you out on the wine road!
---
Special Offer For Valentine's Day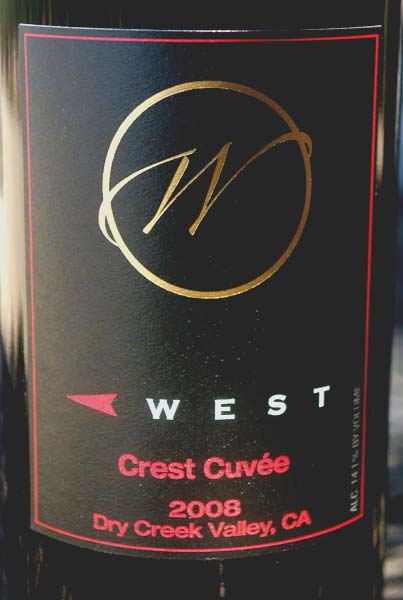 To help you celebrate this Valentine's day, we are offering a special on our Crest Cuvée, a wine complex enough to pair with dinner and dessert. The Crest Cuvée is a traditional Bordeaux blend, with Cabernet Sauvignon, Merlot, Malbec and Cabernet Franc blended to create a smooth and balanced wine rich in flavors of cherries and raspberry along with earthy notes from well-rounded tannins. Perfect for a romantic dinner. In February only we will have this Valentine's special at $28/bottle ($35/bottle regular). You can order it on our web site, or call us Thursday through Sunday from 10 am to 4 pm at the winery number below.
---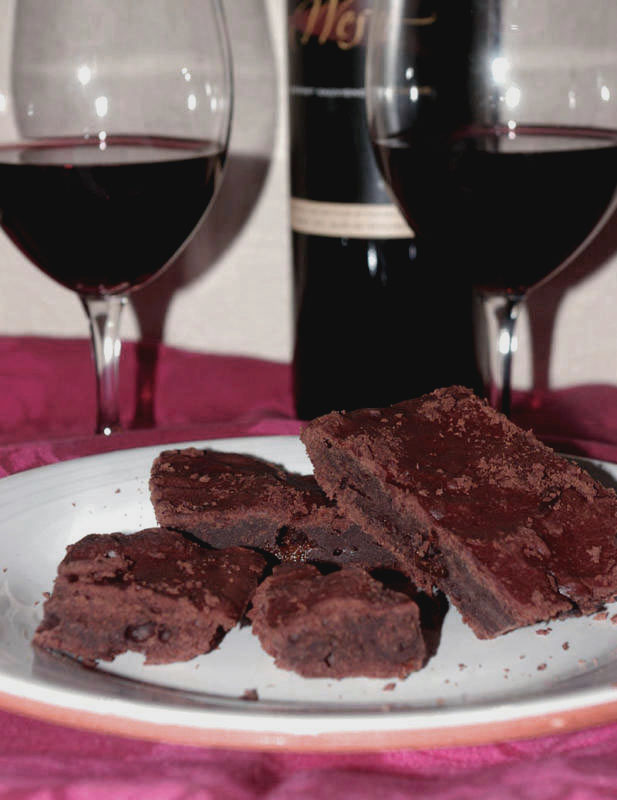 February is the month of the year known for love, wine, and chocolate. While you will have your own ideas for love, we recommend our Bodeaux blend with a semi-sweet brownie for a month of chocolate, sweets, and treats. Our Crest Cuvée is a smooth and rich red wine with complex notes that pair well with the below recipe, made with prunes soaked overnight in brandy and espresso. Enjoy!
Dark Chocolate Brownies With Coffee and Armagnac Prunes
2 tablespoons Armagnac or brandy
1/4 cup freshly brewed espresso
6 tablespoons unsalted butter
6 oz dark chocolate, broken into pieces
generous 3/4 cup sugar
3 eggs
1/2 cup all-purpose flour
1/4 cup unsweetend cocoa powder

as 8-inch square pan, lined with
parchment paper.
makes 16 brownies

Roughly chop the prunes into bite-size pieces and put into a bowl. Pour over the Argmanac and espresso, cover, and let soak overnight.

Preheat the oven to 350 degrees Farenheit.

Put the butter and chocolate in a heatproof bowl set over a pan of simmering water. Heat gently, stirring, until melted. Make sure the bowl does not touch the water. Remove from heat and let cool for about 5 minutes.

Stir the sugar into the chocolate mixture, then beat in the eggs, one at a time. Sift over flour and cocoa powder and fold in, then fold in the prunes and any remaining soaking liquid.

Pour the mixture into the prepared caked pan and bake for 20-25 minutes until firm to the touch and lightly speckled on the top. Let cool in the pan, cut, and serve.

As always, send us you comments and thoughts.
Cheers,
The Team at West Wines

Dark Chocolate
Brownie with Coffee and Armagnac Prunes
a Valentine's reccomendation
below.
---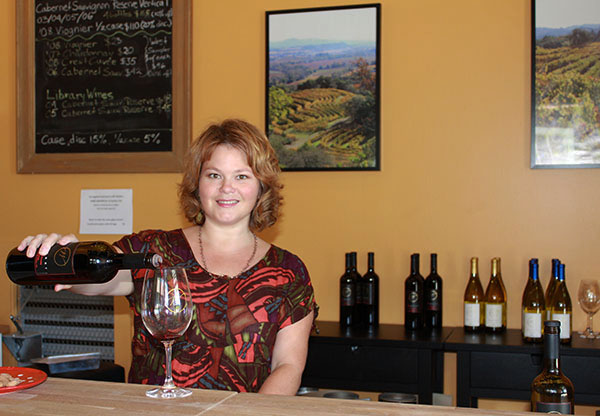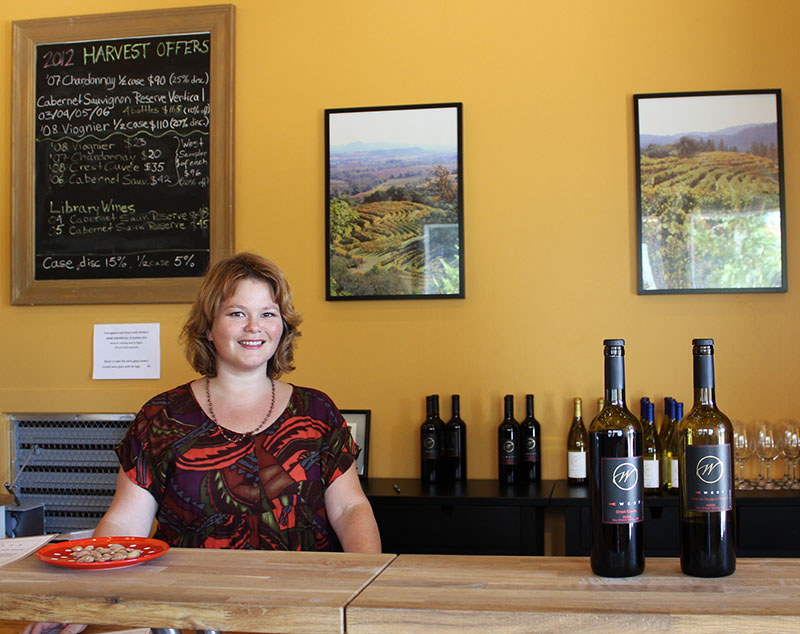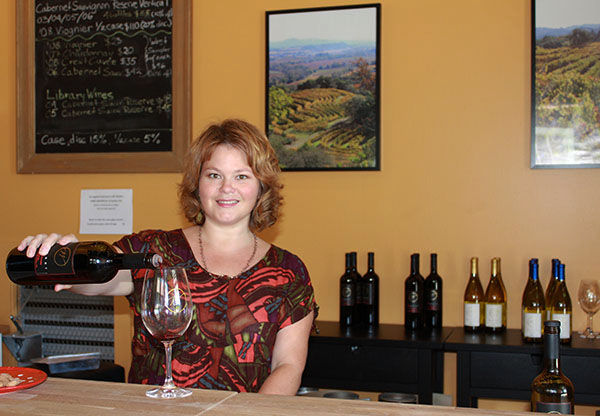 On Valentine's weekend February 14-17 we will feature our Crest Cuvée in the tasting room. Come and taste how chocolate and this wine pair with tasting room extraordinaire, Star.
---

"Sneakaway in the Vineyard"

Spend a weekend surrounded by our vines right outside Healdsburg. Stay in our three bedroom cottage under the old oak tree, enjoy a private wine tasting for four and relax in the hot tub overlooking the vines while sipping your "welcome bottle" of wine. $580 two nights, 4 people ($780 for six). Cleaning fees and county taxes apply. For dates inquire at info@westwines.com
---
Passport Weekend

Tickets are now "live" for Dry Creek Valley's Passport Weekend April 27 & 28. Exclusive to Dry Creek Valley, it is a fun, themed event that showcases the beauty and diverse array of wineries in Dry Creek Valley. At West Wines you will get transported in time and place to Casablanca in the 40's, sampling great food and wine pairings with a touch of Morocco. Live piano music will accompany our themed event. Visit the Winegrowers of Dry Creek Valley's web site for further information and ticket sales. Wine Grower's of Dry Creek Valley