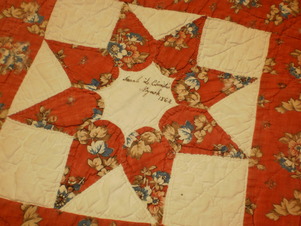 An Invitation from Win Perry, President of the Historical Society of the Nyacks:
Our new exhibit, opening Saturday, February 2, from 1:00 to 4:00, is called Nineteenth Century Treasures: a quilt, a diary, a coverlet, a notebook...." (The ... signifies many other items in our collection are also there for you to see.)

The quilt is the Nyack Star Quilt, which was signed by a group of local girls, mothers and a grandmother,and was likely auctioned or raffled to raise money in support of young men who were leaving to fight in the Civil War to preserve the union and end slavery. We are showing it again by popular demand.

The blanket is a coverlet that was made in 1834 for Peter T. and Leah Stephens. It's the sort woven by itinerant weavers, often with a loom mounted on a wagon bed, usually using wool yarn spun by the owner. This one is unusual, being blue on blue, rather than the more common blue and white. Peter T. Stephens was a wealthy farmer in West Nyack with a grand sandstone house. He was also a judge and served a term as Supervisor of the Town of Clarkstown. A news article states that he and his son produced 40,000 gallons of cider one year, and he frequently exhibited his produce and animals at the county agricultural fair.

The diary is loaned by Betty Perry and was handwritten by Bertha Frost, in 1881-1895. She was also a farmer in West Nyack, but at the other end of the economic spectrum. She took over the family farm as a teenager on the abdication of her father (a "gentleman of leisure") and managed it throughout her life. She and her mother sold eggs, butter and farm animals and took in roomers to eke out a basic existence. They were Friends (Quakers), referred to Sunday as first day, and were also vegetarians. She identifies herself as from Nyack-on-Hudson and tells about coming to town, sometimes on foot, to go to the library or catch the Chrystenah to Manhattan. She also traveled by horse and buggy and the Nyack-Tarrytown ferry to visit relatives in Pleasantville.

The notebook is one the Society was given that is apparently by Robert Hart and records details about life and history in South Nyack between 1799 and 1855. Among the items that Hart considered worth recording are the history of how the Cornelison farm comprising most of South Nyack was subdivided, how many shad his sons caught each year, the death dates of prominent citizens, events in the history of the Nyack Presbyterian Church, and the details of running his farm.
Please come visit us and see the exhibit at our mini-museum in the basement of the Depew House, 50 Piermont Avenue, adjacent to the Nyack Library. It will be open every Saturday from 1:00 to 4:00 through March. Refreshments will be served at the opening. More information may be had by calling 845-358-0552.