The Exhibit remains open for the next two Saturdays - 1 to 4 p.m.
The Historical Society's exhibit that interprets and accompanies the Bench closes on Saturday, May 30th. Come visit the bench, then cross the street to learn more about the background and history behind Nyack's newest monument!
"
An Underground Railroad Monument Comes to Nyack
, inspired by Toni Morrison, honoring Cynthia Hesdra" runs through
May 30
. The exhibit explores the life of Cynthia Hesdra (1808-79), a Nyack woman who rose from slavery to become an entrepreneur and abolitionist and who is listed as a conductor on the Underground Railroad in Nyack. The life of Nobel Prize-winning author and local resident, Toni Morrison, whose quote inspired the Toni Morrison Society's
Bench by the Road
program, is also highlighted in the exhibit. Photos and text that describe bench projects from around the world create a compelling narrative about slavery and freedom.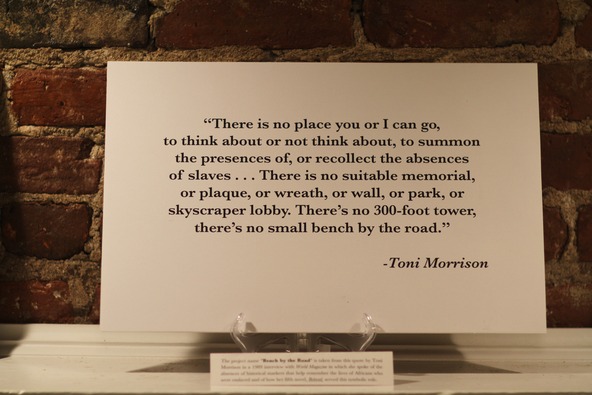 The exhibit is open from
1 to 4
every
Saturday
through
May 30th.
It may also be viewed by appointment, by calling
(845) 418-4430
.
The Historical Society of the Nyacks museum is located at 50 Piermont Avenue, Nyack, NY 10960. Entrance is under the front porch. Parking is available at the adjacent Nyack Library parking lot and on local streets. There is no charge for admission. Donations are encouraged.
THE NYACK LIBRARY
Visit the Carnegie Farian Room at the Nyack Library during regular hours for the Historical Society's exhibits featuring Toni Morrison and Cynthia Hesdra.