Building the Tappan Zee Bridge: Photographs by Leonard Cooke, 1952-1955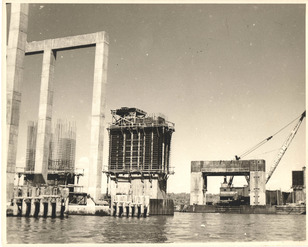 This Sunday from 1 to 4 p.m. is the last opportunity to see this fascinating photographic exhibit with all of Leonard Cooke's personal descriptions of the scenes that he captured while commuting to work across the Hudson River on a boat during the time that the original Tappan Zee Bridge was constructed, between 1952 and 1955.
Read more about Leonard Cooke and the discovery of these "lost" photos in this Journal News article: http://www.lohud.com/story/news/local/rockland/tappan-zee/2015/09/10/tappan-zee-see-lost-photos-original-build/71957742/
The next exhibit, opening on Sunday, November 29th, will be a collection of Nyack artist William Bruckner's paintings, many of which will be for sale. A companion exhibit featuring the art of William Bruckner is already available for viewing in the Carnegie-Farian room of the Nyack Library.
The exhibit is free and open to the public. Donations are encouraged.
The Historical Society of the Nyacks' Museum is located in the Depew House across the street from Memorial Park, at 50 Piermont Avenue, Nyack NY 10960. Enter under the front porch. Metered Parking is available in the Nyack Library parking lot off Hudson Street, and there is also free and metered street parking nearby.
For more information about the Historical Society and to become a member, please visit www.nyackhistory.org