How do you know if the claimant is fooling the adjuster/physician?
• What to look for in an IME
• Tests that have no pathological basis
• Inter-examiner consistency
About Our Speakers
Stephen Fuller, M.D
Graduated from medical school in Dublin, Ireland, in 1968. He completed his orthopedic/hand residency at Johns Hopkins and Union Memorial hospitals in Baltimore, in 1974. He was appointed to the academic staff at the University of Colorado and later at the University of Maryland, prior to establishing a full-time private practice in the late 1970's. He is Medical Director at Impartial where he analyzes the most complex cases and mentors new physicians.
---
Wayne C. Kaesche, M.D
Graduated from University of Utah College of Medicine, in 1968 and completed his Orthopedic Surgery training at the University of Oregon Health Sciences University in 1976. After completing his medical training he worked as an Orthopedic Surgeon at Willamette Falls Hospital, Oregon City, Oregon, and Providence Milwaukie Hospital, Milwaukie Oregon, and he was on the Clinical Faculty at Oregon Health Sciences University. Dr. Kaesche was an Adjunct Assistant Professor at Oregon Health Sciences Center, Department of Orthopedic Surgery & Rehabilitation from 1976-2002. He has been exclusively conducting independent medical examinations, analyzing complex cases, for impartial since 2008.
---
Wednesday, March 19, 2014
11:45 a.m.-12:00 noon - Networking
12:15 p.m. - Luncheon

1:30 p.m. – Adjourn

Location:
Doubletree Hotel, Phoenix Airport

320 N. 44th Street
Phoenix, Arizona 85008

---
Registration

:

Members - $25

Non-Members - $35


48 Hour Cancellation Policy in Effect. All No-Shows Will Be Billed.



*On-site registration

: $10.00 additional for both members and non-members.

ASIA encourages you to

pre-register

for the luncheon prior to the deadline of 12 noon on

Tuesday, March 18th*




If registering on-site the day of the luncheon, please note the cost increase and that the hotel cannot guarantee a meal. Thank you for your cooperation.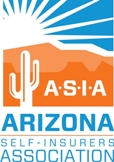 ---
UPCOMING EVENTS
April 16, 2014
---
Arizona Self-Insurers Association
7375 E. 6th Ave., Ste. 9
Scottsdale, AZ 85251
(480) 706-5762
asia@azselfinsurers.org