A Note From our President of the Board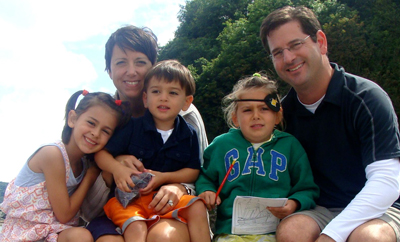 I am always proud to say I have been a supporter, friend and board member of the Kelly Anne Dolan Memorial Fund since 1997. I am now the President of the Board of Directors and I couldn't be more excited, more motivated and more positive about the work of the Fund.
I was 24 years old with no children when I first joined the Board. I was touched by the stories of the families we helped and believed in the vision – that all families should thrive as they go through the crisis of having a sick child. But I didn't actually understand what that meant until our first child was born and ended up in the NICU hours after her delivery. The doctors were initially struggling to properly diagnose her and we experienced the fear and pain as you watch your child suffer. It was then that I realized how lucky we were to be in our position. We had health insurance, we were employed, and we didn't have other children at home to care for. We could meet the financial and logistical challenges that could come our way. Our daughter is a healthy 7-year-old today, but those first few weeks of her life solidified my own personal commitment to the Kelly Anne Dolan Memorial Fund.
It does not matter how old you are or how much money you have – what matters is that the story of the Dolan family and the stories of the families the Fund has helped over the 36 years inspires you to action. Whether it is adopting a struggling family for the holidays, attending the Wine In Winter event, or simply writing a check answering an appeal letter – you should feel confident that you are making an impact in the lives of families in crisis. On behalf of the Board, I express much gratitude to those individuals who continue to support our work. As an organization we could not thrive with out you!
Teresa Araco Rodgers
Holiday Adopt-a-Family Program Kicks off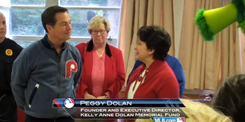 For 19 years, the Kelly Anne Dolan Memorial Fund has helped families in crisis experience the true spirit of the holiday season. The Holiday Adopt-a-Family Program, which first began in 1993 with a few requests from social workers, has since provided gifts and gift cards to more than 5,000 recipients (children and adults) dealing with financial hardships brought upon by a child's illness. Generous donations from individuals, community organizations, church groups, schools and corporate sponsors are distributed through social workers at various hospitals and social service organizations in the region. Join them this year by donating supermarket, department store, gas and pharmacy gift cards that will provide these families with food, gifts and more. Individual and corporate sponsors can also be matched with a specific family, for whom they will be asked to purchase items from a "wish list" prepared by the family. The Fund currently has more than 200 families all over the Delaware Valley who are waiting for hope, help and a joyous holiday this year. To make a difference with just one gift card, or fulfill a family's "wish list" in the Holiday Adopt-a-Family Program, visit our
website
.
Here's to Year 36!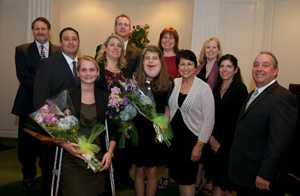 With 35 years officially under our belt, we could not have imagined kicking off year 36 in a better way than by celebrating with our close Fund champions at the Annual Anniversary Celebration Awards and Recognition Dinner on October 3rd. Thank YOU for the continued support year after year - we are beyond grateful for your assistance. Your belief in our mission has made a difference for more than 22,000 families in crisis.
Congratulations to this year's honorees:
Tamanend Middle School's Basketball Shootout Committee: Compassionate Care Award
Spirit of Philadelphia Crew Members: Volunteer Achievement Award
Kennedy Hubbard and Family (Kennedy's Cause): Jack C. Graham, Jr. Courage Award
Woodside Christian Preschool: Schools Initiative Award
Elsie Lee Garthwaite Memorial Foundation: Foundation Award
Wellness Solution Centers: Volunteer Leadership Award
Hamburg, Rubin, Mullin, Maxwell & Lupin: Business Partnership Award
Bethlehem Baptist Church: Fellowship Award

Frank Quattrone: Media Award
Andrew Abramson, Abramson Employment Law, LLC: President's Award
Vani Kumar: Director's Award

Sixth Annual Wine in Winter: Hurry Before Tickets Sell Out!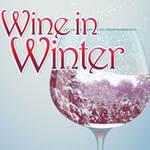 Join KADMF at the Annual Wine in Winter sell-out event on Friday, February 1, 2013. Last year, 550 supporters came together to raise $62,000 while sampling wines, premium beers, spirits and a delicious assortment of complimentary foods provided by the area's premier restaurants, caterers and beverage purveyors. Attendees will also have the chance to bid at a silent auction and participate in raffles for a variety of prizes. Space is limited so do not miss your chance to join in the fun! To make your reservation or become an event sponsor, please visit
DolanFund.org
today.

Longwood Gardens Family Fun Day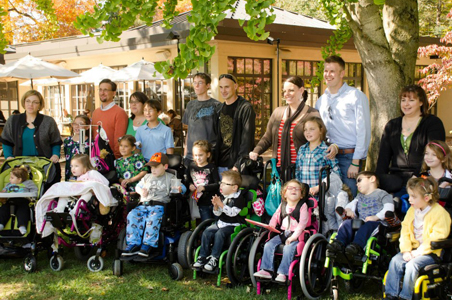 Sunday, October 21
st
marked yet another incredible Family Fun Day at Longwood Gardens for more than 250 pediatric patients, siblings and family members. This wonderful day of respite for families of seriously ill children and those with disabilities provided a complimentary tour of the gardens, delicious luncheon and a chance to "stop and smell the flowers." Big thanks to Acme Markets, Longwood Gardens and Longwood Rotary Club for being the proud sponsors of this year's Family Fun Day! Without your assistance, this generous day away from the hospital and stress caused by dealing with illnesses and disabilities would not have been possible. See more photos from this fantastic event by visiting the KADMF
Facebook page
.

Young Friends Masquerade Ball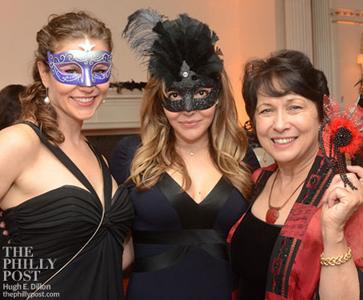 The Young Friends of KADMF hosted their first Black Tie Masquerade Ball on November 2nd at the beautiful Stotesbury Mansion in Philadelphia. Over 200 guests celebrated in elegant attire and beautifully designed masks, all in support of raising awareness and donations for the Fund. This dynamic group of young supporters did not skip a beat as they danced the night away, drawing over $6,400 in donations! The Fund is extremely proud of this new chapter and cannot wait to see what the next Young Friends' event brings. Many thanks to Christine Bugg, our new Young Friends and Special Events Coordinator.
Check out all of the fabulous guests on this memorable evening by viewing here.
To learn more about The Young Friends of KADMF, visit DolanFund.org or contact Christine Bugg, cbugg@dolanfund.org.


Help & Hope Program: Six More Families Assisted!
The Help & Hope Program, initiated at our 35th Anniversary Celebration in October 2011, was designed to support families in crisis to a greater degree. Over $18,000 has been received to date. As of this month, Help & Hope funds have been distributed to 18 families (six additional families since July) who unfortunately met the criteria needed to qualify for this exceptional program. We are now 17 families and $17,000 away from reaching our goal of raising $35,000 to support 35 families caring for one or more seriously ill or disabled children who are experiencing severe and extreme financial and physical difficulties.
One hundred percent of the dollars raised for the Help & Hope Program will make a big impact for families in crisis by removing the burden of debt and creating a sense of stability in lives traumatized by the effects of serious illness. This program allows donors to directly touch the lives of families like never before! Help us get closer to our goal by becoming a Help & Hope sponsor with your contribution of $1,000 or more. Contact Development Assistant Catherine Simon at csimon@dolanfund.org with your donor information.


Is Your Group in Need of a Motivational Speaker?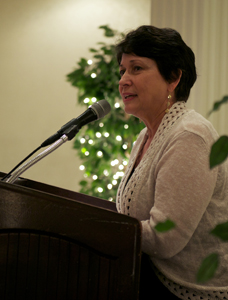 Whether you are looking to communicate inspiration, perspective or motivation, there is no doubt that everyone in your group will immediately feel the passion Peggy Dolan brings when she takes the podium to share her very special life experiences. No matter the age or makeup of the audience, Peggy has the remarkable ability to make a personal connection with everyone she touches. Consider adding Peggy to the agenda of an upcoming meeting, ceremony or assembly.
For more information, please email Jane Bugg at jbugg@dolanfund.org or call 215.643.0763.

Mark Your Calendar

Friday, February 1: Wine in Winter, Normandy Farm Hotel & Conference Center
Join the party at the Normandy Farm Hotel & Conference Center in Blue Bell, PA. Registration begins at 6:30 p.m.

Saturday, February 16: Fireside Frostbite 5-Miler, Ambler, PA
Join the expected 1500 runners when Ambler Area's Running Club hosts the 2013 Fireside Frostbite 5-Miler starting at 9:00 a.m. at Wissahickon High School to benefit the Kelly Anne Dolan Memorial Fund and our friends at the Crefield School. Come cheer them on, or lace up your sneakers and join in the fun! Runners registration has begun – sign up today.

Saturday, February 23: Tamanend Middle School Annual Basketball Shootout, Warrington, PA
The students, faculty, staff, and parents at Tamanend Middle School will go above and beyond during the 13th Annual Basketball Shootout, beginning at 7:00 a.m. Help the Tamanend students reach their fundraising goals by making a donation today.

In the News

Ambler Gazette, August 3, 2012
Young Friends initiative introduced

Upper Moreland-Willow Grove Patch, August 28, 2012
Herman Weinrich recognized with the Fund's "Philanthropy Award"


Haverford-Havertown Patch,
September 17, 2012
New board members appointed to the KADMF team

Pottstown Mercury, October 8, 2012
The Fund's efforts honored in its 36th year

The Ticket, October 11, 2012
Frank Quattrone recognized with the "Media Award"

Ambler Gazette, October 12, 2012
The Fund impacts more than 22,000 families in 36 years of operation

Philly.com, November 4, 2012
Out and About: The Black Tie Masquerade Ball at Stotesbury Mansion

The Philly Post, November 5, 2012
Hugh E. Dillon highlights Young Friends of KADMF's Black Tie Masquerade Ball


What a Fall! The East Coast has fallen victim to storms, floods and outages - lives and livelihoods lost have given us heavy hearts and much to think about. Yet as I write this, already I recognize the resurrection of so many crushed spirits uplifted through the many kind acts of those in the surrounding communities. Many individuals, mostly complete strangers, have pitched in with physical support, clothing donations and food drives. Funny how, in the darkness of a disaster, the light of goodness always shines through.
We were pleased to provide our support to many families affected by Superstorm Sandy. When one family lost their power they were forced to live in a hotel temporarily, as their son is ventilator dependent and their generator failed. We assisted with the hotel bill. Some other families who have been displaced, perhaps permanently due to the storm, will be reminded of the true spirit of the holidays through the generous donations of our Holiday Adopt-a-Family Program sponsors.
Last month, we celebrated the 36th Anniversary of our organization. The Fund celebrated the people that have touched many through their generous support and donations. So many friends have helped to build this Fund through their time, guidance and resources and for that, over 22,000 families have benefited. You make all this possible. From the team here at the Kelly Anne Dolan Memorial Fund, all our best wishes to you and yours at the start of this holiday season, and thank you for your generous support.  
Peggy Dolan