---
Welcome to the Peter Jones Enterprise Academy newsletter, your 'go to' for all the latest updates from across the Academy network and the Peter Jones Foundation. We want to include your story in our newsletter, on our websites and on our social media channels, so send your content and photos to
newsletter@pjea.org
---
PJEA graduates secure first and second in national business competition
Congratulations to former
Oldham College
students Hassan Iqbal and
Daniel Arundel
, who secured first and second place in this year's
Edge Challenge
.
Hassan, who graduated this summer and has gone on to study at Manchester Metropolitan University, runs
CreativePixels
, a media agency specialising in web design, SEO and branding.
He was presented the top prize of £3,000 by former Dragon and Patron of The Skills Show Theo Paphitis.
Hassan said: "I am absolutely overwhelmed to have actually won the Edge Challenge. It has been a really interesting experience which has helped to build my confidence and will help to build my business in the future.
"I'd like to thank my family, my friends, Oldham College and all the organisations which have helped me to come this far."
Daniel said: "I'm very proud of coming so far in the Edge Challenge. A big thank you to my family and to everyone at the college for their support. The prize will help to fund the business with new equipment and help us to progress further."
Founder of the
Peter Jones Foundation
Peter Jones CBE said: "Hassan and Daniel are deserving winners of their prize money and they are fantastic examples of the young entrepreneurs that come out of our Academy.
"I hope that future Academy students will be inspired by their success and gain the confidence and drive to pursue their entrepreneurial dreams."
---
PJEA at Kirklees College scoops two enterprise awards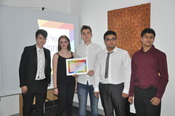 We are delighted to report that the
Peter Jones Enterprise Academy
at
Kirklees College
has won two awards at the inaugural Kirklees Youth Enterprise Awards.
The Academy collected honours for Best Group Product and Best Support Organisation for Enterprise at a special ceremony held at the college last month.
The event was launched to recognise the achievements of individuals and organisations contributing to the development of enterprise in the region, as well as celebrating the entrepreneurial spirit of its young people.
Kirklees College Head of Enterprise Lydia Butterworth said: "Our success is a testimony to the hard work and enterprising spirit of our learners. We are delighted to receive such accolades and can't believe our learners are making such an impact locally after only eight weeks on the course."
The awards were presented by Deputy Mayor of Kirklees Cllr Jim Dodds and Founder of the Teenage Market Joe Barratt.
The Academy at Kirklees was chosen as Best Support Organisation for "going above and beyond the call of duty when it comes to enterprise".
The judges said: "They not only support their own pupils on their enterprise course but work with other local businesses to help them grow, deliver enterprise workshops and competitions in schools, support Alternative Market [a council initiative] traders, provide enterprise training for teachers and lots more."
The students claimed the Best Group Product award for a tote bag they designed and have been selling at Alternative Market events in Huddersfield.
The judges continued: "They worked together to create a very innovative and unique product – the London Huddersfield Paris New York tote bag, which has proven very popular at our markets."
---
Global Entrepreneurship Week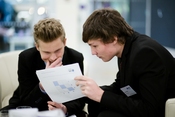 The
Peter Jones Enterprise Academy
celebrated Global Entrepreneurship Week (GEW) in November, with a series of events taking place across the network.
This year's initiative – which is the world's largest campaign for enterprise and entrepreneurship – focused on helping aspiring entrepreneurs to "make it happen", which is exactly what the Peter Jones Enterprise Academy is all about.
Here are a few examples of what our Academies got up to:
All 4,500 learners at
Kirklees College
, regardless of the subjects they study, engaged in 15 hours' worth of Global Entrepreneurship Week activities.
They were concentrating particularly on collaboration and co-creation, working together in teams to complete various enterprise challenges. The college's aim was "to develop transferable skills for working life and academic progression".
Bournemouth and Poole College
students enjoyed learning from industry experts, spending two days interviewing local businessmen and women about their work. As a finale for the week, they hosted a day of "global team building and cross-cultural enterprise challenges".
Students at
Leicester College
put their business acumen to the test by taking part in the DECA Challenge, for which they had to come up with an innovative use for an everyday item.