International Women's Day at ADB and Inspiring Change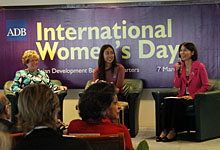 International Women's Day (IWD) was celebrated with the theme, "Inspiring Change". The panel was opened by ADB President Takehiko Nakao who said that although good progress has been made across the region to reduce gender disparities, the achievements are not spread widely or evenly across the region. Much more needs to be done to close the remaining gender gaps. Read his speech. Guest speakers Maria Carmela Alvarez and Mary Anne Gale delivered messages on the theme. Read more.
Are the MDGs the Long Road to Gender Equality?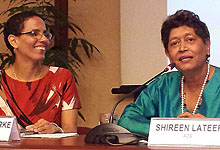 In one of the Gender Month seminars, UN Women Asia-Pacific Regional Director Roberta Clarke argued that the "step backwards" in the MDGs on gender needed to be addressed post 2015. She suggested that the MDGs had failed to address structural gender inequality including violence against women, and the push back on autonomy in decision making. ADB's Anuradha Rajivan and Susan Roth were discussants. Read more. View speaking notes.

Why Do Some Men Use Violence Against Women and How Can We Prevent It?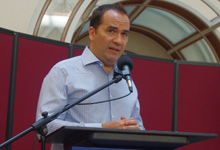 James Lang, Program Coordinator of UN's Partners for Prevention presented findings of the UN Multi-Country Study on Men and Violence which surveyed 10,000 men, mainly in Bangladesh, Cambodia, and the PRC. The presentation addressed the prevalence and patterns of male violence against women and uncovers what drives some men to use violence whilst others do not, and ways to prevent it. The findings support theories on gender, and power and violence, especially feminist theory. Read more. View presentations.

Progress of Women's Rights in Islam in a Brave New World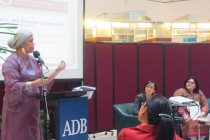 Ratna Osman of Sisters in Islam (SIS), Malaysia discussed the challenges of advancing gender equality within Islam, particularly for SIS as a women's rights organization in a Muslim society. She explored whether gender equality is possible within Islam, the interpretations of Islam which embrace gender equality, and the landmark Malaysian court cases seeking gender justice for women. ADB's Irum Ahsan was a discussant. Read more. View presentation.
ADB Supports Women's Labor Market Participation
Promoting Gender Equality in the Labor Market in Cambodia, Kazakhstan, and the Philippines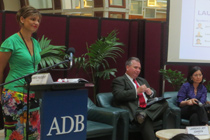 Gender inequalities remain in women's access to wage employment outside agriculture, decent work, and access to productive resources such as land, credit, and financial services, stated James Nugent of ADB at a launch featuring five publications by the ADB, the International Labor Organization (ILO), and the Philippine Commission on Women (PCW). Lawrence Johnson of the ILO commented that in South-East Asia and the Pacific, labor force participation rate continues to be higher for men at 82%, than women at 59%, and that similarly, the employment-to-population ratio of men is higher at 79%, compared to 57% of women. Emmeline Versoza of PCW raised the possibility of a post-MDG stand-alone goal for gender equality. Read more and see related article.





The five publications on Promoting Gender Equality in the Labor Market are based on an analysis of gender inequalities, strategies and promising initiatives to counter gender discrimination and promote equality between men and women in Cambodia, Kazakhstan, and the Philippines; as well as an inventory of global good legal, economic, and social practices to improve equitable employment and decent work for women.
Live Chat: Women at Work: Breaking through Asia's Glass Ceiling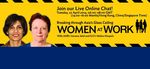 Hosted by Sylvia Inciong of ADB, lead chatters, Imrana Jalal of ADB and Nelien Haspels of ILO, responded to comments and questions from 66 participants who chimed in to chat about gender and labor issues. The majority of chatters stayed for the 2-hour session and discussed issues ranging from the challenges of child care whilst remaining in the paid labor market, the gendered division of labor in the home and in the paid workforce, the meaning of decent work, good hiring practices and macroeconomic policies that would foster jobs for women. View transcript of online Live Chat.

The Gender Wage Gap in Indonesia - Inclusive or Exclusive Growth?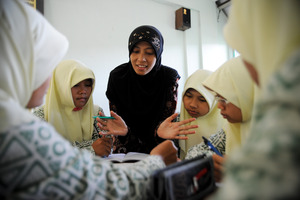 Kiyoshi Taniguchi of ADB demonstrates that a gender wage gap exists in Indonesia, as elsewhere, that it is surprisingly wider in urban areas than in rural areas, and that socioeconomic characteristics, such as gender discrimination, are the key determinants of the gender wage gap. He suggests that this means that the Indonesian labor market is still inefficient and that equal pay legislation should be enacted, implemented and enforced. Read more.
Promoting Women Water Leaders
A fish out of water? Women, Water and Leadership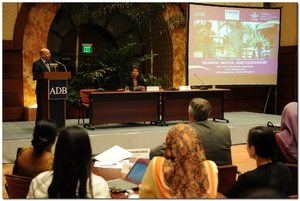 "From the Shallows to the Deep: Who is Taking the Lead? Women, Water and Leadership: A Regional Workshop for Asia and the Pacific,"
co-organized by ADB and the International Water Management Institute (IWMI), drew water, gender, development and food experts. Evidence shows that projects designed by women and run with their full participation were more sustainable and effective than those without. In spite of this, the workshop revealed that women's leadership in water governance is limited. The reasons for women's lack of involvement in leadership, policy making, and governance are complex and include cultural and traditional attitudes, gender stereotyping, and perceptions of a lack of management and technical skills. Read
more
. View
presentations
. Read about scholarships for future
women water leaders
in the Lao PDR.
Gender and Climate Finance
Live Online Chat - Supporting Women's Contribution to the Fight against Climate Change

Women play a front line role in managing energy, waste, and water resources and are uniquely positioned to contribute in the fight against climate change. Yet new ADB research funded by the Nordic Development Fund shows women are rarely considered in the disbursal of multi-million dollar global climate funds. Linda Adams and Lauren Sorkin of ADB, and Climate Finance Expert Liane Schalatek discussed the challenges and opportunities of making climate finance more effective and equitable by targeting women in a Live Chat. Participants chatted about the recent developments in the climate finance landscape in anticipation of a new gender responsive Green Climate Fund and what role Multilateral Development Banks such as ADB could play to make climate finance work for women. Read transcript. Read related article by Natalie Harms.
Pilot Gender Equality Initiatives
Economically Empowering Cambodia Women Road Workers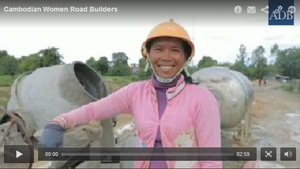 A unique ADB project is empowering Cambodian women by ensuring they get their fair share of work building up to 1,500 km of rural roads across the country. Read more on the Promoting Women's Access to Jobs in Rural Road Construction and Maintenance subproject. View video.


Strengthening Capacity of Women along the Central Mekong Delta Connectivity in Viet Nam

The Gender and Development Cooperation Fund subproject Promoting Gender Equality and Women's Empowerment – Strengthening Capacity of Women along the Central Mekong Delta Connectivity Project Phase II helped local women build their capacity to capture economic opportunities and strengthen resilience to possible negative impacts. Read more.
Recent Gender Mainstreaming Projects
KALAHI–CIDSS National Community-Driven Development Project in the Philippines

The project aims to restore basic social and infrastructure services, rebuild communities affected by Typhoon Yolanda, and build resilience of poor communities for future disaster risks. The project's gender action plan (GAP) sets out a roadmap for ensuring that women are involved in the selection, construction, and operation and maintenance of community infrastructure. To secure gender benefits in the project, 20%–30% of the paid jobs will go to women; 50% of participants in all capacity development programs are to be women; 50% of volunteer communities will be women; gender mainstreaming responsibilities are included in the performance targets of project management officers; and there will be gender training for project staff.

See other approved projects with gender mainstreaming:
PRC: Yunnan Chuxiong Urban Environment Improvement Project | GAP

The project will improve access to social services for women and provide them with new employment and income opportunities. The GAP prepared for the project includes (i) a target to provide at least 20% of the employment opportunities generated during construction to women, as well as at least 50% of the jobs for landscaping, street clearing, and solid waste collection; (ii) steps to ensure that women will participate in training on road safety, and waste separation and management; (iii) the collection of sex disaggregated survey data; and (iv) the monitoring of the gender action plan indicators.

PRC: Guangdong Chaonan Water Resources Development and Protection Demonstration Project | GAP

The project will bring direct gender benefits to women by releasing 4,000 women from fetching water during the dry season. The gender action plan has set numerical targets for 40% minimal female participation in the labor force, training activities, and public awareness activities. At least 30%of jobs will be reserved for women, of which 50% are managerial or skilled positions.

VIE: Sustainable Urban Transport for Ho Chi Minh Mass Rapid Transit Line 2 | GAP

The plan ensures that the detailed design of the project's MRT Line 2 station accessibility elements will include measures to address gender concerns for using public transit services. Gender inclusive infrastructure includes women-only waiting spaces at bus terminals; adequate lighting around stations, bus stops and walkways; separate toilets for women; and spaces allocated for women vendors to operate around the stations.
Partnerships with Other Agencies
Green Growth, Regional Trade, and Women's Lives in South Asia: How are they linked? Gender and Trade with UN Women

ADB is conducting a study on Gender, Trade, and Green Growth in partnership with UN Women South Asia. The study will identify potential job economic opportunities for women in: horticulture and agro-processing industries in Bangladesh and Bhutan, ecotourism in the Mustang Region of Nepal, as well as on solar energy production and organic farming; and in India, Buddhist tourism in Jammu and Kashmir. Through this research, it is hoped that evidence will be provided on the links between green industries, trade and gender equality for the use of policy-makers, trade negotiators, private stakeholders and project design.

Making Labor Migration Safe for Women in South Asia: Gender and Migration with IOM

ADB in partnership with the International Organization for Migration (IOM) South Asia is conducting a study on Gender and Safe Mobility: Promising Global Practices. Framed within ADB's South Asia Regional Cooperation and Integration (RCI) strategy, the study will provide information on: (i) migration trends in South Asia, (ii) the international, regional and national regulatory environment for migration, and (iii) global practices for women's safer migration, applicable to the context of South Asia. It will focus on both the "hard" (physical infrastructure and equipment, e.g., land custom stations, border infrastructure, passenger holding facilities, surveillance cameras); and "soft" (policies, programs, mechanisms, institutional linkages) aspects of labor migration. ADB intends to use the results/recommendations to inform its future projects, especially, transport related infrastructure projects.

Designing strategies for Pacific women's businesses to grow with Australia

Women confront significant barriers including legal, institutional, customary and social, in the private sector. This is an entrenched problem in the Pacific where women are concentrated in micro enterprises failing to grow their businesses in line with their male counterparts. A new study entitled 'Mapping and Needs Assessment of Women's SMEs in the Pacific and Development of Intervention Strategies' sponsored by the Government of Australia and ADB and will assess needs, capacity and constraints faced by women in the enterprises they manage or own, with the objective of informing financial institutions of a range of gender sensitive strategies in six Pacific countries including PNG, Fiji and Solomon Islands.
Forthcoming Events
Multilateral Development Banks-Sponsored Workshop on Gender, Voice and Agency, 2-4 June 2014, ADB Headquarters
This workshop will be the fifth conference sponsored by the Multilateral Development Banks Working Group on Gender, set up in 2001 with the aim of strengthening information-sharing and collaboration on gender equality in operations among MDBs. It will canvass issues such as Legal Frameworks and Institutions, Freedom from Violence, Freedom of Movement, Women's Access and Control of Land and Productive Resources, and Women's Voices in Governance and Community-Based Governance Structures, as well as other topics.
14th Session of the External Forum on Gender and Development (EFG), 5-6 June 2014, ADB Headquarters
The MDB Workshop will be followed by the annual meeting of the ADB External Form on Gender, which brings together a group of external experts to advise ADB on its gender policy and operations.
Gender Equity Community of Practice Retreat, 5 August 2014, ADB Headquarters
​The annual retreat brings together all ADB staff working on or interested in gender to discuss operational and emerging issues in the region.
Midterm Review Workshop of Technical Assistance (TA) on Economic Analysis for Gender and Development, 4-5 August 2014, ADB Headquarters
The
TA
will conduct a quantitative assessment of the opportunity costs of gender inequality in terms of output growth from a low female labor force participation rate. From a micro-level (household) perspective, the TA will also examine issues such as violence against women, internal mobility of female workers, international migration of female workers and the lack of job opportunities, with the focus on People's Republic of China, India, Indonesia, the Republic of Korea, and Pakistan. The TA is supported by the Ministry of Finance in the Republic of Korea (
the Republic of Korea e-Asia and Knowledge Partnership Funds
).
Asia Women Leadership Forum, 1-4 September, Seoul, Korea
The program aims to help build capacity of women leaders in the Asia and Pacific region, targeting about 25 senior women government officials. The 3.5-day program will include the importance of gender equality in public policies; strategic planning and resource management skills; confidence building and leadership communication; skills for negotiation, coalition-building and influencing the decision-making process within the male-dominated organizational structures; strategic alliances and networking among senior women government officials; and gender awareness and gender planning in their work areas.