Private Sector Development will Boost Women Entrepreneurs in Lao PDR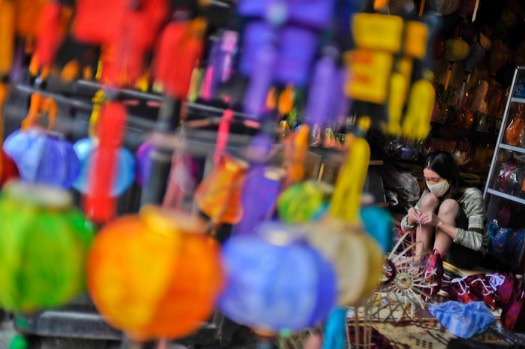 An ADB program supports registration of women entrepreneurs so they can have access to business development services, information, and credit. Read the article and view the presentation by Mohd Sani Mohd Ismail who is leading the program.




Building a Core of Women Changemakers at the Grassroots Level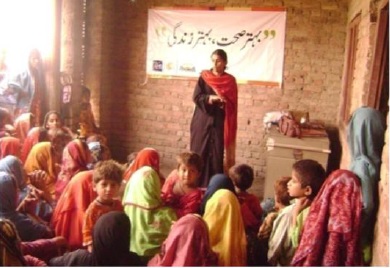 A pilot project, developed under a technical assistance, aims to improve livelihood opportunities for women as a complement to the gender mainstreaming interventions of ADB's Flood Emergency and Reconstruction Project. The pilot builds local leadership to promote gender inclusive development at the community level. ADB's Shanny Campbell and Uzma Altaf enthuse about being able to mobilize local men and women as change agents for their respective villages. Read more.

Bringing Jobs Back to the Village for Women in the People's Republic of China's Fujian Province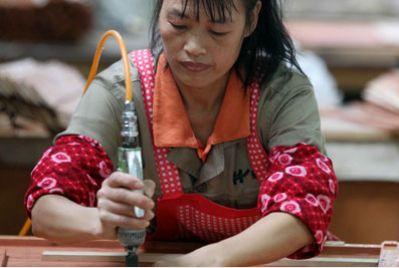 More than 100 subprojects in Fujian Province help reunite women with their families by providing them jobs closer to home. Women no longer have to leave behind their families to go to cities in search of work. The project is improving and diversifying the income opportunities of rural households and and bridging the income gap by promoting information, cooperation, and infrastructure for a wide range of businesses with support from the ADB-supported Fujian Soil Conservation and Agriculture Development Project (Phase II). Read the article.

In India, Communities Manage Water Resources, Empower Women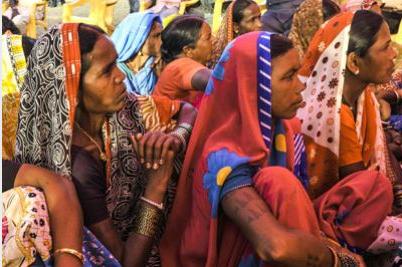 Community-based water user associations (WUAs) are helping farmers manage their water resources, improve their yields and increase their incomes. Dhruw – a female farmer – can now grow scented rice during the rainy season, and vegetables such as eggplant, tomatoes, and chili peppers during the dry season. The WUAs brings farmers together—makes seeds, farm equipment, and fertilizer cheaper, while also resulting in higher prices for the crops. Nearly 2,600 women (34% of total) are committee members of WUAs. Every association also has a subcommittee that looks specifically at gender issues related to farming and cropping. Read the article on the ADB-supported Chhattisgarh Irrigation Development Project.

Liberating Sri Lankan Women's Lives from the Water Trap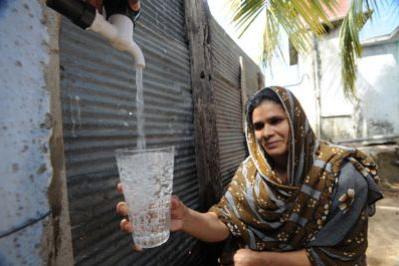 Women are often on the frontline of water supply problems, since they are normally tasked to fetch water, carry it home in heavy loads, and take care of children suffering from waterborne diseases. An ADB project, Secondary Towns and Rural Community-Based Water Supply and Sanitation Project, which ran from 2003–2011, successfully reduced regional disparities in access to clean water and sanitation, by providing basic water services in five districts, and making a difference to the lives of women in eastern Sri Lanka. Read the article.
New Approved Projects with Gender Mainstreaming
Ningxia Irrigated Agriculture and Water Conservation Demonstration Project in the PRC [November 2012]
This project will improve the value of horticultural outputs by adopting high-value and high-quality varieties, through water conservation infrastructure, sustainable farming practices, and institutional capacity development. The project incorporates targets to facilitate women's access to employment opportunities in new vineyards (at least 40% women); access to agricultural technology and extension services for 80% of female farmers to boost incomes and contribute to women's economic empowerment; and participation in decisions over land use (at least 30% women) to increase women's voice in decision making over valuable assets. View the project gender action plan (GAP).

Second Upper Secondary Education Development Project in Viet Nam [October 2012]

This project is aimed to improve the readiness of school graduates entering the labor force; and provide greater equity of educational opportunity. The project's GAP incorporates gender targets to facilitate female teachers participation in all training; 40% in all in-service training for professional skills improvement; 60% in-country life skills for disadvantaged students' curricula; and 60% trained in inclusive education centres. The project also earmarks 20% of provincial block grants for addressing female access and equity issues, especially from ethnic minority areas; the engagement of the community to address safety issues for girls related to travel and boarding facilities, and career counseling for female students.

Women's Entrepreneurship Support Sector Development Program in Armenia [October 2012]

This program targets support for women entrepreneurs through improving the enabling environment by improving institutional framework that supports women entrepreneurs, delivering training and business development services, and increasing their access to finance. Targets are set to ensure women's access to loans: 30% women entrepreneurs for loan guarantees in new schemes and 50% on the new loans secured for women. Provision is also made for women's representation (50%) on the new SME National Centre Board of Trustees and the establishment of a pilot mentorship network for women entrepreneurs. View the program's GAP.

Greater Mekong Subregion Capacity Building for HIV/AIDS Prevention Project [October 2012)

The project aims aims to increase coverage and quality of HIV prevention services for targeted populations in 23 border provinces. The project design includes actions improve awareness of key gender issues among health staff delivering HIV and STI services; increased knowledge on HIV transmission among female sex workers (FSWs), female migrants, and ethnic women; and an increase in the number of at-risk females tested for HIV infection. The GAP requires that vulnerability mapping and surveys report sex-disaggregated data, gender issues related to high-risk groups be integrated into all training and materials developed, a 100% of female managers be trained on planning and management tools, 50% of local staff trained on HIV and STI services be female, mobile clinic services provided at sites with a high concentration of FSWs and migrant women, as well as for remote ethnic populations, and all quality assurance tools and monitoring to integrate gender issues and indicators, assess gender sensitive service delivery and monitor the number of women accessing HIV services.

Urban Transport Development Investment Program - Tranche 1 [November 2012]

This project will support an improved Bus Rapid Transport (BRT) system in Ulaanbaatar. It has been designed with close attention to women's safety, security, affordability and gender inclusive physical design. Features priority seating for pregnant women, or with children on the buses and in waiting rooms, improved lighting at bus stops for the safety and security of women passengers, separate toilets for women and men, and pedestrian and disabled safety. All consultations, planning meetings and training will include a minimum target for women (30-40%). Other gender design features to enhance women's economic empowerment include targets of 30% of jobs generated by the BRT system secured for women at the municipal bus operating company including women drivers, station attendees, and supervisors. Additionally, the percentage of female employees in managerial positions will be increased by 25%.

• KGZ: Women's Entrepreneurship Development Project
• VIE: Water Sector Investment Program - Tranche 2 [GAP]
• PRC: Hubei Huangshi Urban Pollution Control and Environmental Management Project [GAP]
• SRI: Greater Colombo Water and Wastewater Management Improvement Investment Program - Tranche 1
International Women's Day 2013 and Gender Month at ADB
ADB Celebrates Gender Month


To commemorate the celebration of International Women's Day, ADB held a series of gender-related activities beginning on 4 March and throughout the month of March. View activities for gender month.



International Women's Day Breakfast Event and Dame Carol Kidu of Papua New Guinea [8 March]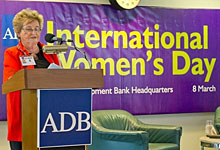 An International Women's Day Breakfast Event was held with the theme "Voice and Empowerment in Asia and the Pacific Region." Dame Carol Kidu, former PNG Minister and female Member of Parliament, spoke about the lack of female representation in Asia and Pacific legislatures and the need for temporary special measures to increase women's participation in national decision making. She also spoke at a separate seminar on "Women's voice and power in PNG's legislature" where she discussed the complexities of the PNG context. Read more.
Panel on Securing Gender Equality in Water: Out of the shallows, into the deep [15 March]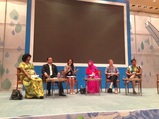 Under the overall conference theme of "Securing Water for All" at Asia Water Week 2013, this plenary session highlighted the lost opportunities to advance water security, when there is a failure to involve women in all aspects of water security. It was attended by over 500 participants from government, academia and civil society. Read more.



Panel: Voices of women from the frontlines of ADB projects [20 March]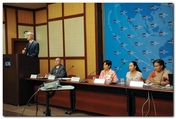 Hear Deputy Inspector General of the Nepal Police, Bimala Thapa, of the Women and Children Service Centers Project, speak on policing gender based violence in Nepal; and Hemelina Fonte, midwife, on the Mangyan Maternal and Newborn Care Program, which delivers better outcomes for Mangyan women in the Philippines. See also the views of Selina Hayat Ivy, Mayor of Narayanganj, Bangladesh (Urban Governance and Infrastructure Improvement Project) who is an outspoken advocate of increasing women's voices in local governance. Read more and see podcasts of Bimala Thapa and Hermelina Fonte.

IWD Celebrated by Sri Lanka Women's Chamber of Industry and Commerce [4 March]
ADB Sri Lanka Resident Mission Country Director Rita O'Sullivan, in her speech at the International Women's Day event, emphasized ADB's contribution to women's empowerment in skills development and entrepreneurial activities to improve livelihoods.
ADB Events
Gender and Agriculture in Lao PDR [21 March]

A learning workshop was organized in Vientiane, Lao PDR to share lessons from the implementation of the ADB-supported Technical Assistance 7624 Capacity Strengthening for Gender Mainstreaming in the Agriculture Sector, with key stakeholders from the Ministry of Agriculture and their partners.

ADB Assists Pakistan's Civil Society Fight Violence against Women [7 March]

ADB's Pakistan Resident Mission launched an anti-gender based violence initiative in Karachi.The pilot project, targeting Pakistan's four provinces through Lawyers for Human Rights and Legal Aid, will raise awareness about violence against women; publicize the South Asian Helpline1098; and develop a pool of lawyers to assist violence affected survivors.

ADB, World Bank Launch Country Gender Assessment for Lao PDR [1 March]

ADB Lao Resident Mission Country Director Chong Chi Nai gave remarks and co-chaired the launch of the Country Gender Assessment for Lao PDR with Minister and former ADB Vice President Khempheng Pholsena, in charge of women's affairs, and World Bank Country Manager Keiko Miwa.
ADB Gender Blogs
Asian Development Blog: The time is now: Act to stop violence against women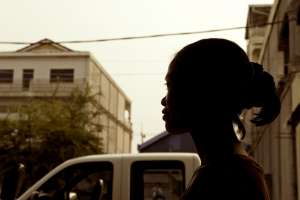 Shireen Lateef, ADB Senior Advisor (Gender), discussed gender based violence (GBV) in Asia and the Pacific region in ADB's new blog. One in three women are victims of GBV globally. Despite the magnitude of the problem, violence against women continues to occupy a marginal space in public policy and development agendas, and yet, the social and economic costs of violence are enormous and stall all other development efforts. Read more.

Pink pipes and tea servers: Challenging women's role in water utilities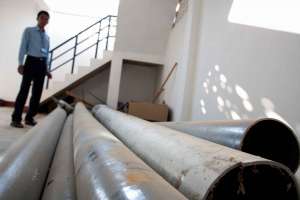 Anupma Jain, ADB senior social sector specialist, discusses women's roles in water utilities and how two women challenged gender norms in this sector while maintaining effective and profitable water utilities. She suggests that the realm of "utilities" is perceived as a man's employment domain and women's role is often relegated to serving tea and welcoming guests. Challenges include creating more employment, equalizing opportunities for men and women, and hiring the best person for the job regardless of gender. Read more.

More gender blogs:
ADB Upcoming Events
ADB & ILO Regional Workshop on Promoting Gender Equality in the Labor Market [17-18 June, Manila, Philippines]
ADB and the International Labour Organization (ILO) will hold a final Regional Workshop on Promoting Gender Equality in the Labor Market for More Inclusive Growth, the culminating activity of a regional technical assistance in Manila. The workshop aims to share and discuss the outcome and recommendations of 3 national studies, as well as share the global good practices reviews of economic and social policies, and good practice legislation. The event will bring together about 50-60 representatives from ADB member countries. Members of ADB's External Forum on Gender will also attend. See background note and tentative program.
ADB & FAO – Regional High-Level Consultation on Gender, Food Security and Nutrition: Ensuring the other half equal opportunities [24-26 July, Bangkok, Thailand]
In order to advance ongoing efforts across the Asia-Pacific region by ADB and FAO regional office (RAP), a three-day high level consultative meeting will be held, jointly with Women Organizing for Change in Agriculture and Natural Resource Management, to raise awareness on gender, food security and nutrition issues, and to identify strategies that would increase employment and livelihood opportunities for women. Sessions and presentations will be undertaken by leading experts and the UN Special Rapporteur on the right to food.
Executing Agencies Lateral Learning Workshop [11-13 September, Beijing, PRC]
The annual regional lateral learning event will focus on gender inclusive education and TVET and build GAD capacity of project staff implementing loan projects with gender actions plans.
ADB Water and Gender Equity Communities of Practice in collaboration with the International Water Management Institute - Regional Conference of Women, Water and Leadership, [29-31 October, Manila or 18-21 November, Colombo, Sri Lanka (venue and dates TBC]
ADB Publications

Country Gender Assessment: Lao People's Democratic Republic
The joint ADB-World Bank Lao PDR Country Gender Assessment prepared in consultation with the Government of Lao PDR, was launched on 1 March 2013 in Vientiane, Lao PDR. The gender assessment presents three main dimensions of gender equality – endowments, economic opportunities and agency. See related World Bank video.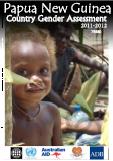 Country Gender Assessment: Papua New Guinea, 2011-2012
The PNG Gender Assessment, supported by the World Bank, ADB, other agencies and the PNG government is based on the three themes of access to resources through education, health, and entrepreneurship; access to rights through legal and social empowerment, including power to address gender-based family and sexual violence; and access to voice through participation in decision-making in politics and in the public and private sectors. View publication.





Gender and Urban Poverty in South Asia: Report of the 2012 Subregional Workshop Proceedings
This report presents a synthesis of knowledge, experiences, good practices, and recommendations shared at the forum on gender-inclusive design and implementation of urban development projects. The aim of the workshop was to assist partner agencies in the planning and design of urban development projects that more directly integrate gender equality issues. View publication. See also comments by ADB's Senior Social Development Specialist Francesco Tornieri, and Urban Development Specialist Ron Slangen in an associated article.



Inclusive Growth and Gender Inequality
This study examines gender inequality in the labor markets of Asia and the Pacific, with a focus on the structural drivers of women's labor force participation. View publication.







Economic Growth, Comparative Advantage, and Gender Differences in Schooling Outcomes: Evidence from the Birthweight Differences of Chinese Twins
Using data from two surveys of twins in the PRC and applying a simple model of schooling and occupational choice between males and females, this paper estimates the gender-specific effects of birthweight on a variety of schooling and labor market outcomes. View publication.