TVET Leads to Non-traditional Jobs for Women in Nepal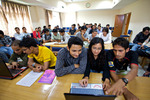 The Skills for Employment Project, an ADB loan project, has supported skills development for women, and other disadvantaged people. The project had a gender and ethnicity strategy to address inequitable access to vocational training for poor individuals, particularly women, Dalits and other disadvantaged groups. More than 60% of graduates obtained employment within a year, with women constituting more than 52% of the employed population, exceeding the overall target of 50% employment within one year of graduation. At least 22% of young women obtained jobs in the engineering trades, a sector strongly dominated by men. Read more.

Weaving a Better Future in Rural Cambodia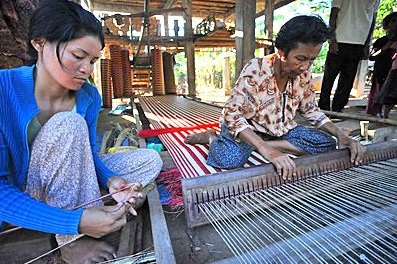 Vocational skills and social training open new windows of opportunity for women in Siem Reap. This case study features a story of a young woman who was able to overcome extreme poverty through a weaving initiative at the Siem Reap Women's Development Center, established by the Ministry of Women's Affairs with support from the ADB, under a grant from the Japan Fund for Poverty Reduction. With a focus on both life and livelihood skills, the courses reawakened her interest in the concept of "ang ach" (economic and social empowerment). Read more.

Training, Skills Development, and Transition to the Labor Market for Women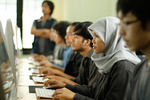 ADB gender consultants Robyn Layton and Fiona Macphail contend that getting more and better jobs for women requires specific gender designs and targets to be integrated into employment-enabling policies and programs. More participation of women in designing and conducting training courses, a broader range of training programs providing more options for women and girls, necessary incentives to drive women to higher-paying jobs, and targets and quotas for women are among such gender-inclusive features. Read more.

More Jobs for Pacific Women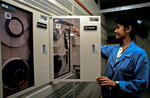 ADB's Imrana Jalal delivered the key note address at the 5th Pacific Women's Ministers' Meeting & 12th Triennial Conference of Pacific Women which opened with a focus on economic empowerment for women in Rarotonga, Cook Islands, in October. She emphasized the need for more decent jobs for Pacific Island women, particularly digital and technology jobs, as well as jobs for a green economy. Jalal argued that national employment policies needed to undergo gender analysis, should be closely linked and aligned to national economic and fiscal policies, and set clear, time-bound targets for increasing women's employment. Read more.

Microfinance Leads to New Businesses for Women in Uzbekistan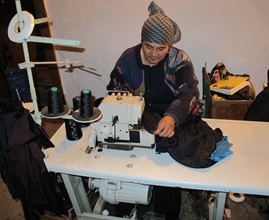 Training women for skills alone is not enough. By boosting access to finance, strengthening institutions, and promoting savings. ADB's Lotte Schou-Zibell highlights how ADB has supported women's small business development, investment, employment generation, and economic growth in Uzbekistan since 1996 through a range of lending programs including the Second Small and Microfinance Development Project, Housing for Integrated Rural Development Program, and equity investment in Ipak Yuli Bank. Read more.
New Approved Projects with Gender Mainstreaming
Social Protection Development Project in Pakistan

This project will enable the expansion of a cash transfer program (paid to the female head of targeted poor families) by registering an additional 2.4 million eligible families and contributing to financing their cash transfers. It will support the strengthening and phased expansion of the pilot health insurance and skills development programs under the Benazir Income Support Program (BISP) to increase income and good health for targeted families. The project design is based on gender analyses from many sources including an extensive BISP baseline evaluation study and focus group discussions. The project's gender action plan (GAP) includes (i) expanded coverage of cash transfer program to 2.4 million women; (ii) a refined and enlarged health insurance program targeting 577,294 BISP women; (iii) strengthened skills development program; and (iv) improved financial management and control systems, and policy research.

Second Health Care in the Central Highlands Project in Vietnam

The project will have three key outputs: (i) improved access and quality of community health care (CHS), (ii) increased access and quality of hospital services, and (iii) strengthened provincial health system management. It will provide support in the five provinces of the central highlands, in particular for activities to improve health care for the poor, ethnic groups, and women and children living in remote communities. The GAP includes targets such as (i) 30% employment of women in construction contracts; (ii) a 15% increase in the proportion of female doctors in CHS; (iii) 70% female participation in training as village health workers and village birth attendants, at least 50% in doctor specialists training, and 30% in health management training; (iv) at least 70% and 50% female recipients of scholarships for nursing and medical technician degrees, respectively; (v) at least 33% female members, in leadership positions and a gender focal point in project management units.

See other approved projects with GAPs:
Partnerships
Gender CoP Welcomed Gender Teams from the African Development Bank and the Islamic Development Bank [9-11 December]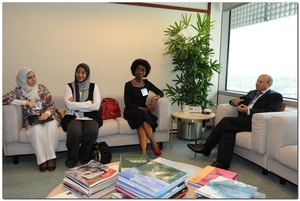 Ginette Yoman of AfDB, and Kristonia Lockhart and Rafif Alam of IsDB on 9-11 December met with VP Bindu Lohani for a courtesy call, and the Gender Community of Practice officers and committee members to exchange experiences in mainstreaming gender into operations. Read more.



ADB Supports Launch of Gender Webpage in the Kyrgz Republic [4 December]

ADB and the National Statistics Committee (NSC) launched the gender webpage on the NSC's website. The page is dedicated to gender statistics aiming to draw greater attention to gender-responsive planning. It covers demography, education, labor market, health, and crime and includes 51 indicators, with all together 27 thousand units of statistical data. The NSC is committed to further maintain and annually update the database. The launch was attended by NSC head Akylbek Osmonaliev, government officials, development partners, researchers and civil society.

National Gender Consultation Workshop in Bhutan [16-17 October]

A two-day workshop was organized in Thimphu to seek feedback on the Bhutan Gender Assessment, to be published by ADB with the government's National Commission for Women and Children and the UN. More than 20 gender focal points, and civil society and private sector representatives participated.

Multilateral Development Banks (MDBs) Working Group on Gender Meeting [9 October]

ADB's Senior Advisor on Gender Shireen Lateef and Lead Gender Specialist Sonomi Tanaka joined other MDBs in a meeting organized in the Inter-American Development Bank to share experience in accelerating gender mainstreaming and discuss joint knowledge work and key agenda of an upcoming MDB-sponsored workshop on women's voice, agency and decision-making in June 2014 in Manila.

Making Infrastructure Work for Women and Girls [7 October]

ADB's Senior Advisor on Gender Shireen Lateef delivered a presentation at the American University in Washington, DC on Making Infrastructure Work for Women and Girls. She also joined the roundtable on gender issues on 8 October in USAID.

Workshop with Women Entrepreneurs in Solomon Islands [26 September]

Opportunities for women in business and challenges, including limited access to information on legal requirements and services for businesses, were discussed at the workshop. Pacific Private Sector Development Initiative, cofinanced by Australia and New Zealand, supported the event. ADB Pacific Liaison and Coordination Office's Vijaya Nagarajan and Samantha-Jane Odbert presented.

Judicial Colloquium on Gender Equality and the Role of the Judiciary in Promoting Women's Access to Justice [4-5 September]

ADB's Imrana Jalal and Patricia Rhee participated in a Judicial Colloquium in Bangkok, Thailand on Gender Equality and the Role of the Judiciary in Promoting Women's Access to Justice. Jalal chaired several sessions and delivered a key note presentation. Read more.

Lao Language Version of Country Gender Assessment Launched [September 2013]

Minister in charge of women's affairs Khempheng Pholsena, World Bank Country Manager Keiko Miwa, and ADB's A. Barrend Frielink launched the Lao version of the joint report. The minister thanked ADB and World Bank for their support, and cited the book as an important step forward for the country.
ADB Events
Eminent Speakers Forum: Bridging gender gaps in India [27 September]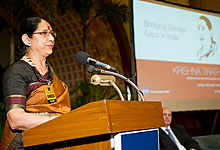 Krishna Tirath, India's Minister of Women and Child Development, presented India's initiatives to address gender disparities discussing India's enabling legislation, programs, and schemes at the forum. The event concluded with the launch of ADB's India: Gender Equality Diagnostic of Selected Sectors. Read more.



ADB Hosts Regional Conference on Gender and TVET in the People's Republic of China [11-13 September]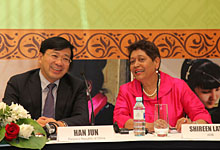 Development Research Center Vice Minister Han Jun and PRCM Country Director Hamid Sharif inaugurated the seminar in Beijing. About 100 participants from 13 countries discussed boosting enrollment and retention of girls in secondary schools, and providing technical and vocational skills for young women. Read more.



Women Weathering Climate in Central West Asia [15 November]

The Mountain Societies Development Support Project (MSDSP), an NGO implementing a pilot project under RETA 7563: Promoting Gender Inclusive Growth in Central and West Asia Developing Member Countries, recently organized a workshop that presented the results of the pilot project "Strengthening women's economic resiliency in climate change in vulnerable areas across Darwaz". Also presented, was MSDSP's research findings on the impact of climate change on women. The meeting was attended by local government officials, project stakeholders and partners. Read more.

Consultative Workshop for Nauru National Women's Policy [31 October]

Home Affairs Minister Charmaine Scotty opened the workshop in Aiwo. It identified priority areas - economic empowerment, health, violence against women - for inclusion in the country's first National Women's Policy. ADB is assisting the government with drafting the plan. Nauru country team leader Milo Lucich presented.

Training Program on Gender and Impact Evaluation held [9-11 October]

Emerging gender issues, government approaches and priorities, and practical modalities to enhance gender equality results and impact evaluation approaches were discussed at the training in Delhi, India. Over 40 project directors, staff and government officials participated.
ADB Gender Equity Community of Practice Seminars
Gender Equity CoP: Gender and Agriculture in the Land of Happiness: Constraints and opportunities in Bhutan [13 December]

Laurence Levaque, gender and governance specialist, presented key gender issues in agriculture in Bhutan, including constraints and opportunities. She explored how new challenges and additional responsibilities can emerge for women in a matrilineal society where land is inherited via the female line. View the presentation.

Joint Gender Equity and Transport CoPs: Strengthening capacity of women along the Central Mekong Delta in Vietnam [5 November]

ADB's Uzma Hoque discussed phase II of the project, financed by the Gender and Development Cooperation Fund. The project aims to increase women's capacity to engage in economic activities, and raise their awareness on HIV/AIDS and human trafficking. View the presentation.

Joint Gender Equity and Environment CoPs: Harnessing climate finance for women in Cambodia, Lao PDR, and Viet Nam [2 October]

Institute for Global Environmental Strategies' Eric Zusman discussed the policy landscape to identify opportunities for expanding women's access to climate finance in Southeast Asia. View the presentation.

Gender Equity and Urban CoPs: Safe cities for women - Reclaiming public spaces [27 September]

Pam Rajput, Chairperson of the High-Level Committee, Women and Child Development; and Rashmi Singh, Executive Director, National Resource Center for Women, Government of India gave a presentation on addressing safety and security issues for women in the context of rapid urbanization in India.

Joint Gender Equity and Social Development and Poverty CoPs: Going geo-digital with household surveys for gender and poverty data [24 September]

ADB' Andrew McIntyre and consultant Melissa Alipalo discussed the use of digital surveys to collect and analyze geo-located gender and poverty data in a PRC project preparatory technical assistance. View the presentation.

Joint Gender Equity and Health CoPs: Investing in girls and women – Beyond 2015 [6 September]

ADB's Suman Suba and Irum Ahsan shared experiences from the Third Global Conference, organized by Women Deliver in Malaysia. They focused on the proposed post-MDG shift toward "Girls" through a "Girls Declaration," and females' health and human rights.
ADB Gender Blogs
• The power of energy to transform gender relations
• Women, vocational education and technical jobs
• Women don't jump...
• Gender equality means food security for Asia and the Pacific
ADB Upcoming Events
• Women, Water and Leadership: From the Shallows to the Deep: Who is taking the lead? – A Workshop for Asia and the Pacific, Q1 2014, Venue TBC
• Asia Women's Leadership Program for Senor Government Officials, March 2014, Venue TBC
• Workshop on Women's Voice, Agency, and Decision Making (Sponsored by Multilateral Development Banks Working Group on Gender and Development), 2-4 June 2014, ADB
ADB Publications
A Story within a Story: Gender and Water in Uzbekistan



This brochure shows how ADB's water supply and sanitation projects, narrated by project beneficiaries, are addressing gender issues related to water supply and sanitation.




Upcoming Publications:
• Gender Equality and the Labor Market: Cambodia, Philippines and Kazakhstan
• Gender Equality in the Labor Market in the Philippines
• Gender Equality in the Labor Market in Cambodia
• Good Global Legal Practices to Promote Gender Equality in the Labor Market
• Good Global Economic and Social Practices to Promote Gender Equality in the Labor Market
Gender Specialists' Corner
New Gender Specialists in ADB



Ms. Ruzette Morales Mariano joined the gender team of the Poverty Reduction, Gender, and Social Development Division of the Regional and Sustainable Development Department as Associate Social Development Officer (Gender and Development) in September 2013. She monitors the implementation of ADB's Gender Equality and Women's Empowerment Operational Plan and acts as Secretariat of the Gender Equity Community of Practice (CoP). Ruzette has ten years of professional experience in development economics and macroeconomics. Before joining the Bank, she has worked with the Royal Bank of Scotland in Singapore, Philippine Institute for Development Studies, and the National Economic and Development Authority of the Philippines.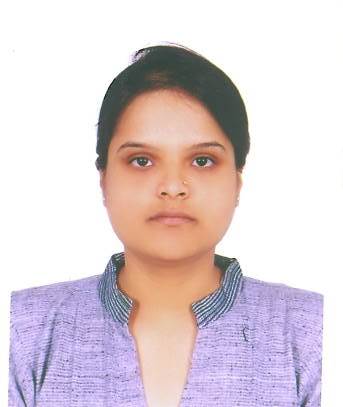 Ms. Nasheeba Selim joined ADB Bangladesh Resident Mission as a National Social Development Officer (Gender) in September 2013. Nasheeba has over 10 years of experience working in the development field with a focus on poor and marginalized women and children in Bangladesh. She has been working with UNDP Bangladesh for the last six years and has been directly involved in the administration of the Chittagong Hill Tracts Development Facility where she worked closely with disadvantaged ethnic minorities groups. Her areas of specialization include gender relations and equality, women's empowerment, violence against women, sex work and human rights, early marriage and feminization of poverty.