THE LANDSCAPE OF LOSS


LISTINGS INFORMATION:
New York City:

October 19th, 2012, 8pm
St. Peter's Church Chelsea

346 West 20th St., New York, NY 10011
Pre-Concert talk: 7:30pm
Free Admission

Philadelphia:

October 21st, 2012, 4pm
The Ethical Society of Philadelphia
1906 Rittenhouse Sq., Philadelphia PA 19103
Pre-Concert talk: 3:30pm
Free Admission
PROGRAM:

Anne Neikirk:
Blue Ridge Horn Trio
(2011)
Johannes Brahms:
Horn Trio in E-flat Major
(1865)
Ernest Chausson:
Chanson Perpetuelle
(1898)
Anne Neikirk:
Years Later
(2012) *World Premiere
HIGHLIGHTS:

Philadelphia, PA (September 6th): Two outstanding New York ensembles, the
Momenta String Quartet
and the
4-Leaf Horn Trio
, along with mezzo soprano
Silvie Jensen
, will give a concert reflecting on the nature of love and loss. The concert features the music of Philadelphia composer
Anne Neikirk
, including the world premiere of her new song cycle
Years Later
for mezzo soprano and string quartet. This new work features the poignant poetry of
Penelope Cray
. Both the poet and the composer will give a pre-concert talk about their collaboration on the piece thirty minutes prior to the performance.
Loss and separation are themes that permeate most musical genres. Years Later weaves the listener through Cray's wrenching narrative of a father who is separated from his daughter, all the while intertwined with vivid pastoral imagery of myna birds, orange trees, bumblebees and thunderstorms. Alongside the premiere, these preeminent players will perform Ernest Chausson's beautiful work from the turn of the 20th Century, Chanson Perpetuelle, which touches on the same themes through the comparably bucolic lens of trembling trees and starry skies.
Also performing will be the 4-Leaf Horn Trio, championing Brahms's equally elegiac Horn Trio in E-flat Major, along with Neikirk's companion piece Blue Ridge Horn Trio. Brahms wrote this famed work shortly after the death of his mother, so once more we are taken on an aural journey through this sense of loss, commemoration of a departed loved one, and finally the triumphant joy of healing. Neikirk's companion work pays hommage to Brahms's masterpiece, evoking as Brahms did a sense of nostalgia through folk and pastoral settings.
For more info, visit http://www.annieneikirk.com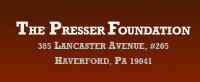 These concerts are free and open to the public and are made possible by a generous grant from the Theodore Presser Foundation.


---
ARTIST BIOS: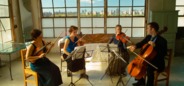 The Momenta Quartet (Emilie-Anne Gendron, Adda Kridler, Stephanie Griffin and Michael Haas)

Praised by the New York Times for its "focused, fluid performance" and by Sequenza 21 for its "fire, fantasy and absolute musical commitment," the Momenta Quartet has premiered over fifty works in the past seven years and has collaborated with over 80 living composers.

Since 2004, Momenta has given over 100 concerts, among them 60 in New York City at such venues as Roulette; The Stone; Le Poisson Rouge; Issue Project Room; Tonic; BargeMusic; Symphony Space; Americas Society; Asia Society; and the Austrian Cultural Forum. The quartet is celebrated for its innovative programming, juxtaposing contemporary works from widely divergent aesthetics with music from the classical canon.

In August 2011, the Momenta Quartet was awarded its second commission grant from the prestigious Koussevitzky Foundation for Bolivian composer Agustín Fernández. This past season Momenta premiered its first Koussevitzky commission by leading Malaysian composer Kee Yong Chong at the first classical contemporary concert at Museum of Chinese in America in collaboration with the League ISCM. Chong travelled from Malaysia for this event.

In the spirit of international collaboration, Momenta brought its first guest artist from overseas in March 2011. The quartet proudly presented leading Indonesian vocalist Nyak Ina Raseuki (aka Ubiet) in concerts at Haverford College, Cornell University and at WMP Concert Hall (NYC). This past October, Momenta travelled to Jakarta to perform with Ubiet at Komunitas Salihara.

The Momenta Quartet has recorded for Centaur Records; Furious Artisans; MRS Classics; and Albany Records; and has been broadcast on WQXR; Music for Internets and Austria's Oe1 radio.
Momenta's Website
---



A vocalist of great versatility, hailed by the New York Times as "marvelous,"
Silvie Jensen
enjoys a wide-ranging career, which includes early and contemporary music, opera and musical theater, and ethnic, improvised, and experimental music. She has performed at London's Barbican Centre with Ornette Coleman, Teatro Comunale Ferarra with Meredith Monk, Carnegie Hall with Philip Glass, and Brooklyn Academy of Music. Ms. Jensen has also appeared at Lyric Opera of Chicago, Ash Lawn Opera, Stonington Opera House, Riverside Opera, American Chamber Opera, One World Symphony, Miller Theater, Sacred Music in a Sacred Space, Voices of Ascension, Bang on a Can Marathon, Clarion Society, in Handel's Messiah at Trinity Wall Street, and with the Broadway Bach Ensemble singing Mahler's 4
th
symphony and Canteloube's Songs of the Auvergne.
Her performance in Hildegard von Bingen's chant opera Ordo Virtutum, as well many of her performances as a vocal soloist with the Christopher Caines Dance Company, have been critically acclaimed by the New York Times. She has commissioned and premiered works created for her, and has presented solo recitals at Weill Hall, Steinway Hall, Symphony Space, Americas Society, Liederkranz Club, the Stone, Bonhams, Nicholas Roerich Museum, and the Cell Theater. She has recorded for ECM, London, Koch, Helicon, MSR Classics, and Soundbrush Records labels.
Ms. Jensen's Website
---
The 4-Leaf Horn Trio
(Caeli Smith, Andrew Fierova, Amy Fierova Deal)
Violinist
Caeli Smith,
19, born in Philadelphia, is a student at The Juilliard School, where she studies with Ronald Copes and Catherine Cho. Caeli made her debut as an orchestra soloist at age ten with the Philadelphia Classical Symphony, and has since soloed with numerous orchestras. She has collaborated with a wide range of musicians in recital and chamber music settings, including pianists André Watts and Christopher O'Riley, and soprano Julianne Baird. Caeli has performed as both a soloist and a chamber musician on From The Top, where she also served for three years as a traveling cast member in the role of "Roving Reporter." An active journalist, Caeli has worked as an intern for Violinist.com. Her print articles have appeared in Strings and Teen Strings magazines.
Pianist
Amy Fierova Deal
is a native of Spartanburg, SC where she grew up playing the piano and oboe. She attended Converse College, where she studied with Steinway Artist, Douglas Weeks and earned a Bachelor of Music in Piano Performance. She went on to Louisiana State University where she studied with Juilliard graduate and Gina Bachauer International Piano Competition Winner, Michael Gurt and earned a Master of Music in Piano Performance. Other teachers and clinicians include Sandra Wright Shen, Anton Kuerti, Edward Newman, and Kenneth Drake. She has ten years teaching experience and is a Nationally Certified Teacher of Music with the MTNA. She is an active member of the Music Teacher's National Association and was formerly the Student Chapter Collegiate Chair on the South Carolina Music Teacher's Association Board and now serves as the Group Piano Chair for the New York State Music Teacher's Association. She runs a private studio in Brooklyn. She grew up accompanying her brother, Andrew, a Graduate School candidate in French Horn at The Juilliard School.
Horn player
Andrew Fierova
is a native of Spartanburg, SC, and is currently pursuing his Master of Music degree from the Juilliard School where he studies with Jennifer Montone. Mr. Fierova received the Bachelor of Music degree from The University of South Carolina where he studied with Robert Pruzin. Other teachers have included Richard Deane, Dr. John Ericson, Dr. Jean Martin-Williams, Robert Rydel, Jeff Nelson, Eli Epstein, and Anneka Zuehlke. At the USC School of Music, he was the principal horn in the Symphony Orchestra and the Wind Ensemble, a member of the MTNA award winning Syzygy Wind Quintet, and a member of both the Sinfonia and Carolina Horn Quartets. In January of 2010, he was selected as a winner of the USC School of Music Concerto Competition. Mr. Fierova has performed with the South Carolina Philharmonic, Symphony Orchestra Augusta, Spartanburg Philharmonic, Beaufort Orchestra, and the Piccolo Spoleto Festival Orchestra. Andrew Fierova has enjoyed teaching the promising students from across the state of South Carolina and now has former students studying at the USC School of Music and the Juilliard School.
---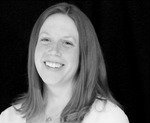 Composer Anne Neikirk's primary interests include vocal, sacred, and folk music and their intersection with the natural world. Her works have been performed throughout the United States and abroad. She has participated in various festivals and conferences, including the 2012 North American Saxophone Alliance Biennial Conference, the 2011 Region VI SCI Conference, and the 2010 and 2011 Brevard Music Center Summer Festival. She has received commissions from various solo and chamber performers as well as the Women's Sacred Music Project in Philadelphia. Anne is a recipient of the 2012 Presser Award and the Michael Iovenko Composition Fellowship for study at the European American Musical Alliance Summer 2012 Composition Program in Paris, France. Her song cycle YEARS LATER was chosen as one of two Region III finalists for the 2012 SCI/ASCAP Student Composition Commission.

Anne is Doctor of Musical Arts Candidate in the Esther Boyer College of Music at Temple, where she teaches courses in music theory, music appreciation and orchestration. She holds a Master of Music degree in composition from Bowling Green State University and a Bachelor of Arts degree in music from Hamilton College, where she was a teaching assistant in aural skills and world music. Anne is a co-founder and former president of conTemplum, Temple University's student chapter of the Society of Composers, Inc. She is also a member of ASCAP, the American Composers Forum, and Phi Kappa Lambda.

Ms. Neikirk's website