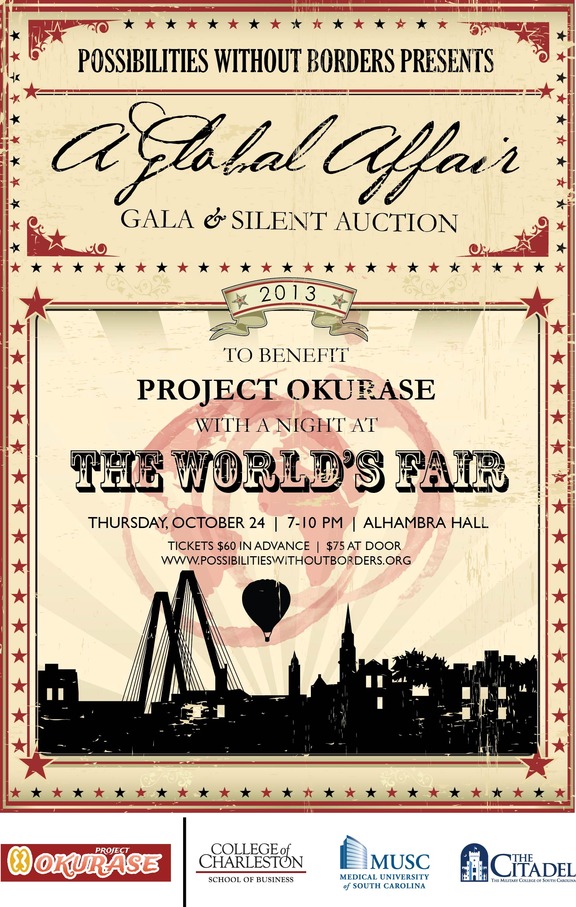 Join us for a night at the World's Fair!
Please join us for Possibilities Without Borders' 5th annual A Global Affair on Thursday, October 24 from 7:00pm - 10:00pm at Alhambra Hall in Mount Pleasant's Old Village.
Proceeds from A Global Affair will assist students from the College of Charleston, MUSC, and The Citadel in supporting a clean water initiative through Project Okurase focused on a village in Ghana, West Africa without access to a clean water source, local medical care, or sufficient educational opportunities.
Student tickets are available for $30 (discounted from $60) and include open bar and hors d'oeuvres, entertainment and a silent auction with travel packages, art, fine dining, spa & wellness, and much more!
Students will be required to show proof of student status at the event. You can find more information about the event and purchase tickets at www.possibilitieswithoutborders.org/students
Cocktail Attire
With your help we can raise at least $20,000 to help Project Okurase.
Sponsored by South Carolina Federal Credit Union