Sending Mission youth to college since 1972
College Connect Heads To The NBA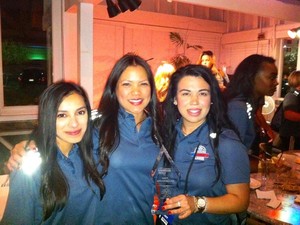 Stefany and Alexandria with internship mentor Rhoda Festejo.
College Connect began a new partnership with the NBA Summer League this summer, offering two College Connect students the internship of a lifetime. Stefany Zelaya and Alexandria Cordova were chosen to be NBA Summer League interns for a fast paced week-long internship in Las Vegas in July.

NBA Summer League was looking for hard working interns to carry out a variety of tasks and found the perfect fit in both Stefany and Alexandria. Our College Connectors were assigned various tasks like uniform inventory, keeping stats, and assisting in the media room with bloggers and news reporters.
The NBA internship gave our students an opportunity to build their resumes, skills, and network with an array of individuals from around the country.
Stefany liked the opportunity to meet new people from the east coast and made new friends. She recommends the internship to other students, even if they don't necessarily like basketball. Her biggest take-away from the internship was "your ego is not your amigo"; be humble. She also enjoyed the planning aspects of the internship and it made her think about special event planning as a possible career.

Out of 62 interns, 4 received awards and our very own Alexandria received the "Miss Congeniality" award! All in all, our College Connectors had a great experience and met a lot of great people. We're looking forward to continuing our partnership with the NBA Summer League and sending more San Francisco youth to Las Vegas next summer.
Mark your Calendars!
Food Truck for Thought Is Back!
The 2nd annual Food Truck for Thought is back!

With a line-up filled with some of the best food trucks that call San Francisco home, we invite you to join us at SoMa StrEat Food Park on September 16th for a night of fun and great food for a great cause.

Who: Misson Graduates and you!

What: Dining out al fresco for education

Where: SoMa StrEat Food Park 428 11th Street

When: September 16th, 2014 from 5-9pm

Why: Enjoy amazing food and help us make college the expectation, not the exception, for Mission youth!
New Faces and New Programs At MG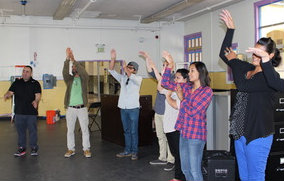 No staff meeting would be complete without a few ice breakers. Luis likes basketball!
The school year is finally underway and Mission Graduates staff has quite a few new faces! Before the new school year got underway, the entire staff made time to welcome new members and begin to build new friendships.

Stay tuned through the year to meet the new staff from the Mission Community Beacon and the Marshall, Bryant and Flynn Extended Day Programs.
Joins Food for Thought 2014

Mission Graduates is excited to announce a new partnership with Uber. From now until October 15th, sign-up for Uber using your smartphone and $5 will be donate directly to Mission Graduates. Get a ride and support MG! Make sure to use the code!
Need a ride? Try Uber!

Uber is a mobile app that connects you to your own private driver at the click of a button. Open the app, request a car and it will be curbside within minutes. All rides are billed directly to your credit card – there's no need to carry cash. Uber offers multiple vehicle options to choose from, with the most economical ride being 20% cheaper than a Taxi.

Sign up with the code Food4Thought and get $30 off your first ride!
You're Invited! Food for Thought 2014

This October, Mission Graduates will host the 6th annual Food for Thought, a unique Mission District-wide fundraiser, on October 15th, 2014. Thousands of diners from all over the Bay Area will dine at over 20 participating restaurants, all in support of one mission: to send more Mission youth to college.
The concept is simple – participating restaurants pledge to donate 25% of the proceeds from one night in exchange for Mission Graduates supporters dining out en masse, buying raffle tickets for a long list of amazing donated prizes and showing their support for the work we do.
And this is no ordinary raffle. Each $10 raffle ticket comes with the chance to win local gift cards, the perfect date-night and an all-inclusive vacation to San Miguel de Allende, Mexico!

The raffle ticket window is now open! Buy your tickets now and start to dream about a Mexican vacay!
Learn more at www.missiongraduates.org/foodforthought or FFT2014.eventbrite.com
Help MG Get Ready for Middle School

It's not too late to help us turn four walls into the Mission Community Beacon!

With your help, we can create a space where students feel excited about learning.


Volunteer With Us!

Join us this fall after-school and make a difference in life a future college graduate!

We love to give our students the individualized attention they need to succeed. Stop by during homework help, run a sports camp or come and read your favorite childhood book!




Visit idealist.org and volunteermatch.org to see the ways you can help us to build a college-going culture in the Mission District!


www.missiongraduates.org/volunteer!