Sending Mission youth to
college
since 1972
Save the Date: March to College 2015
Join us Friday, May 15th for the 4th Annual March to College, an annual celebration that gives our students the chance to declare to the entire city that they are on the path to college!


Event Details:

Friday, May 15th from 3:30-6:00 pm

March begins at 3:30 from Cesar Chavez Elementary (Folsom St., b/w 22nd and 23rd)

Rally to follow at 4:30 at Buena Vista Horace Mann (Valencia St., b/w 23rd and 24th)

Event is cosponsored by Mission Graduates and Jamestown Community Center
Cohort 8 Dreaming Big After SoCal College Tour
Every Spring Break, the College Connect staff bring our high school juniors on an exciting road trip - the Spring Break SoCal College Tour!
This year, College Connect staff packed up vans and headed down south for a jam-packed 4-day trip. This year's cohort was able to visit University of California Merced, followed by Redlands, Pitzer, Claremont McKenna, UC Riverside, Cal State LA, and CSU Monterey Bay.
Every year we are so excited to have past Cohorts show us around on campus. College Sophomores Gouri and Allyson from Cohort 6 shared what its like to attend UC Riverside as a first-gen student.
We hope Cohort 8 is ready to begin writing their Personal Statements this summer and get one step closer to attending one of these great schools!
To see the rest of the pictures from this life-changing trip, head over to
College Connect's Facebook!
~Jenna Casey, Development and Volunteer Manager
Marshall Design Engineers Create Cool Toys
During the past several weeks Marshall has been focusing on our STEM unit and design challenges. Each class has been taking on different projects that allow students to dive into what it's like to be either a structural engineer or a Toy Designer.

The 4th Grade class was able to take on one of these careers by designing a Gum Drop dome. Students were able to learn what a structural engineer does and was able to construct a dome by using gumdrops and toothpicks. Students were then later able to test their structure by adding books to see the structure could hold. 4th Grade class fully enjoyed the challenged and worked together to complete some amazing structures.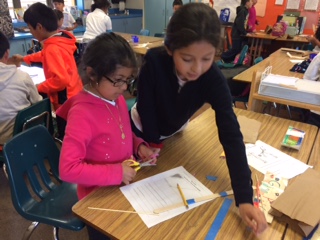 For the 2nd grade classroom, it's been all about product designing. First up, the Ball Grabber, a a device that would reach for a ball that was stuck in the bushes. Next up, solving a problem we all have -dropping our cell phones!
Each class has been able to demonstrate creativity and experimentation with each project. Students love experimenting by challenging themselves to better each time.

~Melissa Jones, Classroom Coordinator
Ms. Yvonne's 3rd Grade Chronicle Sneak Peak
The month of March was busy for the 3rd graders at Flynn Elementary School - writing movie reviews, answering advice columns, publishing poetry, interviewing teachers and putting together fashion spreads! Click on the images below to see the entire March Issue of the 3rd Grade Chronicle!

Bryant Students Break Down Literary Devices
"To be or not to be? That is the question." This month, Mission Graduates have been exploring the subjects of English and Literature. They have been answering the questions, "What devices are used in writing?" "What are the parts of poetry?" and "Where, in and out of school, can we find what we are learning?"

In class, they have been reviewing various literary devices and applying them to their own work. In Ms. Christine's class, students are defining terms such as alliteration and onomatopoeia. When Miss Christine asked where they can find examples of onomatopoeia in school, one of the students replied, "On the stairway!"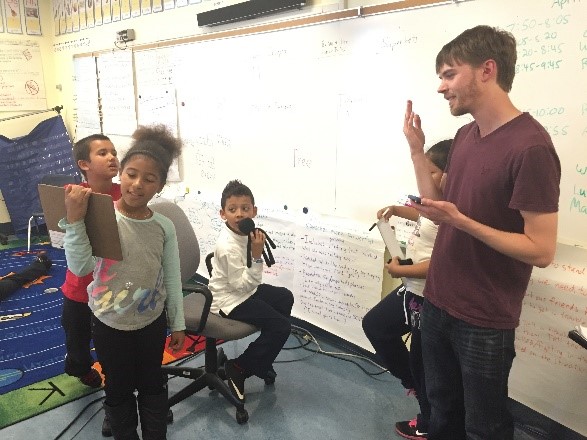 Mr. Joe's class is tackling the art of poetry. Students have been playing word game, coming up with words that rhyme. Ms. Stephanie's class has been getting in touch with their inner writer, creating and illustrating their own stories. One of the assignments was to describe a dreams or nightmares. With these simple instructions, the students went above and beyond. They described their dreams in detail and what colors were involved. They even colored pictures that would help bring their stories to life.

~Jazlynn Pastor, Communications Intern
Mission Community Beacon Introduces La Raza Club

Students visit local colleges, learning what its like to be a Latino in Higher Ed.
Mission Graduates' AmeriCorps staff members, Blanca Juarez-Mendoza and Michael Elias, recently started the
La Raza Club
at Everett Middle School. The club encourages Latino students to learn about their heritage, plan workshops, visit colleges, coordinate cultural events, and host guest speakers from the community. Through these and other activities, Blanca and Michael hope the La Raza club can encourage Latino students to celebrate their culture and to pursue higher education.
~Michael Elias, Classroom Coordinator
Science Fridays at Flynn Extended Day Program
This past Friday the Mission Graduates coordinators and kids at Leonard Flynn Elementary School began an exciting journey, diving into a fun-filled and hands on science experiment!

Flynn coordinators and students will now be taking on the roles of scientists each Friday, undertaking a variety of activities ranging from creating our own functioning water filters to making silly putty! All of our students will get the opportunity to explore various fields ranging from engineering and science to technology and mathematics.

~Isabel Curtin, Classroom Coordinator

SAVE THE DATE:
upcoming events

Join us for a Mission District-wide celebration of our amazing students and families!


June 3
Summer Program Begins

We've got an exciting summer filled with field trips, science experiments and Camp Read-A-Lot!


June 11
Mi Pasaje Graduation Celebration

We are thrilled to celebrate our 25 new high school graduates and our 3rd Cohort to graduate from college!


Join Our Family of Supporters




Volunteer With Us!