Sending Mission youth to
college
since 1972
Parents Spread the Word About College Savings
When Josefina Ruiz, our Parent Leader at Bryant Elementary, was waiting to be called up in front of the cameras, cue cards in hand, she was understandably nervous. Later she would admit that, in the back of her mind, she was reminding herself of something Parent Partner Program Coordinator Maria Rocha mentioned during a training. "We have to be willing to try to do something that feels hard and scary to you if you want to ask your children to do something hard and scary to them." So, with her son, Martin, by her side, Josefina prepared herself for her screen debut.
With the help of families like Josefina's, the City of San Francisco was able to spread the word about Kindergarten to College (K2C), a college savings program for all students in San Francisco. K2C enlisted the help of Mission Graduates to produce a Spanish-language video aimed at spreading the message to Latino families at San Francisco public schools about starting to save for college early.

The video features several Mission Graduates students and staff members, each telling a different part of the story: its is so important to begin saving now for college and every Kindergartner in SFUSD has already begun. The video highlights that the very act of making deposits to a college savings account sends a message to a child that their parents expect them to aspire to a bright future.

We are so proud of Josefina and Martin for sharing with the world the importance of saving for college early and with Kindergarten to College, it has never been easier.

~Eric Cuentos, Program Director
Beacon Student Council Planning for an Exciting Year
For Mission Community Beacon students, having a say in their after-school program is all a part of the youth leadership development opportunities Beacons across the city provide.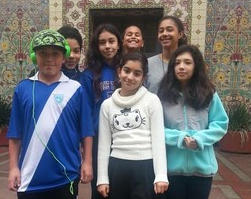 Meet the new Beacon Student Council
At Everett Middle School, the Beacon Student Council is making its mark on the Mission Community Beacon, giving input on what field trips they will like to go, what enrichment classes are they interested in to see in the future, and planning activities for the holidays. The group consists of 6th, 7th and 8th graders that meet once a week during lunch.

Next month, they will be recruiting students from Everett to attend the Personal Narrative workshop in collaboration with Pulsing Word Consulting. At the workshop, students will share out their personal narrative with their parent/guardian and receive constructive feedback. They will learn about storytelling and how to engage an audience.

One of our students, Deneitra Scott (7th grade), developed an exciting new event at the Beacon: Minute-To-Win-It. Deneitra planned each challenge, created a budget and list of materials, and got students excited about joining in! We look forward into bringing more activities for students to participate in and step out of their comfort zone.

~Blanca Mendoza, Classroom Coordinator
College Connect Welcomes Cohort 8!
We are so happy to welcome College Connect's 8th Cohort to the Mission Graduates family! 25 high school juniors and their families from a variety of SFUSD schools attended an orientation in December to meet other families and learn more about what to expect from the program in 2015.

Before starting the first phase of the program, ACT prep classless, Cohort 8 attended two Team Building/Social Justice Workshops. Students got to know each other by working in groups to answer questions like, "How does getting an education impact your community and family?" or "What does education equity mean to you?" The workshops are designed to help students think about their education in a larger context that includes social justice, their community, and giving back.

Neva speaking to Cohort 8
Neva Walker, Executive Director of Coleman Advocates, spoke to youth about her organizing experience in Ferguson and explained what #BlackLivesMatter is all about. She also spoke about the lack of equity in education and the importance of getting involved in your community.

At the end of each workshops students were focused on writing in their journals to reflect on the topics discussed that evening. They gave positive feedback and examples on how they plan to give back to their community. Our future is looking bright!

~ Ivan Aguilera, High School Program Coordinator
Marshall Students Imagine College Life
Marshall's Extended Day Program has looked more like a college recruiting fair than an elementary school lately. Because we infuse college-knowledge into many of our activities, the students began the new year with an exploration of college with the help of alumni from many local colleges, their teacher.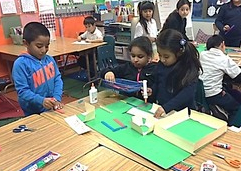 2nd graders build their own campuses
The 2nd graders learned all about Ms. Dianna's time at UC Riverside, getting a sense for what a dormitory is, what a dining hall looks like and how big a campus can be. They then began creating their own university layouts. The 4th grade class was divided up into four groups, each representing one of the main buildings at Stanford University. Each team then competed to see who could make the best replica.

Hearing first hand about college and what higher education could look like for our students is so important to ensuring they envision themselves as future college graduates.
~ Dianna Caracoza, Classroom Coordinator
Bryant Students Investigate the Power of Media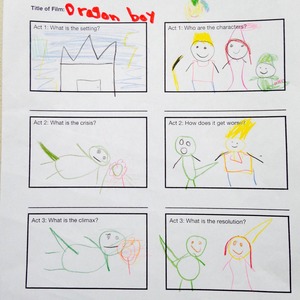 The storyboard of Dragon Boy, as illustrated by one of Mr. Joe's 3rd graders
The students of the Extended Day Program at Bryant will be focusing on spreading awareness of a topic that can benefit the community this semester. Ranging from the importance of staying healthy, maintaining the environment, or stopping bullying in schools, each class will use a different form of media to inform the community about their issue, ranging from film, blogs, theater, and posters to place in the school.
The 3rd graders in Mr. Joe's class have chosen to spread their message through film. To better understand how stories are told, the class watched a short film and then illustrated the story in storyboard form. Students learned central storytelling concepts, such as setting, crisis, climax, and resolution. Up next, the class will go into making a film about appropriate ways to stop bullying.

-Joseph Kotva, Classroom Coordinator
| | |
| --- | --- |
| Join Our Family of Supporters | Volunteer With Us! |