Sending Mission youth to college since 1972
Mission Graduates Goes to Middle School
This fall, Mission Graduates is excited to begin programming at Everett Middle School. As the lead agency of the Mission Community Beacon, MG will be coordinating a wide variety of after-school programs for students and families at Everett.

For twenty years, Beacon Centers have revitalized communities and empowered youth by transforming school sites into hubs that connect the community and expand learning beyond school hours and academics. Today, eight Beacon Centers serve 12,000 San Francisco youth and their families.

From the 1990s to 2008, Mission Graduates was at the helm of this amazing resource for the community. And we are thrilled to return Everett Middle School this fall as the lead agency of this amazing collaborative of services for the Mission community. Good Samaritan Family Resource Center, 100% College Prep Institute, First Graduate, America SCORES, Pulsing Word, and Loco Bloco will join MG in creating an engaging and supportive after-school environment for Everett students to learn and grow.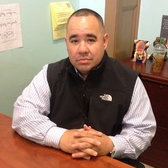 Marco Durazo, the new Director of the Mission Community Beacon at Everett Middle School


And at the head of this new partnership, we are excited to introduce the new Mission Community Beacon Director, Marco Durazo. With years of experience running youth programming in Los Angeles and the Bay Area, Marco brings strong leadership and a passion for change to the Beacon. With Marco on board, we look forward to seeing all of the amazing things happening at Everett this fall!

Interested in joining us at Everett? Sign-up to be a volunteer here.

~Jenna Casey, Development and Volunteer Coordinator


Having Fun and Doing Good at Marshall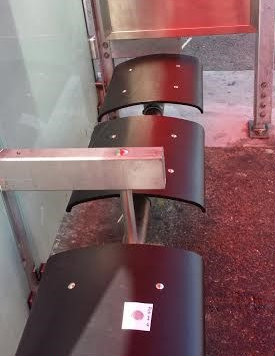 A coin left at a bus stop.

As summer comes to a close the students from the Extended Day Program Summer 2014 have been boasting about how much fun they have had throughout the six weeks. All classes have been fortunate enough to attend field trips every Friday to several San Francisco attractions like the Exploratorium, California Academy of Sciences, and Mission Bay Kayaking.

In addition to these fun and exciting experiences, students have been participating in new electives such as Lego Robotics and Computer Programming. Summer has also allowed the coordinators more time for community building activities that focus on creating a safe and positive space.

The third grade class participated in two Acts of Random Kindness. As the students walked to field trips, they left positive and encouraging messages hanging from trees, lamps, or sign posts in hopes that a stranger picking it up would feel inspired.



Students also collected coins, taped them to little pieces of paper that read "Pick me up, it's your lucky day," and dropped them randomly on our walks to different field trips. These two events really helped students realize how rewarding it can be to make a difference and be of service to their community.





~Rene Galvez, 3rd Grade Classroom Coordinator, Marshall EDP


Cohort 7 Personal Statement Workshops A Big Success
For College Connect students, the Personal Statement Workshop is the beginning of an amazing journey to college acceptance. The Personal Statement can be difficult to start, but with the help of a mentor and coach, Cohort 7 is off to a great start. This month, students and volunteers met at Mission High School for three consecutive days, getting to know each other through icebreakers and activities like The Human Knot.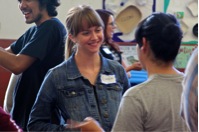 Veteran Writing Coach Karen Gibson meets her new mentee.
On Day One, students were able to meet and talk to their new writing coaches, who they will be working with throughout senior year of high school. During this time, the newly formed pairs worked on short writing exercises to get to know each other and give the coaches an idea of the students' writing style.
Day two began with another icebreaker game called,
Mingle Mingle Mingle.
Students and volunteers moved around asking each other questions, giving them a chance to get to know each other.

Students then paired up with their writing coach to look over sample personal statements to better understand what a personal statement should look like. Special guest speakers Cohort 6 member Jackie and her writing coach, Deeqa come in to talk about their experiences. To top the night off, students brainstormed with their writing coaches about what they might like to write about in their personal statements.
| | |
| --- | --- |
| | |
| Students and volunteers get tangled in the Human Knot! | Student getting one on one help from a writing mentor. |
On the last day, students and their writing coaches were ready to start the first drafts of the personal statements. Ideas bounced around as students and coaches began writing. The night ended with the exchange of emails to set up their next meeting. Students left prepared and excited to spend more time on their personal statements with their new writing coaches.
~Shannon Tolani, College Connect Intern
Bryant Summer Program Heads To The Farm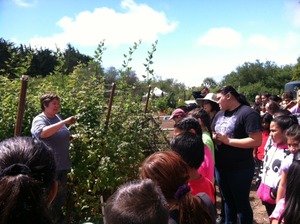 Farmer Dill talking about eating healthy.

Bryant Summer Program visited many wonderful museums, parks, and attractions around the Bay Area this summer. Keeping with the theme of STEM (Science, Technology, Engineering and Math), students learned about health and nutrition in a new and exciting way.

With the help of The HEAL Project and Farmer Dill, Bryant students learned first-hand the importance of local and sustainable farming and how important fruits and vegetables are to a healthy diet.

Farmer Dill made a visit to school, sharing information on the importance of eating healthy foods.

The students learned about healthy snacks and making sure they eat all the different colors of fruits. They also learned about what foods benefit the different parts of the body.




With all this great new knowledge, the program headed out to the HEAL Farm, to learn about

harvesting, cooking, and composting. The students were able to pick delicious raspberries and make different flavored kale chips.



Thank you to Farmer Dill for helping us introduce our students to all of the healthy choices they can make!



~Ana Gonzalez, 4th/5th Grade Coordinator, Bryant EDP
Gaining Skills At The Summer Leadership Institute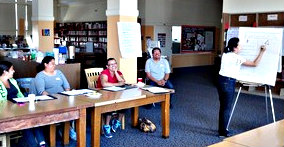 Workshops were held on the skills parents will need to be successful in their roles as Parent Leaders.

This year, 24 parents participated in the Summer Leadership Institute, representing each of the parent groups that the Parent Partner Program will be working with this coming school year.

Meeting three days a week for four weeks, parent leaders were able to practice skills essential to success. Workshop topics included conducting outreach at school, speaking in public, decision-making on English Learner Advisory Committees, and supporting their children on their path to college at each step of the journey.

The curriculum for the Summer Institute was developed to prepare parent leaders for the work they will be doing next year. "I have always wanted to be there at school for my children, so that they could feel supported," explained Marlyn Rodriguez, our new parent leader at Flynn Elementary. "But I have always been wary of taking on any definite commitments. Now, with the support of Mission Graduates and the other mothers in the Parent Leadership Team, I am ready to take the next step."

And the effect can be felt by the entire family. Clara Ibarra, a parent leader for Primeros Pasos (early education referral program), shared a story that illustrates this transformation.



"Now that I am not just at home, keeping the house and making dinner—I am also learning new things, talking with other parents and being a leader in my community—my children are seeing this and they are proud of me. My teenage son told me the other day that now when I talk to him about the importance of studying hard and working towards a career, it means more to him because he sees me doing it too."

In this final closing activity, words like "inspired", "informed" and "supported" were repeated as the parents reflected back on the 4 weeks' worth of training and team-building activities.




~Eric Cuentos, Parent Partner Program Director


College Connect Head To The NBA Summer League
Alexandra Cordova (Cohort 1) and Stefany Zelaya (Cohort 4) began an internship with the NBA Summer League this week. You may remember their video blog entries this spring, which won them the two coveted spots for this program in Las Vegas. They impressed the interview panel with their drive and professionalism and now are getting the chance of a lifetime to grow professionally.



Alexandra and Stefany will work with different NBA teams such as the Boston Celtics, L.A. Clippers, L.A. Lakers, New York Knicks, and of course the Golden State Warriors. They will also get the chance to see and interact with the different parts in this business and work on marketing and promotional activities for the Summer League. Stay tuned to hear and see more from them about their experience!




Aloha to Carlos, Operations Manager Extraordinaire!
At the end of this month, Mission Graduates is sad to see our favorite Operations Manager leave us for the much warmer shores of Hawaii. He stayed on the mainland as long as he could and we are so grateful for the time he has spent with the MG Familia!