Sending Mission youth to college since 1972
Marshall Students Dance, Drum and Design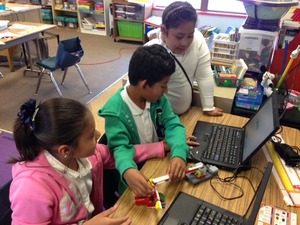 LegoRobotics returns for another semester of fun and learning.

Everyone loves enrichment class. It opens up our eyes to new experiences, teaches us something different in an engaging way, and most importantly, helps us discover a hidden talent

The Extended Day Program at Marshall is offering a wealth of enrichments that students can pick from. This year our enrichment is at the forefront of our program and the Extended Day program will be hosting classes for students on Tuesdays and Thursdays, with the addition of including special enrichment classes on Wednesdays and Fridays.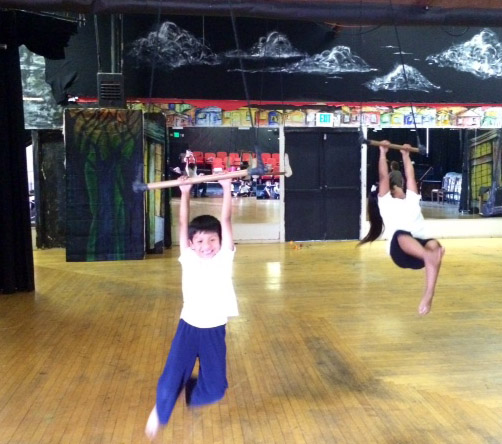 Students swinging from the rafters with Bailando con Trapeze.


Tuesdays and Thursdays will host our elective classes which include the returning America Scores and Girls on the Run. In addition, student will participate in ballet,hip hop, and jazz, the ever popular Lego Robotics, Theater, Poco Loco Drumming, Flute class, art, and the high flying, aerodynamic defying, Bailando con Trapeze.

To further keep student engagement going, we have also included Capoeira, Marshall Chefs, and Story Theater on Wednesdays. In addition, we will have Lego Camp, Mission Science Workshops, roller skating and Puppy Dog Tales for our students. Students will most definitely have fun with all the enrichments this fall!

-Giovanni Escobar, Assistant Director/1st Grade Coordinator, Marshall Elementary

See You for Dinner Tonight at SoMa StrEat Food Park!
The 2nd annual Food Truck for Thought is back!

With a line-up filled with some of the best food trucks that call San Francisco home, we invite you to join us at SoMa StrEat Food Park tonight for a night of fun and great food for a great cause.

Who: Mission Graduates and you!

What: Dining out al fresco for education

Where: SoMa StrEat Food Park 428 11th Street

When: September 16th, 2014 from 5-9pm

Why: Enjoy amazing food and help us make college the expectation, not the exception, for Mission youth!
College Connect Discusses Ferguson, Alex Nieto

This month College Connect students met to discuss recent events that have taken place in Ferguson, Missouri as well as in our own neighborhood with the death of Alex Nieto. The purpose was to discuss the problems surrounding issues of discrimination and describe way in which our community is directly affected. Additionally students discussed ways in which they can make an impact and help prevent and stop issues of injustice.

We were joined by several guest speakers, including Benjamin Sierra, Joseph Pea, Edwin Lindo who are leaders in our community and leaders in the fight for justice for Alex Nieto. The speeches were informational, powerful and as one student said "It was so motivating and inspiring". They provided more insight into the death of Alex, issues of discrimination and also community involvement.

After the speakers students then engaged in a few group discussion surrounding Ferguson, Alex Nieto, and other injustices in the world. Together the groups read articles and answered discussion questions. College Connect students shared visions for a stronger community. The group then took a moment of silence to reflect. The workshop provided students the opportunity to engage in critical discussions about social justice issues in our society. College Connect seeks to provide students with more opportunities to have open dialog about issues affecting their community.

-Abram Castaneda College Connect Media Intern

GRAND PRIZE:
One-Week Stay at Casa de las Estrellas,
San Miguel de Allende, Mexico
Courtesy of House+House Architects

2nd PRIZE: Pair of Tickets
to the San Francisco Opera

And Many More Great Prizes!

3 Raffle Entries = $25

6 Raffle Entries = $50
Bryant Tells The Story of Mi Familia
Everyone has their own story. The Extended Day Program at Bryant has chosen to focus its project-based learning this unit on telling each and every student's story to be showcased at Museum Night at the end of the unit. Each class has taken on a different method of telling their stories from film, to painting, to performance.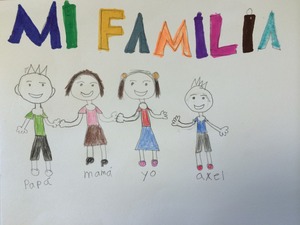 To begin the unit, each class at Bryant Elementary illustrated their families. They drew everyone in their immediate family and spoke about their importance to each and every one of their lives. This was a perfect way to begin telling their stories because their experiences are molded by their families. The students were also able to see that all families don't look and/or function this same.
-Jamila Dozier, Classroom Coordinator, Bryant Elementary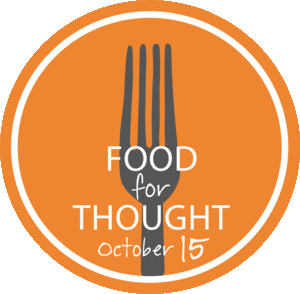 23 restaurants to choose from -where will choose?
RSVP and buy raffle tickets here!
Asiento - Try the tapas and amazing drinks at this adorable neighborhood spot.
Bissap Baobab - Experience Afro-Caribbean specialties and stay for the great music.
Commonwealth - Treat yourself to the Chef's Menu - a portion goes to MG ALL MONTH LONG!
Destino - Make a night of it at this great Market Street spot, with great food and drinks
Foreign Cinema - Sit under the stars and enjoy an amazing meal at this Mission District favorite
The Front Porch - Get your soul-food fix at this cozy Mission spot
Giordano Bros. - Have you had a sandwich with fries inside lately ? A must have
Little Star Pizza - We dream about deep dish cornmeal pizza crust!
Local Mission Eatery - A gem on the 24th Street corridor - and don't forget to stop into Local Mission Market while you're there
Local's Corner - Or pop around the corner for seafood specialties at this sister spot
loló - Bright and lively spot on Valencia
MAU - Eat MAU and become an instant fan of this spin on traditional Vietnamese cuisine.
Mission Bowling Club - Order the starred items all month long!
Panchita's #2 - An MG favorite, you can't go wrong with papusas!
Piattini - This new spot by former Specchio's owner, take a trip to Italy with the Venetian tapas dishes on the new menu
Pisco Latin Lounge - If you're going to spend a night sipping Pisco Punch, you best hit up this Market Street spot!
Reaction - It's all about the sauces and salsa at Reaction.
Salumeria - Head over to the 20th Street Corridor for a fabulous lunch on the 16th!
Serpentine - Take a jaunt out to the Dogpatch for this amazing spot
Slow Club - Tucked away in the Mission, Slow Club brings you amazing dishes in an intimate setting
Sunrise - Bringing authentic Latin American food to the Mission
Thai House 530 - Great Thai apps and curries make this a favorite of MG staff!
The Velvet Scoop - You can't forget about dessert!
Owner Zoe Madigan brings frozen custard to the Mission!

College Bound Ambassadors Help Kick Off the Year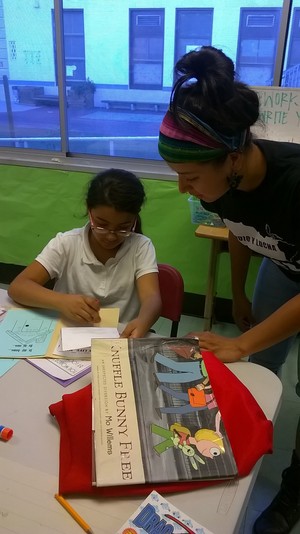 Joanna Beltran, a student as UC Santa Cruz, has been supporting students every day this month.

This year, Mission Graduates is excited to reintroduce the College Bound Ambassador program. Placing local College Connect students in our elementary and middle school classrooms, the CBAs are supporting students with academics, running enrichment activities and sharing more about their experiences in college with our future college students.

At Flynn Elementary Extended Day Program, CBAs have had a great start of the year, working hard to build relationships with the kids and help throughout the day.

Two of our CBAs have even started to help us lead an art/hip hop elective for 3rd - 5th graders. They are a great overall support for the after school coordinators and we are so happy to have them working with us.

- Ana Gonzalez, Assistant Director, Flynn EDP
The Beacon Has Fun on Four Wheels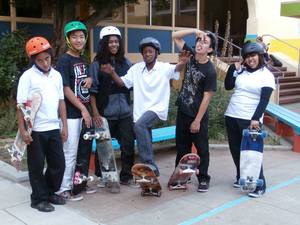 The Skate Board Club at the Beacon
The Mission Community Beacon at Everett Middle School is excited to have so many activities going on this fall, like skateboarding, ukulele, art and soccer along with study time. Students start their time in the Beacon completing homework and then get the chance to join in one of these fun activities.

One of our most popular electives is skateboarding. Each afternoon, the Skate Board Club sets up ramps in the courtyard of the school so students to learn tricks from Tommy or their peers. Mission Beacon has a couple of skateboards the students can use, but many of them have their own and love to show off the art they've put on them.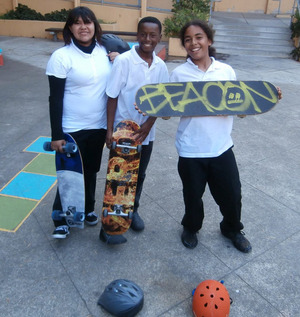 While there, the students like to show off the tricks they've learned and teach one another. One of their favorite tricks to do is balancing on the beam with their skateboard. They take a lot of pride in teaching each other new tricks and really appreciate Tommy for teaching them.
This activity gives the students a great opportunity to have fun, learn, make friends and have a sense of community.

-Katrina Sison, Mission Community Beacon Communications Intern
Promotoras Spread the Word About College Savings
Did you know that every Kindergarten and 1st grade student in San Francisco Unified School District has a college savings account with at least $50 in it?

Araceli Arellano, Elvira Hernandez and Josefina Ruiz are three Parent Partner Program promotoras that are spreading the word about an innovative City of San Francisco-sponsored program called Kindergarten to College that automatically enrolls SFUSD students into a college savings program as soon as they enter Kindergarten. The job of these promotoras is to let other parents know that not only do these college savings accounts exist, but that parents can and should consider continuing to deposit money of their own into these accounts.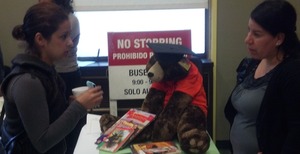 Promotora Elvira speaking to a parent about the K2C program
"Studies have shown that students with college-savings accounts in their name are seven times more likely to go to college than those without college savings accounts, even factoring out other variables like income," explained Annie Liu, K2C Outreach Coordinator at the City's Office of Financial Empowerment. The K2C program helps reduce the barriers to saving by establishing the account and offers incentives such as a 1-to-1 match for the first $100 deposited.

Our three parent promotoras have already begun talking with parents at Bryant and Cesar Chavez Elementary about the program. "Mostly, we have found that parents we talked to have not yet heard about the program," said Araceli Arellano, "but even in cases where they have heard of Kindergarten to College, many times parents have still not considered depositing money into the account."

Already, in less than 1 month of school these promotoras have talked to over 30 different parents about the program. We are looking forward to monitoring their progress over the next few months to determine whether the college savings rates among Latino parents at each of these Mission District schools actually increase.

Public Works celebrates four years with house legend Danny Tenaglia

161 Erie St, San Francisco, CA 94103

Sept. 20, 2014 - 9:00PM - 5:00AM

Buy tickets: http://www.ticketfly.com/event/657215-danny-tenaglia-nyc-5-hour-san-francisco/


In four years, we've built Public Works from the ground up – relentlessly bringing the best talent in house, techno, bass, disco and more.

On Sept. 20, we're celebrating 1,460 days of existence with a legend: Danny Tenaglia. His sets are the stuff of legend, and have seen such luminaries as Carl Cox dancing on top of speakers with the boys from Deep Dish, while thousands claim Tenaglia as their "rite-of-passage" into the electronic music world. He brings a classic anesthetic to his work while maintaining a distinctly modern take on dance music.

Volunteer With Us!

www.missiongraduates.org/volunteer!


Join Our Family of Supporters