Sending Mission youth to
college
since 1972
Parent Leaders Brush Up on Technology
This January, the Parent Partner Program launched a new pilot program to address the challenges our parents face when it comes to technology. A relative lack of familiarity with technology means many parents are less able to support their children academically, keep them safe online and often limits their own professional opportunities.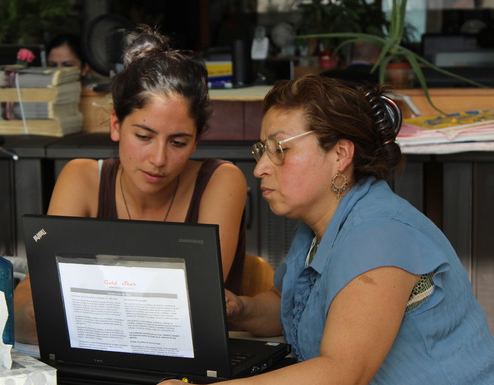 Tech Mentor Julie working on basic computer skills with Parent Leader Josefina
Through the Latina Tech Mentors program, 16 Latina mothers who are part of our Parent Leadership Team have begun to receive support from Spanish-speaking women from the Technology and Education sectors.

Each with their own set of objectives, our Parent Leaders have been paired with a mentor, scheduling bi-monthly sessions to begin to tackle their own priorities. For some, it means simply using a computer. For others, a lesson in social media will support their work as outreach workers in Mission schools.
In an initial survey, Josefina Ruiz shared that she wanted to learn the basics around technology since she was very afraid of using her computer. Through her first two meetings, she has learned how to turn on and off a laptop and begun to work on typing skills and creating documents. "I really want to become more comfortable around computers and lose my fear around technology so I can use my computer at home."


~Selene Chala, Program Assistant
Technology and Learning, Oh My!

Students at Bryant find everything more engaging with technology and media in the mix. Recently, students have been learning about how to handle devices such as computers, laptops, and iPads. They have also been reviewing different types of media and how they can be used efficiently and effectively.
To integrate technology into our everyday lessons, Ms. Charlotte's class is creating their own newsletter that shares the students' opinion about school at Bryant. The newsletter will not only include the school's strong points, but will also explain how they would like to see the school grow.
In Ms. Christine's class, students are organizing a "Kindness Campaign" that promotes the importance of being nice to everyone you meet.

This week, they have created posters that they will be hung across the school. Next, they plan to create a video that better shares their message.


~Jazlynn Pastor, Communications Intern
Mission Community Beacon: Girls Group
Halfway through the year, the students at Mission Community Beacon have become very accustomed to their different clubs and classes offered daily. From Italian class to Loco Bloco to skateboarding to music, there are so many awesome things happening at Everett everyday. One of these groups is the Girls Group. Every day of the week, all girls in Beacon are invited to join the fun in Girls Group.

Girls Group does many different activities such as arts and crafts, science projects, team building, community circle, and of course, going on fun and interesting field trips.

We've completed several projects already since the beginning of the year such as knitting scarves and beanies, creating homemade candle holders, and putting together necklaces and bracelets. Girls Group also gets involved with enrichment classes like Science Action Club and dance class.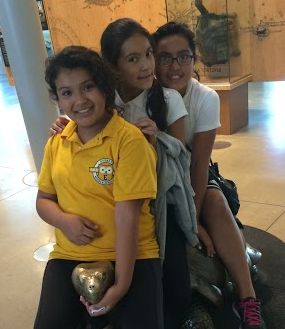 The Beacon's Girls Group has also traveled on many different field trips all over the city, discovering new interests and skills. We've been ice skating at Yerba Buena and swimming at the pool at Hamilton Recreation Center.

We also went to the zoo where we saw all different kinds of animals and learned about their different environments. The Girls Group also went to the California Academy of Sciences where we learned about earthquakes, animal skulls, and marine animals.

Girls Group gives the girls at Mission Community Beacon the opportunity to explore their own interests, skills, and talents while also promoting positive self esteem and a sense of community.

~Nicole Macaraeg, Classroom Coordinator
How the Jelly Fish Lost It's Bones

Each week, Marshall Extended Day Program Kindergarten and 1st Grade classes have been learning a new story with Marsh Theater's Story Theater. Exploring an old Japanese folk tale, How the Jelly fish lot it's bones, students acted out the story with the help of Ms. Sally and Mr. Homero. Each student had a special role in making the play come to life as students became the characters in the story.

​Last week, the students were able to share with their families what they have learned during a special performance. Making this tale come to life, our students became actors, expressing themselves and discovering another culture. The theater was filled with color, smiles and laughter as the students brought this origin story to the stage.

~Beverly Escobar, Assistant Director
Flynn Students Show Kindness to Muttville Dogs

During the Flynn Extended Day Program's "Peace and Kindness" unit, all the classes chose a different service learning project. The objective: Creating peace in our community.

Ms Connie's kindergarten class loved dogs and voted to work together on a project for the local senior dog shelter, Muttville. Together, the class worked hard to make blankets, cutting and knotting the ends of large fleece fabrics. And they didn't stop there.

The class, with the help of Ms. Connie, decided to make dog treats for their new friends at the shelter. Ms. Connie carefully helped kids measure ingredients such as flour and vegetable oil, incorporating math to create the perfect dog biscuit dough. Ms Connie took the dough home and brought the dog biscuits back the next day- perfectly baked.
A volunteer from Mutville, along with some 4-legged friends from the shelter, came to visit and accept the classes' gifts. The kids were elated, as they had an opportunity to meet the dogs benefiting from their kindness.

~Jenny Weston, Program Director
College Connect Looks Forward with Career Month
Each summer, College Connect puts on a week of career readiness for our college students, giving many of them the chance to build their resumes with volunteers and hear about all of the career available in the Bay Area.

This year we will be expanding our career readiness programming to take place over the month of July. This month is designed to help students prepare for, access, and excel in job and internship opportunities. The month-long program includes career exploration activities, resume preparation, interviewing, professional skills development, and field trips.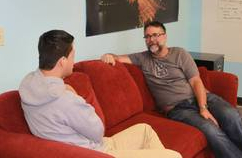 This summer, in addition to workshops and events held during Career month, students will have the opportunity to apply to work with a career mentor.

Career Mentors offer industry-specific information, expertise, and advice; they help Scholars enter the post-collegiate phase of their lives confidently. Volunteers are matched with a student who shares his/her professional interests to complete one project-based career activity per week over the course of 4-6 weeks.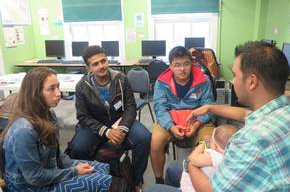 Future medical professionals getting advice on medical school during Career Week 2014
"Career readiness is helpful because I personally struggle with what I want to do, and in what direction I want to go. The workshops opened my mind to new things and gave me some great advice. College Connect provides information and advice that I will keep in the back of my mind as I go on my own journey to discover what I want to do with my life." –Gavin Li, cohort 5, student at UC Berkeley.

Interested in volunteering during career month, hosting a tour of your office, or learning more about how to become a career mentor? Please contact Jill Marinelli, College Success Manager, jill@missiongraduates.org or 415-864-5205 x312 for more information.

~Jill Marinelli, College Success Manager
| | |
| --- | --- |
| Join Our Family of Supporters | Volunteer With Us! |