Sending Mission youth to
college
since 1972
Flynn Students Walk Among the Mission Murals
For Flynn students, a walking tour of their neighborhood was the perfect opportunity to see that their community has more to offer than what meets the eye. The 4th graders, along with their 1st grade Buddies, spent one afternoon exploring the Balmy Street murals, discussing different subjects, and spending some time recreating their favorite scenes on paper.

Each student went back to school that day with more than just their artwork; they came back with a deeper connection with their roots in the heart of their barrio, La Mission.

~Khárittas Silva Araújo, Classroom Coordinator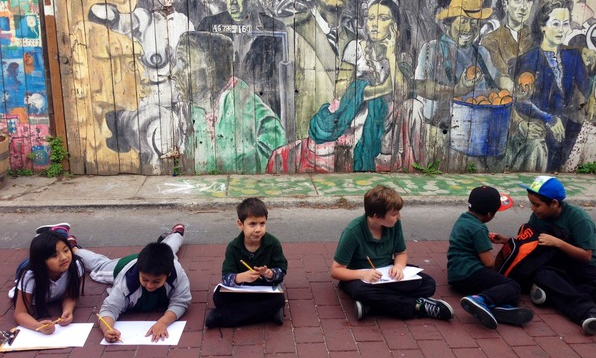 Mission Community Beacon Students Represent at the Library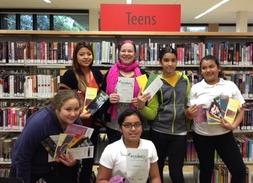 Everett students joined by Beacon coordinator Blanca and

Eureka Valley Branch librarian,

Bix Warden.
The public library is much more than just a place to check out books for free. It is also a place to study, do research, take a class, learn about valuable resources and programs in the community or even just spend quality time with family on a rainy day. This is the message that the brand new youth and parent Library Ambassadors are communicating to the Everett Middle School community as part of Mission Community Beacon's Family Literacy programming.

These Library Ambassadors (3 youth and 3 parents) will be working with Pulsing Word Consulting, Beacon Staff and librarians at the Mission and Eureka Valley Branch Libraries to help build a stronger link between Everett Middle School and the library during the coming semester.

They will maintain an information kiosk in the Beacon room at school and make sure to stock it regularly with information about resources and programs. They will give advice to the librarians as to what other resources and information would be helpful for youth and parents and even help organize new activities for Everett families at the library.

We are excited to be working the Mission Community Beacon and San Francisco Public Library, and most importantly, with this wonderful team of Ambassadors to bring the magic of the library to Everett Middle School.

~Allie Cuentos and Lynne Maes, Pulsing Word Consulting


Bryant Student Stories Go on Display at Family Museum Night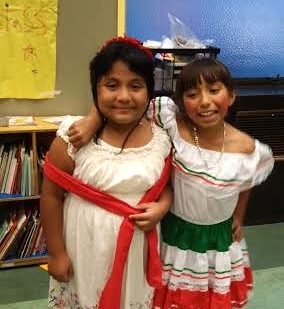 The fashion show was full of wonderful colors and cultural traditions.
This semester, students at Bryant Elementary have been focusing on their own traditions during the project-based learning unit, "Our Stories." Students explored their cultures, personal history, traditions, and identity all semester long, culminating in this month's Family Museum Night. The event was meant to simulate a visit to a museum, and families strolled through each class's exhibit of student work.

The Ms. Stephanie's 1st and 2nd graders presented projects which focused on food and holiday traditions, while the students held a fashion show presenting all the different kinds of cultural dress. The older students showcased the map they created which detailed the path each student's family took to get to San Francisco as well as poetry and portraits.

This student-led event was a great success and the students gained a bigger appreciation for each other's personal stories.


~Charlotte La Riviere, Classroom Coordinator

College Application Season Continues On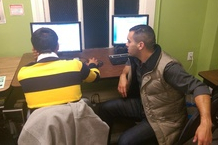 Volunteer Writing Coach Joey Castaneda works with his student on an application.
College Connect students have been busy applying to colleges with their writing coaches and College Connect staff, focusing on CSU's and UC's. Now that the November 30th deadline has passed, students have shifted their focus to applying to private schools like Cal Poly Pomona, University of San Francisco, and Claremont McKenna. A couple students already received conditional acceptances! Carla Valdivia received conditional acceptances from Holy Names, Notre Dame de Namur, and CSU East Bay and Bryanna Sanchez received a conditional acceptance from CSU Stanislaus.

To ease the business and craziness that can be college application season, the College Connect office has opened up its office on some Saturday mornings welcoming students to work with volunteers. Students will continue to work on the Common App through early next year as the deadlines vary from one private college to another. They are simultaneously working on scholarships as well and we wish them nothing, but the best!

~Ivan Aguilera, High School Program Manager


Marshall Families Help Celebrate "Our Stories"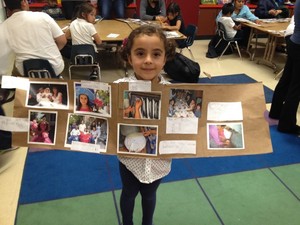 Each student presented their timeline of family events and traditions.

As a part of "Our Stories", Marshall Extended Day Program students have been exploring their own family's traditions. Each classroom focused on a different aspect of their own story and came together with parents and students to create family memories.



For the 1st grade Family Night, families were asked to bring in pictures of their families participating in special events or traditions. Parents and their students assembled the pictures in a timeline in the showcasing what their family views as important to their own traditions and culture. Then students got to present their timelines, sharing their own personal family traditions.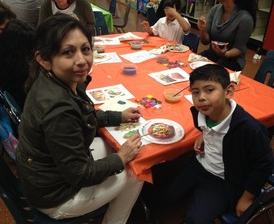 Students and families painted clay models of their favorite family meal.


The Kindergarten class focused on family traditions through food this year. Students were asked to brainstorm a recipe that represents their family. At the Kinder Family Night, parents joined their student in creating a clay representation of their family's favorite dish. This was a wonderful family event that allowed each student to see how the family traditions of their fellow students make them all unique.

~Nicole Sanabria, Communications Intern





Mission Community Beacon Heads to the Islands
This month, the ukulele class at the Mission Community Beacon at Everett Middle School put on a traditional Hawaiian luau for family and classmates. The culmination of the semester's elective class, the students spent weeks learning how to play the ukulele and learning about traditional Hawaiian culture.

The main event was a traditional Hawaiian folk tale about a magical dog who restores peace to a village called Puapualenalena, performed by Beacon students. The Ukulele class also performed two songs, Somewhere Over the Rainbow and Aloha Oe for their classmates.

All of the Beacon was invited to create authentic leis with orchids from the Hawaiian Islands, sample Hawaiian food crafted by local restaurant Pa'ina, and listen to a special guest performance by the Kapalakiko Hawaiian Band.

~Suzie Berndt, Classroom Coordinator



Mission Graduates Runs the Girls on the Run 5K
Three MG teams headed to Golden Gate Park last weekend to run 3.2 miles as a part of the Girls on the Run of the Bay Area bi-annual 5K! Congrats to Flynn, Everett and Marshall students for being health and active this year. And a big thank you to our wonderful volunteer coaches!

Join Our Family of Supporters

Mission Graduates has an amazing community of volunteers, donors and supporters. Join us today and make a difference in the life of a future college graduate from the Mission!

Volunteer With Us!

www.missiongraduates.org/volunteer

Volunteer Wall of Fame

Future Wells Fargo Interns came to the Mission Community Beacon to learn more about the Mission and support Everett students during study hall.