Sending Mission youth to college since 1972
Flynn Extended Day Program Gets Healthy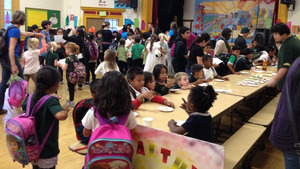 The stations throughout Flynn were packed with students eager to learn about healthy habits.
Leonard R. Flynn Elementary School held a Health Night Fair for the students and their families and the Extended Day Program was excited to be involved.

The fair was dedicated to showing students fun ways to exercise, exciting and healthy recipes, and giving them the chance to learn about some of the most amazing organs in the body. There was a quite a large turnout and all the different stations were always filled!

The fair was split into ten different stations. In the cafeteria there were two different cooking stations. At one station, the kids were treated to healthy recipes such as Greek yogurt with apples slices and a basil and tomato salad. At the other cooking station, the kids got to help make a berry and banana smoothie! It was a great interactive way for them to learn about delicious after-school snacks.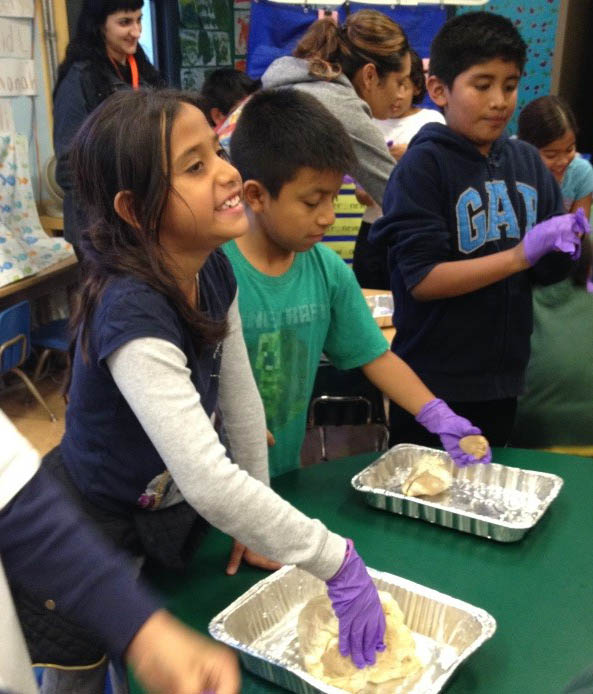 Students dug in and learned about the anatomy of the heart
Everyone's favorite station was the heart room! The kids learned about how the heart works and what they can do to help keep their heart strong and healthy. But the best part of the station was that the kids got to use stethoscopes to listen to their hearts, and there were real hearts that they got to touch and hold!

The real hearts came from UCSF and they had donated a cow, sheep, reptile, and human heart for the event. At first some of the kids were a little squeamish and nervous about touching real hearts, but once they did it they thought it was the coolest thing ever!

~Nicole Sanabria, Communications Intern

Everett Students Learn A New Instrument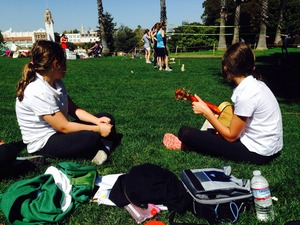 Mission Community Beacon students practice in the sunshine at Dolores Park
This fall, a group of Everett Middle School students embarked upon a new musical adventure, learning the ukulele during their time in the Mission Community Beacon! Each week, 10 students have dedicated their afternoons to learning five new chords and six songs that use these chords. They meet twice a week to hone their skills and prepare to present what they're learning to others.

For their first pubic performance, the students helped celebrate the Beacon 20th Anniversary Celebration on the steps of City Hall. Next, they showed off their new skills at Everett Middle School's first annual International Night.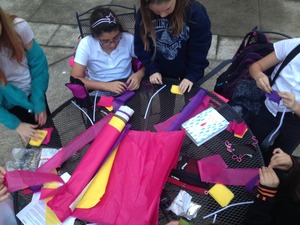 The group getting ready for the luau
All of this hard work will culminate at the Beacon's first ever Luau this Friday, where the students will perform some of the songs they have learned for their fellow classmates. The Luau will celebrate and feature all the students have learned this semester, even beyond music: they will also perform a traditional Hawaiian folk tale, demonstrate how to make Hawaiian leis, and display colorful, handmade maps of the state of Hawaii. Everyone from the Everett and Mission community are welcome to attend - generous helpings of traditional Hawaiian food from Pa'ina Restaurant in San Francisco will also be provided!

Please visit the classes' blog, http://beaconuke.edublogs.org, for more information, fun pictures and videos from this semester, and to leave comments or feedback! We hope to see you at the Luau!

~Suzie Berndt, Classroom Coordinator

Searching for Cohort 8 at College Connect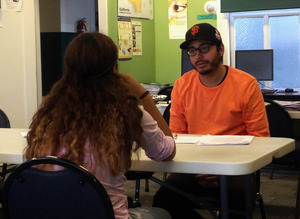 High School Coordinator Ivan beginning the interview process
Every fall, College Connect begins the recruitment process to find the next cohort of first-generation college students. After spending the summer and fall presenting in classrooms, the applications begin rolling in.

The College Connect staff then begins reading applications, setting up interviews and meeting with parents. With over 50 applications for 25 spots, it has not been a simple process. Slowly but surely however we are moving through the interviews and getting closer to selecting a new cohort of dedicated students excited about college!

The most important part of the process is the interview. With the help of several community members, volunteers, and current College Connect students, the College Connect staff have been getting to know these students. Often back to back during the afterschool hours, the team has been sifting through the applications, hoping to find 25 students ready to work.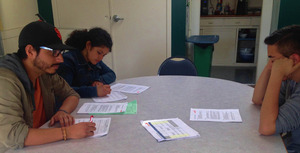 Ivan and College Connect student Karen interview a potential member of Cohort 8
During the interview, the applicant's desire to go to a 4-year university right after high school is gaged, as well as their commitment to the program schedule and identifying what kind of family support they have at home. The questions aim to highlight areas that will ensure each student is successful in this program as well as display their desire to be a part of a program like College Connect.

The decision is difficult because the students are dedicated to their education and also committed to making a difference in their family and community. However we must narrow the decision down to 25. With only a few more interviews left we are planning on making our choice before the end of November and welcoming our new Cohort in early December. We are extremely excited to see this program's growth and look forward to attracting new members to participate.

~Abram Castaneda, Communications Intern

Marshall's 3rd Graders Head To The Workshop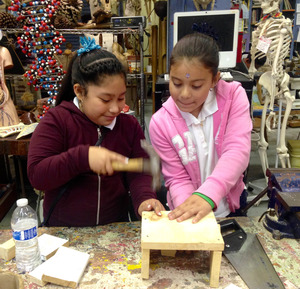 Marshall students working as a team to securely nail a piece into place
Mission Graduates Extended Day Program offers a plethora of enrichment activities for all program participants with the aim of maximizing each student's exposure to the arts and sciences in various fields. One such example of this is the 3rd grade class's weekly field trip to the Mission Science Workshop.

Every Friday, students from Ms. Sarah's class take a trip to the Mission Science Workshop for over an hour of hands-on scientific exploration. This semester, the focus of these workshops have been on woodwork and building basics. Students have been learning how to safely and effectively operate tools to build projects that have ranged from wooden boxes to battery-operated wooden cars.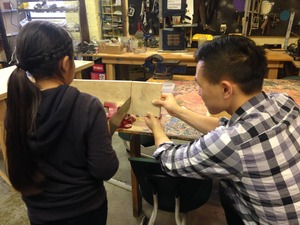 A 3rd Grader gets assistance from a staff member while using a saw
These workshops also open up opportunities for students to explore life sciences. Each session begins with 10-15 minutes of "Exploration" where students, with the help of Mission Science Workshop staff and volunteers, get up close and personal with the live animals, animal bones, cased insects, machines, and – a confirmed favorite amongst the 3rd graders – a giant wooden hamster wheel, all of which are housed at the Mission Science Workshop.

The 3rd grade class has made tremendous strides over the past couple of months, as exhibited by their finished wooden products and increase in overall command and control over building tools that were once unfamiliar. Weekly field trips to the Mission Science Workshop continues to be the highlight of our students' week, and we are excited to witness how far hands-on learning has taken our students.

~Sarah Cargill, 3rd grade Classroom Coordinator

Students Step Up at the Everett Family Literacy Night

Everett Middle School hosted its first Family Literacy night of the year in October. In spite of competition from a Giants World Series game, w​e had great turnout on that Friday night ​and really saw families engage and participate in ALL components of the event.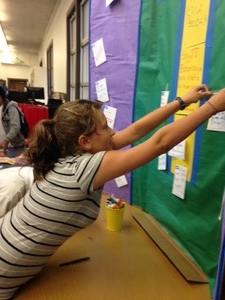 A Beacon student posting on the "My Story" wall


With theme of "Our Stories", the event was an opportunity to listen to and celebrate stories from those who do not get to tell their stories often enough. Students, families and Beacon staff participated in hands-on activities like creating individual collages and contributing to an "I am" poem wall.

The night was jam-packed with performances as well. Actor Roji Oyama shared a fantastic reading from newly popular book of poetry, "Brown Girl Dreaming", and the music video by new Latina artist, Becky G was shown, which the youth really connected to because of her witty lyrics and a similarity to how they grew up. Over 100 brand new books were passed out ot families and Mary Ellen Massa at the San Francisco Public Library Mission Branch library spoke about the services available for teens and adults.

The biggest highlight of the night, however, were the 7 youth who stepped forward to read aloud in front of their families and peers. Not only did they take the risk but showed perseverance and stamina, reading complicated passages and in one case...an entire story book!​​
​
The entire successful evening was made possible by a partnership with Mission Graduates Parent Partner Program, Mission Community Beacon, Pulsing Word Consulting, Everett Middle School and the SF Public Library. We are looking forward to collaborating with everyone again soon, including for the next Family Literacy Night at Everett, in January 2015.

~Eric Cuentos, Parent Partner Program Director


Join The Mission Community Beacon on Facebook

With all of the exciting new activities at the Mission Community Beacon, we want to share pictures of Beacon students learning, exploring and sharing their stories. Join us on the Mission Community Beacon Facebook page to see all of the amazing things our Everett Middle School students are up to.
And a big thank you to Intern Katrina Sison for the greatStudent of the Week stories!


Food for Thought 2014 Wrap-Up

Here at Mission Graduates, we are so lucky to have had such a wonderful group of supporters come out on October 15th and dine out for education. The raffle was drawn earlier this month and we raised nearly $17,000 from ticket sales alone. Restaurant revenues are still coming in and we feel very fortunate to have such a strong network of support in the Mission District business community as well.

Thank you again!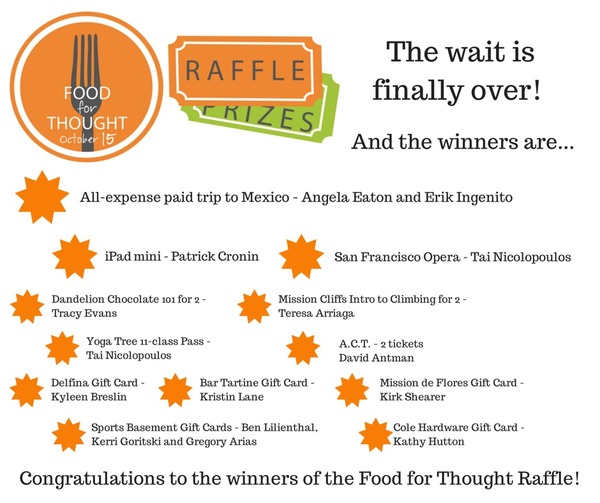 Join Our Family of Supporters

Mission Graduates has an amazing community of volunteers, donors and supporters. Join us today and make a difference in the life of a future college graduate from the Mission!

Wish List

We are always on the hunt for ways to support our students in the classroom. Technology is becoming a maninstay in the classrooms and we are striving to introduce our students and families to the many ways they can integrate education into their "screen time". Help us expose more students to fun, literacy computer games by

donating new/gently used laptops, tablets and cameras.

Contact

Jenna Casey, Development Manager

, with any questions or if you'd like to donate to our amazing students.

Volunteer With Us!

www.missiongraduates.org/volunteer

Volunteer Wall of Fame

This past weekend, lawyers from Hiscox

helped College Connect high school seniors prepare their University of California and California State University applications.