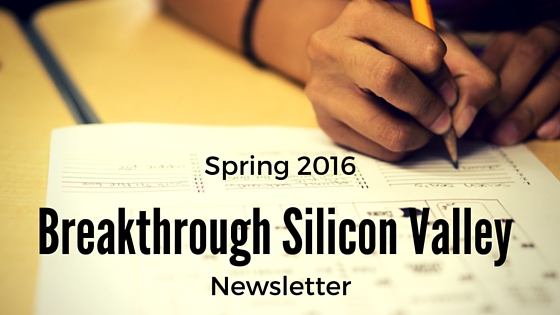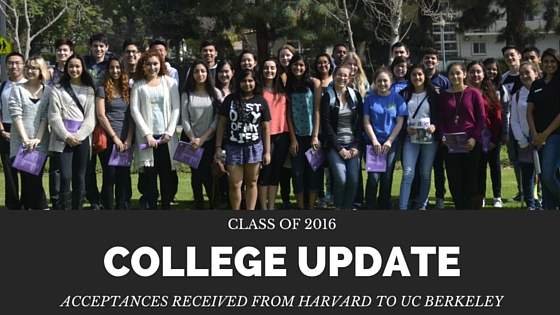 Warm weather and college decision letters have arrived!
An impressive collection of colleges and universities – large and small, public and private, in locations across the country and beyond – said "YES!" to Breakthrough's Class of 2016. Over the last few weeks, our College Counselor, Jenny Uribe, has been busy helping students weigh options, compare financial aid packages, and make the decisions that will open doors to hard-earned opportunities.
Here are a few highlights of a fruitful admission season:
100% of Breakthrough's Class of 2016 have been accepted to four-year colleges – from local favorites, Santa Clara University and San Jose State, to those farther afield like Harvard University, and even farther still, University of St. Andrews in Scotland. This year, Cal Poly SLO accepted seven Breakthrough students, while UC Riverside accepted 18, and Loyola Marymount, Santa Clara University, and University of San Francisco each accepted five – impressive results for a class of 42 students.
77% of students were admitted to University of California campuses, from Berkeley to UCLA, among others. 87% were admitted to California State Universities. Private college acceptances include Stanford, Yale, Duke, NYU, Pomona, Northeastern, Boston University, Willamette, Wesleyan, Chapman, Champlain College, and many more.
We are proud of our seniors. It's been an honor to watch them mature from eager sixth graders to accomplished young women and men, ready for an exciting new chapter to begin.
Breakthrough students are impressive – they challenge themselves academically and go the extra mile for their families. Remember Albin Quan, profiled in our last newsletter? We are delighted to report that Albin was accepted everywhere he applied – Yale, Harvard, Stanford, Washington University in St. Louis, Pomona, Emory, University of Richmond, UC Berkeley, UC San Diego, UC Santa Cruz, and UC Santa Barbara. Albin and his classmates prove that hard work, determination, and perseverance really do pay off.
Congratulations to our Class of 2016!

"I aspire to be the best role model for my brothers." Leo Fernandez, BSV Class of 2016
At the end of 7th grade, Leo Fernandez's life changed forever in one tragic moment. He'd just wrapped up a good year in school, then, out of nowhere, Leo's cousin, Manuel, was killed in an act of gang violence. Manuel was Leo's surrogate older brother – his role model and biggest supporter. Gone, just like that.
Gangs have always been present in Leo's world, though their sinister implications never impacted him until Manuel's death. In Leo's words, "When my cousin died, I lost my innocence." That's when Leo realized he needed to choose a different path or risk a similar outcome. College became his focus.
The journey hasn't been easy. Manuel's death put Leo in a tailspin. He questioned everything. His grades suffered. As the first in his family with plans for college, he also felt tremendous pressure. As Leo explained, "It's really hard when everyone in your family tells you to do something, yet you don't know what it really is or what it takes."
What finally grounded him were his siblings. With Manuel gone, Leo noticed how his younger brothers hung on his every word. They looked up to him in the way he had idolized his cousin. Choosing a different path, he realized, would not only transform his life, it would save his family, too.
School presented challenges, but with Breakthrough's guidance, Leo pushed himself, even taking Calculus when he could have chosen an easier route. For Leo, the challenge represented a way out.
This fall, Leo will enter a four-year college (he's in the process of finalizing his choice) where he plans to earn a degree in Architecture. As he looks to the future he remembers, "Manuel wanted me to do something more with my life … He taught me that you have to take responsibility for your actions." Leo has done just that and a bright future awaits.

"Work hard. Take risks. Push yourself. You'll never really know what you can achieve until you try."
Those are a few of the messages sophomores heard as participants in Breakthrough's recent Career Exploration Day, hosted by Texas Instruments, Applied Materials, Deloitte, and Apigee.
Just a stone's throw from the neighborhoods our students call home, these thriving corporate communities are worlds apart from the employment opportunities Breakthrough students typically see. You might assume that kids growing up in Silicon Valley are aware of the many careers in their own backyard. In fact, low-income students often have little exposure to the corporate world. That's why Career Exploration Day is so important for Breakthrough students.
Each company offered an engaging agenda, including a campus tour and a hands-on activity. Employees shared stories about their career trajectories and job responsibilities. Students were sometimes surprised by what they heard – the lawyer from a low-income family, for instance, and the human resources manager who was the first in her family to go to college. Speakers urged students to take pride in their stories and achievements. Students also learned that employers value many of the same things Breakthrough emphasizes — hard work, determination, flexibility and collaboration. And judging by their questions, it's clear our kids are beginning to form a vision for career success.
We are grateful to Texas Instruments, Applied Materials, Deloitte, and Apigee for hosting our Spring Career Exploration Day. If you are interested in hosting Breakthrough students at your workplace as part of the next Career Exploration Day, contact Ana Cruz, Director of Development, at acruz@breakthroughsv.org. Click here for more information.

After serving a collective 17 years on Breakthrough Silicon Valley's Board of Directors, Dr. Susan Hanson, Dr. Shirley Feldman, and Chris Funk each stepped down from the board over the course of the past year. Susan and Chris will continue to serve in an advisory capacity as members of Breakthrough's Educational Leadership Council. They will further strengthen our program by developing new partnerships, and continuing to provide insight on curriculum, assessment, and teaching resources.
During her tenure as a Breakthrough Silicon Valley board member, Dr. Shirley Feldman evaluated students' progress during the summer and after-school programs, and advised on responsive programmatic changes. Shirley is an academic psychologist, and served as a professor and senior research scientist at Stanford University for more than 37 years. Her commitment to Breakthrough is longstanding. Prior to joining the board, Shirley undertook a major evaluation of the effectiveness of Summerbridge, the precursor program to Breakthrough, where she assessed 44 sites and followed the students attending these sites for four years. She also evaluated how teaching at Summerbridge affected the teachers' career choices and their commitment to children from limited opportunity backgrounds. Shirley's research influenced not only the work of Breakthrough Silicon Valley but that of Breakthrough sites across the country.
In her service on the board, Dr. Susan Hanson leveraged her experience as a Senior Researcher at the New Teacher Center where she has investigated the implementation and impact of induction programs on beginning teachers and mentor teachers since 2005. She co-authored Mentoring Teacher – Navigating Five Real World Tensions, which was influential in how Breakthrough trains Instructional Coaches (aka Mentor Teachers) in our summer program. With more than thirty years of experience as an educational researcher, program evaluator, and advocate for low-income students, Susan dedicated her time with Breakthrough ensuring that we have the highest quality out-of-school-time instruction for our students.
Chris Funk has dedicated his career to advancing educational opportunities for students in San Jose. For two decades, he worked within the San Jose Unified School District. Earlier in his career, Funk served five years as Principal at Lincoln High School, during which time Lincoln earned awards including 21st Century School of Distinction, the Lighthouse Award, and a California Distinguished School Award. Today, Chris serves as Superintendent of East Side Union High School District, where he and his team work with Breakthrough students living in east San Jose communities.
All three board members have been instrumental in evaluating impact, creating efficiencies, and preparing the organization for growth. In an interview with Melissa Johns, Breakthrough Silicon Valley Executive Director, Chris said, "Breakthrough Silicon Valley established a track record of supporting students through the treacherous middle and high school years and providing them the tools needed to be successful in four-year universities. Since joining the board, I have been impressed by the high quality of their programs, staff, and outcomes. It takes partnerships like what the San Jose Unified, Franklin-McKinley, and East Side Union High School Districts developed with Breakthrough to support our very diverse student population in San Jose."
Breakthrough Silicon Valley will recognize Susan, Shirley, and Chris at our annual Senior Celebration on Tuesday, June 7th from 6-8pm at the Hyatt Place San Jose Downtown. We are sincerely grateful for their dedication to our mission and unwavering belief in our students. Their wisdom and passion for education has shaped Breakthrough Silicon Valley into the organization it is today.

A better life is what we all want for students in our Valley, including Leo Fernandez featured above. But the reality is less than 10% of children from low-income communities in San Jose will earn a college degree. This is why Breakthrough Silicon Valley exists.
96% of Breakthrough graduates are enrolled and thriving in four-year universities.
By supporting Breakthrough on May 3rd for Silicon Valley Gives, you will make a student's college dreams a reality. All donations received on May 3rd will be matched dollar for dollar and every dollar will go to ensure academically motivated students, regardless of income or zip code, enroll and thrive in college. Click HERE to make a donation.