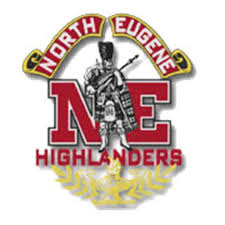 N
O
RTH
EU
GE
NE
PARENTS
---
SMARTER BALANCE TESTING
SBAC testing for Juniors continues this week in math classes and the following week
, May 31-Jun
e, in science classes.
VOLLEYBALL NITE AT NEHS
May 23
rd
the NEHS volleyball team is hosting an open gym for any student in the NEHS region from 7-9pm in the Main Gym. This is a free event! This will be a great opportunity for future NEHS players to interact with current players and learn a little bit about what it's like to play at the high school level. There will be lots of opportunities to learn drills and develop individual skills.
CONGRATS TO NEHS TENNIS AND GENE PERLE-JONES
Congrats to Gene Perle-Jones on his advancement to the State Tennis Tournament. This is the first time since 1968 that North Eugene Tennis was represented at the State Tournament. Way to go Gene!!!
FOOTBALL PARENT MEETING
If your son is planning on playing football this fall, please plan on attending the parent meeting Monday, May 23 in the NEHS Library at 6:30pm. Meet the coaches and see what is being planned for this fall, our first fall back in the Midwestern League!
SENIOR PROJECT PACKETS AVAILABLE
Hey Juniors... Want to get a sneak peek at your Senior Project Packet for next year?! Go to North's website, and look under "Student Quick Links" on the right hand side!
http://nehs.4j.lane.edu/
THE NEHS BOOSTER CLUB NEEDS YOU!
The NEHS Booster Club is in need of members for next school year. The Booster Club's purpose is to raise funds to support the sports programs at NEHS through concession stand sales, sales of NEHS apparel and other fundraisers. We are in need of fundraising/event planning members as well as concession stand volunteers. Please consider joining! Send an email to
nehsboosterclb@gmail.com
and we'll contact you.
SENIOR GRAD PARTY MEETING
Join us tomorrow, May 23, at
6pm
in room 115(math lab) directly across from the library. We are still looking for about 10 more parents to volunteer the night of the party. If you haven't signed up or know someone else who'd like to help just reply here! Our last meeting is
June 6th
!
Spend your summer or spring in Chile! Host a Chilean student during winter term!
*
A few host families are interested in Chile to host students from Eugene this summer, June-August. If you are interested, please contact us ASAP.
Short-term, "reciprocal" exchange:
You will host a student from Chile during winter term 2016, and you study in Chile during spring term or summer of 2017, and live with the student that you hosted.
Personal care:
We are a local and small organization and work with 4-5 students at a time to ensure each student is given personal attention and care. We select our students and families carefully.
Would you like to find out more? Please contact Sachi.
oregonadventure@icloud.com
541-285-3778
http://oregonadventure.weebly.com
1Pass Lets Youth Ride Transit All Summer for $50
The 1Pass, a partnership between Lane Transit District (LTD), Willamalane Parks and Recreation District and the City of Eugene, gives youth summer travel and recreation options. The 1PASS will help get youth to parks, ballgames or even a summer job. For $50, youth ages 18 and younger can get a 1PASS good for travel on all LTD route
s May 30 - Sept.
5. It also grants the pass holder free entry to the following places in the Eugene-Springfield metro area:
Amazon Pool
Camp Putt Adventure Golf Park
Cascades Raptor Center
Echo Hollow Pool
River Road Pool
Science Factory
Sheldon Pool
Splash! at Lively Park
Willamalane Center for Sports and Recreation
Willamalane Park Swim Center
Additionally, the 1Pass provides a buy one, get the second free ticket deal to select games of:
Eugene Emeralds
Lane United Football Club
To buy a 1PASS, head to one of these locations:
LTD Customer Service Center
Willamalane Center
Eugene Recreation Pools
The Willamalane Park Foundation will give out a limited number of passes based on financial need. To be eligible for financial assistance recipients must be 18 and younger, reside within district boundaries and submit an application b
y May
22. Visit
Willamalane.org
to learn more about the 1Pass perks and to apply for the scholarship.
VOLUNTEERS FOR THE 2016-17 SCHOOL YEAR NEEDED
We're starting our search for volunteers for the 2016-2017 school year! Studies show that parental involvement in a child's education is one of the most important factors in raising student self-esteem and academic achievement. We realize that each of our families is unique – with its own priorities, needs, talents, and time constraints — and so we try to provide as many different kinds of opportunities for parental involvement as possible. Some examples of volunteer opportunities would be helping with clerical tasks, monitoring the halls, tutoring, helping in the library, etc. Call the Front Office at
541-790-4500
with questions or more information. You can fill out the application to become a volunteer at
www.helpcounter.net/eugene
PARENT & FAMILY ENGAGEMENT & PARTNERSHIP SURVEY
How well does our school communicate, engage and partner with you as parents? We would like to hear from you about your experiences and preferences, to help us improve in the future.
Please take a few minutes between now and Tuesday, May 31 to complete our school's annual Parent & Family Engagement and Partnership Survey. The survey is online at
www.surveymonkey.com/r/4Jparentpartnership2016_English
. If you would prefer to complete the survey on paper, you can pick up a copy in the school office.
This survey asks questions about our specific school and is different from the 4J Vision 20/20 district survey which was focused on strategic district visioning and planning. If you have questions or input about this survey, please call the 4J Instruction Department at
541-790-7550
.
Thank you for your time and input. Your feedback will be used to inform our efforts to continually improve our school and our partnership with parents to help students succeed.
Invitamos a los padres a dar su opinión por medio de una encuesta
¿Qué tan bien se comunica, participa y colabora con los padres nuestra escuela? Nos gustaría saber sus experiencias y preferencias para ayudarnos a mejorar en el futuro.
Favor de tomarse unos minutos entre el día de hoy y el 31 de mayo para completar la encuesta anual sobre la participación y colaboración de la escuela con los padres. La encuesta está disponible en la página web
www.surveymonkey.com/r/4Jparentpartnership2016_Spanish
. Si prefiere completar la encuesta en papel, puede recoger una copia en la oficina de la escuela.
Esta encuesta tiene preguntas específicas acerca de nuestra escuela. Es diferente de la reciente encuesta del proceso 4J Visión 20/20, que se centró en la visión estratégica y la planificación del distrito. Si tiene alguna pregunta o comentario con respecto a esta encuesta, por favor llame al departamento de instrucción del distrito escolar al
541- 790-7550
.
Gracias por compartir su tiempo y sus opiniones. Sus opiniones y sugerencias se utilizarán para enfocar nuestros esfuerzos y mejorar de manera continua la escuela y nuestra interacción con los padres para ayudar a todos los estudiantes a tener éxito.
STUDENT TUTORS NEEDED FOR SUMMER 2016
Are you good in math and reading? Would you like to earn money for tutoring a middle school student this summer? If you said yes to both of these questions, please see Liz or Debbie in the Career College Center in room 209 for more information.
DRIVER ED SUMMER 2016
Classes are Mon-Wed June 20 - July 13 (no class 7/4) 9am-noon. Registration begins May 16-- call 541-342-4339 or go online:
www.oregondrivertraining.com
*6 hours driving (scheduled outside of classroom time)
*6 hours observing
*ODOT & DMV Approved Course
*Instructors are ODOT & DMV certified
*Students 15-17 who pass the course will receive certificate that waives the driving portion of the licensing test
*The first class session is a MANDATORY TEEN/PARENT MEETING in Library at NEHS
*All other classes in room 110
*Students who can provide proof of free/reduced lunch are eligible to receive a $75 scholarship
___________________________________________________________________________________________
Seniors........
NEED A SUMMER JOB?
Not sure what you are doing after graduation? Or need a summer job before leaving for college? Contact SELECTEMP Employment Services...
Selectemp Employment Services can help keep you busy during the summer until you head off to college or many of their jobs are temp-hire, meaning you start out as a temporary employee working at the client's job site. After 90 days of working full-time at that job, if you like the job and the company, and they like you, they can hire you!
What kinds of jobs???
Many jobs in the metal fabrication industry who need welders/fabricators.
Companies that need skilled construction laborers. ALL SKILLED TRADES! Variety of local businesses staffing for accounting personnel, bookkeepers, HR Specialists, Admin Assistants, Front Desk/Receptionists, etc. Reach out to the local branch in Springfield at
541-746-6200
GAIT Foundation is looking for Summer Dorm Cleaners to become part of a Team!
$9.75/hr (criminal background check required) Must be 18 years of age before 6/11/16. Priority is given to individuals with disabilities and vocational barriers. To get started, submit your resume via email to
eugene@gaitfoundation.org
Subject line: Dorm Cleaning.
Please indicate if you qualify for priority placement.
Two Job Opportunities with RISE Services!!
Must be 18 years of age to apply.
1) Direct Support Professional – DSP. RISE services will give you the opportunity and the tools necessary to enhance and enrich the lives of children and adults with developmental disabilities. By providing one-on-one support and mentoring, you will help someone else achieve their goals and reach their full potential. Looking for motivated, kind, energetic, and fun-loving people who have a desire to help others. Contact Nathan Ford at
503-851-7765
or go to
www.riseservicesinc.com
to apply.
2) Mentor/Skills Trainer at RISE, Inc. Looking for motivated students for Part-time job positions.
In need of active and enthusiastic people to help support individuals with development disabilities.
You could be spending your time in the community playing basketball, going shopping, fishing, and much more. Apply at
www.riseservicesinc.com
JUNIOR/SENIOR PARENTS NEEDED FOR THE 2016 GRAD PARTY
Can you be a chaperone at the grad party? We are looking for parents who are willing to be involved with the senior party after graduation
June 11th
from
10pm-3am
at International Fitness. This is a parent sponsored event and we do not receive any help from the school. Adults needed for: casino dealers, pool/locker room attendants, kitchen help, door monitors, bag check/prize monitors etc. If you can help even for a portion of the time it would be a big help! Email
nehsgrad2016@gmail.com
or attend our next meeting!
DRUG & ALCOHOL FREE GRAD PARTY-
This event will be held June 11th directly after graduation at International Fitness on Commerce St. Seniors will enjoy many prizes including CASH!! Activities include: Casino games, swimming, cash cube, henna, a segway course, bubble soccer, chair massage, Dutch Bros., inflatable wreckingball and photo bus. Students can enjoy a brief social time and photo op with friends and family after graduation. Buses will begin loading in the parking lot at NE at 10pm. Buses will return back to NE by 3am. And the best part of this year's event.....IT'S FREE! Fill out your waiver/intent to attend form by May 26th and the event is absolutely free!!! Forms will be available starting April 18th and need to be returned by May 26th to receive the free offer. Forms received after May 26th will require a $5 fee. Forms can be picked up and turned in to the main office.
Dates to remember...
5/9-23.....Sign up for walking partners
5/16-6/3....Request final NEHS transcripts (your college needs this)
6/7.....Final deadline for senior projects to ensure walking at graduation
6/7.....Senior Awards Night 6:30pm
6/11..... Graduation at Swede 7pm
---
School Calendar
May 22-30
5/23 Senior Grad Party meeting 6pm in the math lab (Rm 115)
Football Parent Meeting in the library at 6:30pm
5/24 Connections Schedule (25 minutes)
U of O Tutors Library/Math Lab 2:45-3:45pm
Site Council Meeting 3:45-5:15pm in the Library
5/25
5/26 U of O Tutors Library/Math Lab 2:45-3:45pm
MEChA Grad Celebration Glass Lounge 6:30–9pm
5/27
5/28
_______________________________________________________________________
Upcoming Dates to Remember
May 30.....No School- Memorial Day
June 1.....Choir concert 7pm in the auditorium
June 2.....Band concert 7pm in the auditorium
June 2.....Goodbye Assembly 10:14am
June 8.....Last day of school for seniors
June 14.....ASB elections assembly
June 16.....Last day of school for all others
___________________________________________________
Fundraisers
Simple ways to earn money for our school. Please do the following:
Register your
Fred Meyer card.
Donate to
EEF
Target
purchases can be credited to NEHS.
Contribute your ideas for fundraisers. We could do so much more with NEHS than we do, if all parents pitched in!
Sign up for

escrip
Did you know shopping online at retailers such as Amazon, Apple Store, Gift Card Mall, Target,
DisneyStore.com
, and hundreds more, will earn up to 16% of every purchase you make for North Eugene High School? It's Easy! All you have to do is click on the link below to access the eScrip Online Mall and shop as you normally would. That's it! No card registration, coupons or special downloads required. Thanks for your support!
https://shopping.escrip.com/ref/pghome/s1a8565190
|North%20Eugene%20High%20School/ref=g
________________________________________________________________________________________
VOLUNTEER OPPORTUNITIES
ADVENTURE! CHILDREN'S MUSEUM VOLUNTEERS NEEDED
Dedicated to creating a children's museum in the Eugene/Springfield area. Summer of Adventure! is a whistle-stop tour of ten local fairs, festivals, and events between May and September. Volunteers are needed to help construct temporary exhibits and displays, read stories, sew, paint, etc. for these events. Maybe you'd like to teach a class, provide a service, or help build exhibits! Just email them at
AdventureChildrensMuseum@gmail.com
with "Volunteer" in the subject line and let them know who you are and what you'd like to help with.
Volunteers must be able to pass a background check as they will be working directly with children. Adventure! Children's Museum will gladly keep a time sheet for any student wishing to volunteer for the purpose of class credit or to fulfill any graduation requirement. For more information, pick up a flyer in the College & Career Center or visit
www.AdventureChildrensMuseum.org
SPRING CREEK ELEMENTARY CARNIVAL VOLUNTEERS NEEDED
Spring Creek Elementary School is looking for volunteers for their
Carnival!
Thursday, June 9th from 2:30-9pm. There is no limit on volunteers, the more help the better....
Jobs include...
2:30-6pm Set up
6-8pm Working in booths
8-9pm Clean up
If interested, please contact Keri Brown at
springcreekpto@yahoo.com
or call the school at
541-790-4870
GET INVOLVED during the 2016 OLYMPIC TRIALS with F.A.S.T... First Aid Service Team!
WHAT
:
the 2016 Track & Field Olympic Trials
WHEN:
July 1st through July 10th
WHERE
: Hayward Field - Eugene
TIME:
Average shifts are 4-6 hours long
SUMMARY:
F.A.S.T. will work alongside Emergency Medical Services
to provide first aid medical response during the ten-day event.
How to get involved:
Sign up for a Red Cross volunteer account at:
www.redcross.org/local/or/volunteer
Youth volunteers are partnered with adult volunteers, and the majority of F.A.S.T. members are between 14 and 21 years old
For questions about FAST, contact the recruitment officer, Samantha Shall at
sshall@uoregon.edu
Benefits to you:
Receive FREE CPR/first aid/AED and Blood born pathogen training as a Red Cross Volunteer
Receive volunteer hours through the Red Cross for high school and college requirements
Gain access to the Olympic Trials venue for a unique experience in Eugene
Get hands-on experience treating patients with minor health conditions
Be a part of a really fun group of people
Get a FREE Red Cross T-shirt
See posted flyers or pick up a flyer in the College & Career Center Rm 209
JOB/ APPRENTICESHIP OPPORTUNITIES
CMS (Crowd Management Services)
CMS are looking for friendly, outgoing, energetic, and team-oriented individuals to work as Customer Service Ambassadors over the summer at large scale events throughout the Northwest. Employees will be trained to make decisions quickly, and will need to remain calm while involved in stressful situations. Customer Service Ambassadors must be willing to work outdoors in a variety of conditions and must be able to meet the physical requirements associated with the position. All employees must pass a federal background check and be at least 18 years old.
Pay scale: $9.25-$15.00/hr. To apply:
http://www.cmsprotectsfun.com/company-culture/future-employees/
Flyers posted or available in the College & Career Center
JOB OPPORTUNITY WITH THE EUGENE EMERALDS
The Eugene Emeralds are looking for fun, energetic, hardworking individuals to join the Emeralds for the 2016 Season! Positions available in food and beverage, ticketing, ushers, and more. Applications are available in the Career College Center Room 209. Completed applications can be....
COOPERATIVE WORK STUDY JOB OPENINGS
These are the Cooperative Work Study Student job openings for students 16 and older in the upcoming 2016/2017 school year:
Kelly Middle School – 1 position @ 1.75 hours a day
Madison Middle School – 1 position @ 1.75 hours a day
Awbrey Park Elementary – 1 position @ 1.75 hours a day
Corridor Elementary School – 1 position @ 1.75 hours a day
Spring Creek Elementary School – 1 position @ 1.75 hours a day
North Eugene High School Main Office – 1 position @ 1.75 hours a day
4J Library Services – 1 position @ 2 hours a day
In order to apply for any of these positions, students should bring their resume and the position(s) they wish to apply for to either Debbie or Liz in the Career College Center in room 209. After students turn in their resume, then Debbie and Liz will fax the resumes to the positions that the student wishes to apply for. The school or 4J department supervisor will contact the student to set up an interview and once the interviews are completed, the supervisor will notify the student(s) whom was selected to fill the position. Cooperative Work Study students earn $9.25 an hour, .5 elective credits each trimester and a P grade each trimester. Please see Debbie or Liz if you have any questions about this process.
STUDENT EMPLOYMENT OPPORTUNITY
Quantum Recruiters, a Preferred Staffing Partner for the City of Eugene, would like to invite North Seniors to explore the many summer job opportunities in the Public Works Department. Candidates must be at least 18 years of age and possess a valid driver's license. For more information, email
tracyo@quantumrecruiters.net
.
Exciting Outdoor Summer Job... Fighting Wildfires...
Forest Firefighting Training Provided
Training Classes Start Soon, apply at 1322 N. 30th St. in Springfield
See Flyer Posted near the Career College Center Room 209
~~~~~~~~~~~~~~~~~~~~~~~~~~~~~~~~~~~~~~~~~~~~~~~~~~~~~~~~~~~~~~
Lane County Manufacturing Industry Jobs and Apprenticeships
Advanced manufacturing businesses need good workers!! Types of Positions: Industrial Machinery Mechanics; Machinists; Electronic Technologists; Welders, Cutters, Solders, and Braziers; Computer-Controlled Machine Operators; and Tool and Process Control Programmers. Those interested should stop in the Career College Center and ask for a flyer.
_______________________________________________________________________
SCHOLARSHIPS
MARK A. FORESTER SCHOLARSHIP $1,000
Open to any student who is currently enrolled in an accredited American university or college, or will be enrolled in the fall/summer of 2016
. Senior Airman Mark A. Forester was killed September 29, 2010, in Afghanistan while risking his life to save a fallen comrade. This scholarship is being awarded to honor his memory. Write a 300-500 word essay explaining how you go about honoring America's military heroes. Send the essay as part of the body of your email, no attachments please, with your full name, school you will be attending, and contact information to
scholarship@rockymountainmattress.com
DEADLINE: Emailed essay must be submitted no later than
MIDNIGHT
,
JUNE 1, 2016
.
ACACIA FRATERNITY MEN'S LEADERSHIP SCHOLARSHIP Up to $1,500
Open to high school seniors, males only, who will be attending OREGON STATE UNIVERSITY in the fall of 2016. Applicants are not obligated to join Acacia Fraternity or any other fraternity. Application is available online at http://groups.oregonstate.edu/acacia/
DEADLINE: JUNE 1, 2016
HORATIO ALGER CAREER AND TECHNICAL SCHOLARSHIP Up to $2,500
Open to high school seniors, must be US citizen, planning to enroll at a community college for the first time by fall 2016; strong commitment to pursue and complete a career or technical program at an accredited non-profit community college in the US; demonstrated financial need; perseverance in overcoming adversity; involvement in community service activities; must be under 30 years of age. Application is online at http://application.horatioalger.org/
DEADLINE: JUNE 1, 2016
LANECO FEDERAL CREDIT UNION SCHOLARSHIP $500
Open to high school seniors who are members in good standing of Laneco Federal Credit Union or have an immediate family member (parent or grandparent) who is a member in good standing; must have at least a 3.0 GPA Apply online at http://www.laneco.org/ and click on the SCHOLARSHIP link.
DEADLINE: 5:30 P.M., FRIDAY, JUNE 10, 2016
SIGMA PHI EPSILON BALANCED MAN SCHOLARSHIP $500 - $1,000
Open to high school seniors, males only, who will be attending OREGON STATE UNIVERSITY in the fall of 2016; applicants are not obligated to join Sigma Phi Epsilon or any other fraternity. Application is available online at http:osuspe.chapterspot.com (click on the BALANCED MAN link) Criteria: leadership, activities and achievements; honors, awards or scholarships; extracurricular activities; community involvement; work experience
DEADLINE: JUNE 10, 2016
ABBOTT AND FENNER SCHOLARSHIP $1,000
Open to high school juniors and seniors who will be enrolled in postsecondary institution (college, university, community college, vocational/technical school); must be at least 16 years of age. To apply for this scholarship, you will need to write an essay on the topic: Describe your educational career and life goals. Explain your plan for achieving these goals. Include your degree/major, why you selected it, and how this degree/major will help you achieve your goals.
DEADLINE: JUNE 15, 2016
BIG SUN SCHOLARSHIP $500
Open to high school seniors, student athlete, attending college in the fall of 2016 Submit an essay on the topic: How did your participation in sports during your high school years influence you? Has your participation influenced your career goals? Has your participation influenced how you relate to your family? Essays must be submitted online at athleticawards@bigsunathletics.com
DEADLINE: JUNE 17, 2016.
AES ENGINEERING SCHOLARSHIP $500
Open to high school seniors and juniors
. Does not require the applicant to take engineering courses to be eligible. Submit an essay of no more than 1,000 words on the topic: When you look back on your life in 30 years, what would it take for you to consider your life successful? What relationships or accomplishments will be important on this journey? Submit your essay to:
scholarships@aesengineers.com
For more information, visit the AES website at
http://www.aesengineers.com/scholarships.htm
There is no application packet for this award. Please do not submit a résumé. Be sure to include your full name as well as the name of the school you are currently attending in 2015-2016, and your plans for 2016-2017.
DEADLINE:
OCTOBER 6, 2016
.

STAND FOR CHILDREN "BEAT THE ODD" SCHOLARSHIP $2,500, RENEWABLE
Open to high school students, CLASS OF 2017, who has maintained at least a 3.0 GPA showing effort, improvement or success; has succeeded in spite of hardships such as poverty, disability, homelessness, or personal tragedy; has participated in activities that are helpful to others; has demonstrated financial need; must be accepted into a two- or four-year college program. Apply online at
http://stand.org/oregon/beat-the-odds/apply
DEADLINE: TUESDAY, SEPTEMBER 13, 2016, AT 11:59PM
---
---
---
¡BUEN DIA PADRES!
Necesitamos un

padre que puede

traducir del

Inglés

al

Español

para este

boletín de noticias para

el resto de este

año

.

Puedo

entrenar a

usted!

Por favor,

póngase en contacto con

northeugeneparents@gmail.com

.
---
---