Next Meeting on our Railroad Station Project:
Today, August 14, 2014
2:00 p.m.
Nicholson Fire Company Hall
Main and Walnut Streets in Nicholson.
Light Refreshments Available.
Next Nicholson Heritage Association Meeting:
Wednesday, August 27, 2014 at 7:00 p.m.
First Presbyterian Church
65 State Street
Nicholson, PA 18446
Steamtown National Historic Site's
Railfest 2014!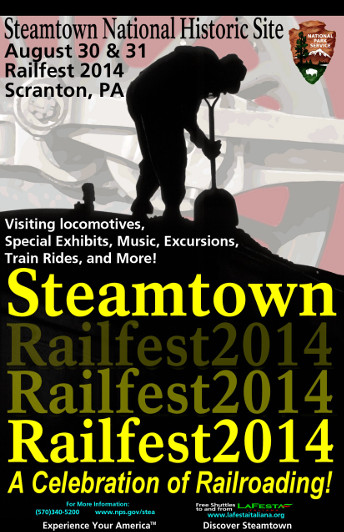 Labor Day weekend where there will be visiting equipment displays, special shop demonstrations and train rides on Saturday, August 30 and Sunday, August 31. Special Event Opening Ceremony: August 30, 10:00 a.m.
http://www.nps.gov/stea/planyourvisit/railfest-2014.htm
Nicholson's Bridge Day
Sunday, September 14, 2014
9:00 a.m. - 4:00 p.m.
Main Street
Nicholson, PA 18446
A day filled with musical and stage performances; over 60 vendors offer crafts, collectibles, food, children's games raffles and more. Chicken barbecue starts at 11:00 a.m. Call 570-942-6747 with questions or vendor information.
Martin's Creek Artists Annual Art Exhibit
Saturday, October 4; 9 a.m. to 4 p.m.
United Methodist Church

64 State Street
Nicholson, PA 18446
For more info, please call 570-942-6995 or 570-942-4489.