Dear Josh,


We hope this note finds you well. We hope to see you at our upcoming meetings.

Have a great weekend!

---
Save the Date:

Nicholson
Heritage
Association
Meeting on our Railroad Station Project:
Nicholson Fire Co. Hall
Main & Walnut Streets

Next
monthly

Nicholson Heritage
Association
First Presbyterian Church
---
For more information, click on the
---
Check out our latest brochure on Nicholson, the Nicholson Bridge, and the Viaduct Valley Way Scenic
Byway!
Click
here
.
Public Meeting to be held
on Railroad Station Initiative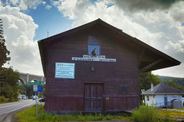 The Nicholson Heritage Association (the Association) will hold its second public meeting on their effort to rehabilitate the historic Delaware, Lackawanna and Western Railroad's (DL&W) Station in Nicholson.
The Nicholson Tourism Center at the Historic DL&W Railroad Station is moving forward and the public is invited to attend a second public meeting to thank those who have helped with the initiative and to provide an update on the economic development effort. The meeting will be held at 2:00 pm on August 14, 2014, at the Nicholson Fire Company Hall on Main and Walnut Streets in Nicholson. Light refreshments will be served.
With an Endless Mountains Heritage Region (EMHR) grant through the PA Department of Conservation and Natural Resources (DCNR), the Association earlier this year completed a feasibility study to evaluate the rehabilitation of the station into a community and visitor's center. The Association worked with Facility Design & Development and The Institute for Public Policy & Economic Development, both of Scranton, on this portion of the overall project. The Nicholson Tourism Center at the Historic DL&W Railroad Station will promote tourism and attract visitors to the region by being a visitor's center linking to the Viaduct Valley Way Scenic Byway and Steamtown, as well as a provide a place for community events.
---
Logo Contest!

We are looking for the perfect logo to memorialize the 100th anniversary of the Tunkhannock Viaduct, or the Nicholson Bridge as we locals call it.

The logo will have to adapt from being placed on small to large items. All submissions should be signed by the creator. We will select the winner in September of this year. The winner will received a framed copy of the logo.
All entries become the property of the Nicholson Heritage Association. Please mail logos with your contact information by August 31 to us at P.O. Box 496, Nicholson, PA 18446.
---