Hello, friend or future friend!
We hope your fall is going nicely! Read on to see what we are up to (and read the left red sidebar for upcoming trainings). Contact improvisation news is at the bottom. If you do NOT live in Oregon, please send us an email about where you live so we can send news most relevant to you. Happy Holidays!

DanceAbility, University of Oregon Dance Department present "Spectrum"!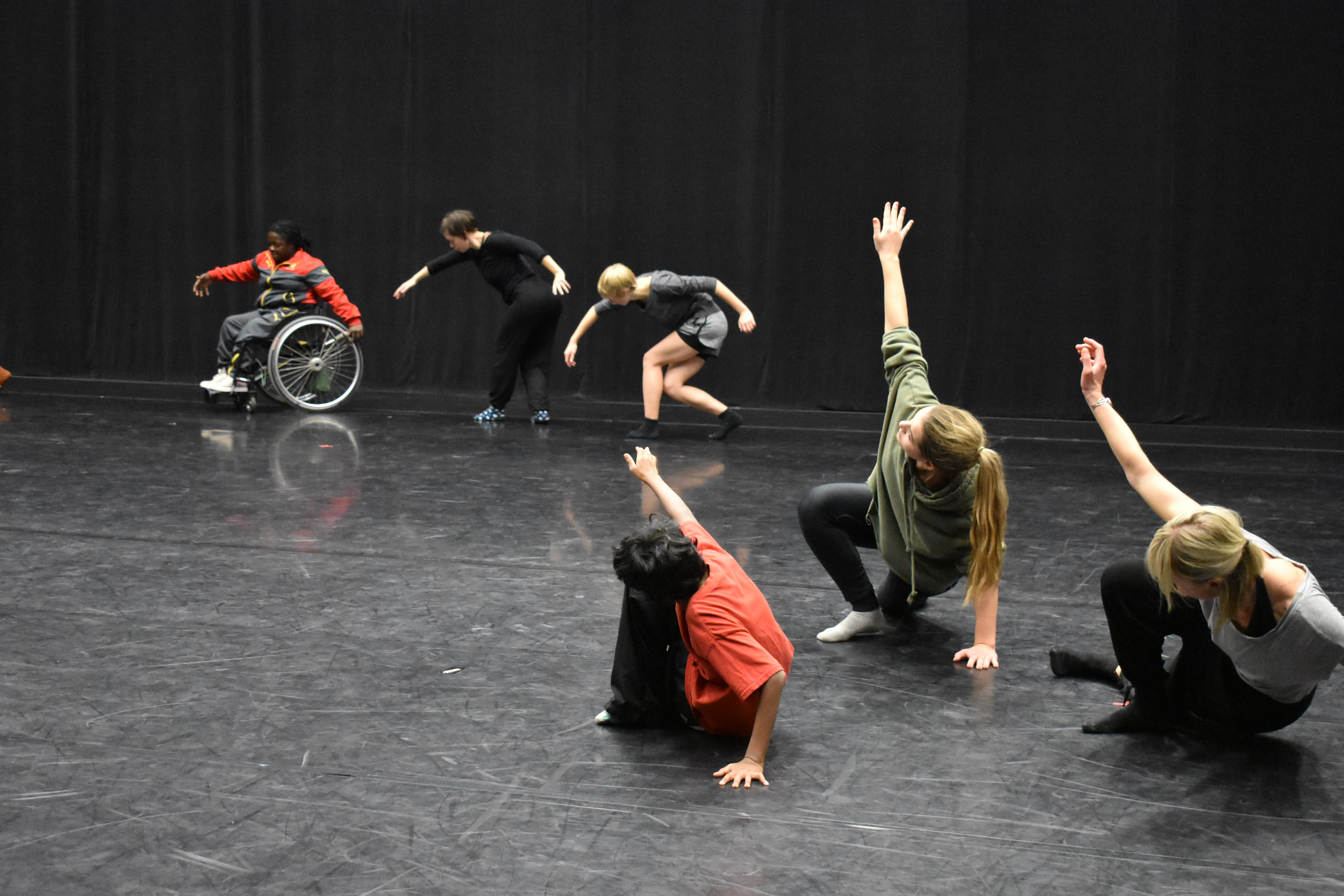 DanceAbility rehearsing with UO dancers. Back group, left to right: Ruth, Jana, Kaitlyn; front group, left to right: Bakul, Julia, Assistant Professor Shannon Mockli)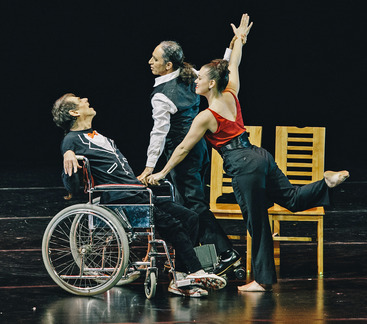 Emery Blackwell, Alito Alessi and Jana Meszaros performing the original dance composition "Third Wheel" in Shanghai, 2017.
---


WHEN: Thursday, Decemeber 7, 7:00 - 8:00pm

WHERE: Dougherty Dance Theater, Gerlinger Annex, UO Campus
ADMISSION PRICE: FREE
Please RSVP by clicking here.

DanceAbility International, directed by Alito Alessi, and UO senior dance majors, directed by Shannon Mockli, will co-produce a collaborative concert, "Spectrum", on December 7, 2017 at 7PM at the Dougherty Dance Theater in Gerlinger Annex at the UO Campus also featuring choreography by Alito, and by Jana Meszaros. Admission is free. DanceAbility International is a local dance company that focuses on bringing people of all abilities and disabilities together through dance and movement. The senior undergraduate dance majors have been studying the DanceAbility method this term alongside community dancers with disabilities. The concert will be one hour long, with no intermission.

We talked with Ruth, a community member and wheelchair-user who has been participating in the UO dance class which Alessi has been guest teaching. She shared a fascinating story about activism, disability and being forced to leave her home in Cameroon. This is a summary of our conversation.
"I am from Cameroon in Central Africa. I contracted polio at age three. My family put me in an institution, where I grew up. After my release, as an adult, I became an activist for women's rights and disability rights in the country.
I left Cameroon because of the worsening scarcity of the medical supplies and care I needed, and because of an increasingly unstable and violent political situation, with the arrest of hundreds of dissidents, censorship, and shutdowns of the internet in an attempt to stifle further dissent.
I arrived in the United States seven months ago, and I settled in Eugene. I have always wanted to find a platform to motivate women with disabilities to appreciate their bodies and what they can do with them. This desire is a perfect fit with DanceAbility. I am honored and humbled, and quite thrilled to participate in "Spectrum", since it is my first time performing. I enjoy using choreography in my own way. There is no right and there is no wrong. Being in a setting where everything is okay has sparked light in me. I will do my best, so I can inspire women to do the best they can, no matter what their disability."
This exchange this term has connected UO dance students to DanceAbility International, giving the student's skills to work with dancers with various disabilities. The presentation will include performance pieces by DanceAbility Company's award-winning choreographers and will feature a presentation by the UO dance students synthesizing their experience with Alito and the DanceAbility community.

Thanks to our company dancers who will be featured:

Maria Antonieta "Toni" Alvarez
Karen Daly

Kelcie Laube
Jana Meszaros
Bakul Willard

---
"Spectrum" and DanceAbility Dancer Karen Daly to Launch Her New Book, Joy Ride!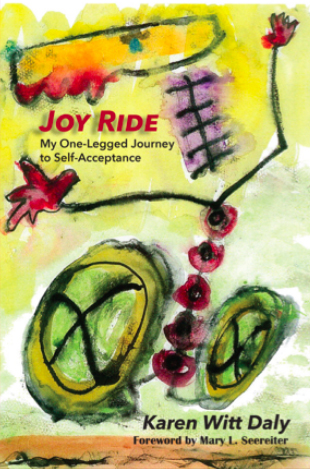 From the intro: Joy Ride
takes us through a decades-long search for something Karen Witt Daly felt she had lost, something vital to her aliveness and far more significant than losing her right leg to cancer at age 11.


With the discovery of a form of improvisational dance, clouds of doubt vanish and protective walls crumble, clearing the way for Karen to eventually understand the meaning of her search, then live the true purpose of her life.
When & Where:
Thursday November 30
5:30-7:30 pm
Slightly (Better) Coffee Roasters (formerly Barn Light East)
Refreshments * No host bar
Karen will have copies of the book available at the Spectrum show, as well.
---
Thanks to our generous sponsors!
• University of Oregon Dance Department
• Cascadian Couriers
And for general operating support:
• Lane Arts Council
• Oregon Arts Commission
• Larson Family Foundation
• Other anonymous donors

---
Contact Improvisation News

...from sister dance company, Joint Forces Dance Company:

The 2018 Breitenbush Spring Contact Improvisation Jam is March 15th - 23rd.
The Facebook Event page is here.
The
e-flyer about it is here.
Weekly Contact Improvisation Jams, Eugene
These are every Wednesday, 6:00 - 8:00pm, at Xcape Dance in the Knights of the Pythias Building, 420 W. 12th Ave., at 12th and Lawrence, year-round. Joint Forces Dance Company's Sara Zolbrod is one of eight Contact Collective members that runs these.

Jams start with a Guided Warm-Up or Mini-Lesson for the first half hour (6:15 - 6:45 sharp), and then switch into open contact improvisation dancing after that. $5 - $14, sliding scale. If you will need access accommodations (like the chair-lift up the stairs), please be in touch ahead of time.
---