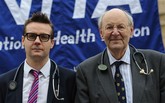 The National Health Action party had a very successful launch on Thursday 15th November in Westminster. The press room was packed and we had excellent media coverage on the day with mentions on all the major News Channels, including the BBC Today Programme, with live interviews on the BBC News Channel and BBC Radio 5 Live. We've also had lots of mention in the national and local newspapers. Please see all the links below.
The National Health Action party also went global as co-leader, Dr Clive Peedell, was interviewed live on national New Zealand radio by Kim Hunt, International Radio Personality of the year 2012! You can hear the full 23 minute interview here.
There was also an excellent radio feature about us on the Voice of Russia UK edition, which features committee member Dr Jacky Davis
This wouldn't have been possible without the backing of the party membership and we would like to thank you all for supporting us and becoming members. A special thanks to all of you who came to Westminster to support us on the day of the press conference.
Please continue to support us and spread the word about the party by e-mailing your friends and using social media. We truly believe we can make a big impact at the next election, but we need the strongest possible membership base to mount an effective campaign.
The NHS needs YOU!
Main Media coverage: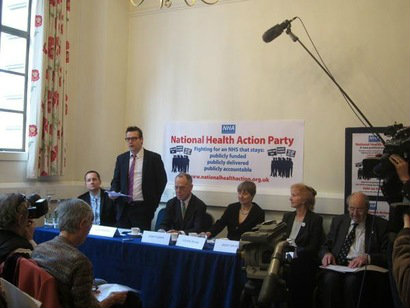 BBC
Doctors launch National Health Action party in London
Doctors set up new party to fight election on NHS
ITV
New political party launched "to protect NHS"
New party set to target seat held by Andrew Lansley
Channel 4
Can a new political party win seats on the issue of the NHS?
Sky News
National Health Action party is launched
Guardian
National Health Action is fighting to reclaim NHS
Clive Peedell: A party to save the NHS
Telegraph
Jeremy Hunt and Prime Minister to be targeted at 2015 election by new pro NHS political party
Mirror
Doctors launch new political party in fight to save NHS
Financial Times