Table of Contents
Officers' Message

Community Service

Conference

Steel Bridge

Concrete Canoe

Fundraising

Social

Outreach

My First Job

List of Events

ECUH Hunger Games Themed BBQ

Penny Wars

SSFM Mock Interview

PRESIDENT
Michelle Chinen
c: (808) 497-3599
mchinen@hawaii.edu
VICE PRESIDENT
Leanne Sakamoto
c: (808) 223-6402
leannems@hawaii.edu
TREASURER
Kristi-Ann Lee
c: (808) 233-8415
kanl@hawaii.edu
RECORDING SECRETARY
Keri Ann Ogoshi
c: (808) 351-7980
kogoshi@hawaii.edu
CORRESPONDING
SECRETARY
Alicia Fung
c: (808) 679-7351
aliciams@hawaii.edu
FACULTY ADVISOR
Roger Babcock
o: (808) 956-7298
rbabcock@hawaii.edu
PRACTIONER ADVISORS
Jon Young
Alicia Nakano
Officers' Message
We've had an overwhelming amount of involvement from our members this semester. General meeting attendance has remained at a steady 70 to 80 members and we've had great turn-outs to all of the events. We'd like to thank our members for coming out to meetings and events and getting involved in the committees. We appreciate your hard work and dedication throughout the semester.

We've also been fortunate to have guest speakers from various companies come to speak at our general meetings. We'd like to express our appreciation to SSFM International, Maryl Group, Swinerton Builders, and Moffatt & Nichol Engineers (M&N) for taking the time to share their knowledge and insights from a professional standpoint.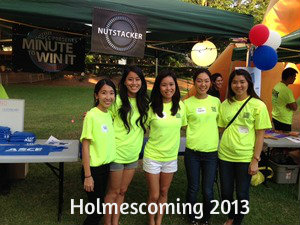 The ASCE student chapter also took part in Holmescoming. ASCE provided almost 60 volunteers for the event and was also in charge of a booth. "Minute to Win It" games were played at our booth and the concrete canoe and steel bridge were also on display. In addition, booths were judged for the chance to win cash prizes. Booths were judged on four basic criteria: Interactive, Informative, Creativity, and Decor. The ASCE booth won second place with a cash prize of $200. Thank you to our members for volunteering for this event and making it a huge success!
---
Community Service (Reyn Sugihara & Matthew Ota):

Hey Everyone,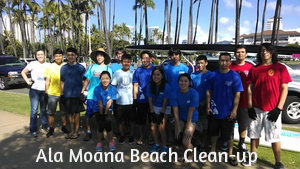 The Community Service Committee organized four events this semester. The first event we had was the He'eia Stream Clean Up, where we helped spread mulch on a stream bank to stop erosion. 30 students came to help with that event. The second event was the MIlilani Make a Difference day where volunteers were either sign waving or cleaning up graffiti. We had a great turn out of about 60 volunteers that came to the event. The most recent event was the Moanalua Junior Engineering Night, where we set up an activity for the kids to build a boat out of straws and saran wrap and float it in a pool to see how much weight it could take on. The boats were loaded with pennies until they sank. The highest record was a remarkable 160 pennies! This event had 15 ASCE members help out. These community service events have had very good member turnouts. Our last event of the semester was the Ala Moana Beach Clean Up on the 7th. We teamed up with the Outreach Committe to plan this event and invited students from various high schools particpating in civil engineering club. We appreciate all of the volunteers this semester, and hope that next semester will bring out even more people!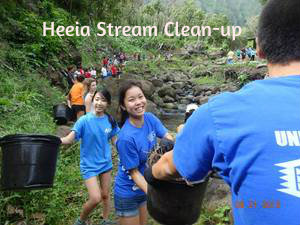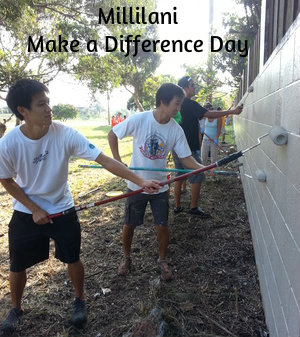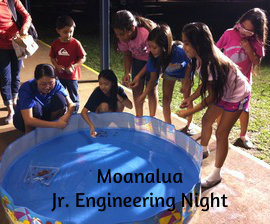 ---
Conference (Kenny Kwan & Simeng Qu):
The Pacific Southwest Conference (PSWC) is an annual event with eighteen participating universities around the pacific southwest region. The PSWC rotates a hosting school every year and will be hosted by San Diego State University in San Diego from April 3rd through April 5th, 2014 this year. The various events and competitions within PSWC help college students apply and strengthen their knowledge over their years of study and, most importantly, acquire vital skills that can be applied in and out of the work force. Although conference is a few months away, we will need to get the ball rolling for technical and miscellaneous event practices. Expect to have meetings and practices during winter break to learn about your events, bond with team members and have fun. We will also hold practices for sports such as basketball, ultimate Frisbee and volleyball, come out and have fun! Be on the lookout for more emails for updates! Please contact us if you have any questions. Enjoy the rest of the semester and good luck on your finals! See you all during winter break!

---
Steel Bridge (Kristy Nakamoto):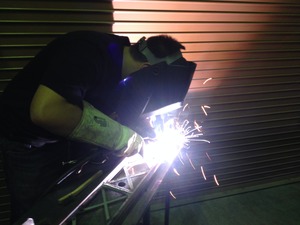 For Steel Bridge this year, we have been having a great turn out of students interested in participating in the project. We have a basic design of the bridge and are waiting on it to be finalized. In the mean time we will continue to fabricate sample connections and work on increasing our volunteers' fabrication skills so that we will be ready when the design is finalized. If you have any questions about the project or are interested in joining us, please feel free to contact me.


---
Concrete Canoe (Landon Sakai & Dominick Lasquero):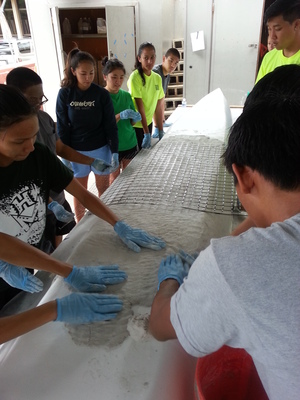 The Concrete Canoe has finally been made! On Saturday, November 30th, 32 people spent a total of six hours mixing concrete and applying it to a mold to create the Canoe. However, although the canoe has been made, there is still a lot to do. Captains Landon Sakai and Dominick Lasquero would like to thank everyone that have been involved thus far with the project, and encourage members to continue to come out and participate. The year has started well with a record number of team members, and the Concrete Canoe leadership hopes that they will build upon their success with the continued involvement and support of the team.
---
Fundraising (Amy Yagi & Jefferson Young):
Hey everyone,

Thanks to everyone's help, we have had a successful semester of fundraising! We started off the semester with the Baldwin Snack Packs fundraiser, which came in three varieties: Fun, Regular, and Pupu. This fundraiser was pretty successful and quickly sold out. The next fundraiser was the Pizza Hut Literacy Card, where vouchers were sold that could be redeemed at Pizza Hut restaurants for said card. The third fundraiser was the Festival of Giving Passports for Ward Center. Unlike the first two fundraisers, this fundraiser resulted in 100% profits. We also managed to get a booth at Ward Center, where we sold tickets, wrapped gifts, and manned a game. We would also like to thank all the volunteers that came to help us that day. The final fundraiser that we did was the VICE Nightclub event. We would like to thank Kim Long Le for planning most of this event as well as our committee members who helped us label and distribute tickets in such a short time span.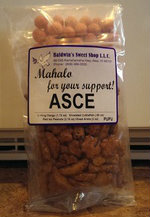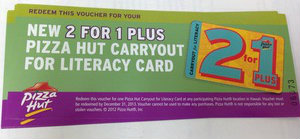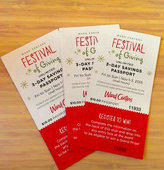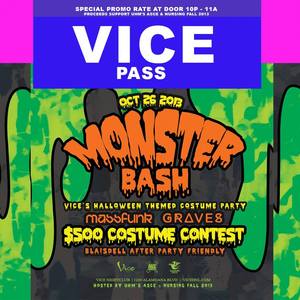 Next semester, we have a few fundraisers ready to go. The first one is the Zippy's Chili tickets that we will have ready to be sold by the first general meeting in January. We are also planning a car wash sometime next year, so keep an eye out for further announcements. We hope next semester is as successful as this semester, and we would like to thank everyone that has helped us so far.
Aloha!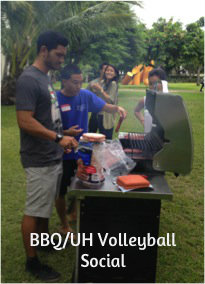 This past semester we have had a couple enjoyable socials where we could relax, unwind, and interact with other members, officers, and committee chairs. Our first social of the semester was a BBQ as we cheered for our UH Rainbow Wahine volleyball team against Cal State Fullerton. The last social of the semester was
a potluck at Magic Island, where we played volleyball, touch football, and water balloons; thank you to everyone who came out and brought food, there was about 47 members in attendance, a great turn out!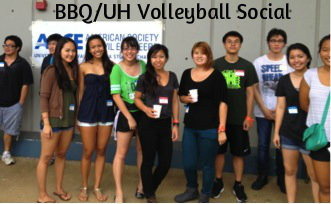 I would like to thank the
social committee for their hard work and helping to organize our events. The committee will be looking for ideas for future social events to look forward to during the next semester, which may include BBQs, potlucks, hikes, tailgates, and beach outings. As
always, the goal of ASCE social events
this year is to allow members to network and interact with their
peers. I
hope you all have a wonderful winter break.
Stay safe and happy holidays!

---
Outreach (Hazel Wong & Akira Ito):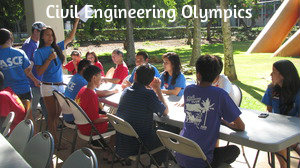 The Outreach Committee is responsible for coordination between the ASCE student chapter and high school civil engineering clubs. This year, the participating high schools are Pearl City, Punahou, Roosevelt and Saint Louis. The main event hosted this past semester was the first ever Civil Engineering Olympics. The goal of this event was to gain high school students' interests in civil engineering, introduce students from different schools to each other and to ASCE, in hopes that they would be interested in joining the ASCE student chapter as they
enroll in college. It was hosted at University of Hawaii at Manoa Holmes Hall ground floor on October 19, 2013, with participants from all four high schools. High school students were teamed up with students from another high school and the student chapter for their challenges, which gave them a chance to get to know other high school students with the same interests as well as learn about civil engineering and ASCE from student chapter members. The four challenges held were Paper Airplane, Office Chair Obstacle Course, Mathletics and Float Your Boat. The challenges were designed to utilize students' problem solving skills, team work, communication skills and creativity. With the support of all volunteers who assisted with planning and hosting the event, it was successful and positive feedbacks were gotten from participants.

The second event that the committee participated in was the High School Industry Challenge on November 8, 2013. Seven volunteers from the Outreach Committee helped scored and judged the Rope Challenge where each team of 5 high school students were to spell "ASCE" using three ropes and a pen in ten minutes. Prior to the first high school team, student volunteers attempted the challenge and thought it was more challenging than it seemed. When couple high school teams completed the challenge with impressive scores, the student volunteers were amazed and reflected on their strategies used.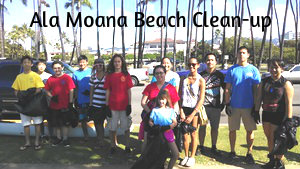 The most recent event that Outreach was involved with was the Ala Moana Beach Clean-up on December 7, 2013. This event was organized by the ASCE student chapter Community Service Committee, and high school civil engineering club members were invited to participate in hopes of further attracting high school student interests in civil engineering as well as the ASCE student chapter.
---
My First Job by Brian Enomoto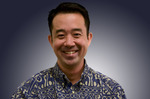 During college, I held a number of student internships, each providing me with a memorable learning experience and exposure to various facets of the field of civil engineering. Upon graduation from the University of Hawaii with my M.S. in Civil Engineering, what I consider my first engineering job was my employment at a structural engineering firm in Hawaii, affiliated with one of the nation's largest structural engineering organizations. This company provided me with both structural design experiences from the typical to the complex. This firm was also involved in the advancement of the profession, performing research on how wind is affected by the existing complex topography of the Hawaii Islands. What an eye opening experience for a young engineer!
As a young engineer, I was quickly humbled by the amount of learning a new engineer has to go through, no matter what the task at hand. A good engineering education provides each engineer with a "toolbox" to leverage the fundamentals of engineering in application of real world projects. Each project, large or small provided an invaluable learning opportunity, and I have come to realize that what made my first engineering job so memorable were both the successes and struggles that each and every engineer inevitably must go thru. Weather it was learning how to read and navigate the building codes to design a building, or interpret data to back a conclusion, I came to realize that an engineer is nothing more than a problem solver relying upon the principals of science and math.

Although I have since moved on in my career, what I consider to be my first engineering job has remained an invaluable stepping stone to my career as an engineer. I have been fortunate to have had many excellent mentors during my years and realize that no matter where you go, there are always challenges and opportunities in the engineering profession to make a real and lasting difference in the world.

Brian Enomoto is a University of Hawaii graduate and registered professional engineer. He is a Project Manager & Structural Engineer for Moffatt & Nichol. He is also the president of ASCE Hawaii Section.
ECUH Hunger Games Themed BBQ
Date: Thursday, December 12th
Time: 3:00 PM - 6:00 PM (BBQ), 6:00 PM - 8:00 PM (Movie)
Location: Holmes Hall Lawn (BBQ), POST 127 (Movie)
Please sign up at the following link:


https://docs.google.com/forms/

d/

1xrtXwEUBhDRzzpIQEfkqqSLBeUQ__

KSnfchHR5Ycs-k/viewform



Penny Wars
Donate Until: Thursday, December 12th
Location: POST 2nd floor computer lab
ECUH will be fundraising for the Phillippine Red Cross to help those affected by Typhoon Haiyan.
Rules:
1 penny = +1 point
1 nickel = -5 points
1 dime = -10 points
1 quarter = -25 points
1 dollar = -100 points
*The major with the most points wins 15 pts. towards Holmes Cup followed by 7 pts. and 3 pts. for second and third place, respectively. All donations will go to the Phillippine Red Cross.
SSFM Mock Interview
Date: Wednesday, January 8th
Time: 11:00 AM
Location: SSFM International (501 Sumner Street, Suite 620)
SSFM will be hosting five mock interviews with a BBQ to follow.
RSVP to Michelle at mchinen@hawaii.edu by Friday, December 20th.
*Please indicate if you would like to be one of the five interviewees.