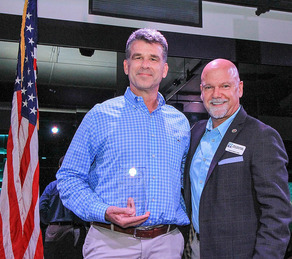 Above: Paul receives the Remodeler of the Year
Award from the Greater Orlando Builders Association
Associate Director Rick Caccavello.

At the Installation of 2017 Leadership & Yearly Awards Dinner for the Greater Orlando Builders Association (GOBA) held November 10, 2016, PSG Construction owner Paul Gidus was recognized with the
Remodeler of the Year Stephen D. Gidus Award
.
The award was renamed to the Stephen D. Gidus Award in 2015 to honor and recognize the contributions Paul's brother, Stephen, made to the building and remodeling industry.
"Receiving this award is obviously very emotional because of its ties to my brother and former business partner. I also consider it a great privilege to be recognized by my peers, and thank my clients for putting their trust in PSG over the years."
Paul served as the 2015-2016 Chair of the GOBA Remodel/Design Council.
Thanksgiving is a most appropriate time for me to express my sincere appreciation for your confidence and loyalty. My family and I--Tammy, Natalie, Lydia and Luke--send our best wishes to you and your loved ones for a happy and safe Thanksgiving!
Paul Gidus