Our discoveries in 2013
A brand new type of cell in our body!
Imagine after hundreds of years of looking we are still able to discover new cell types. A team headed by Professor Wolfgang Weninger discovered a new cell that plays a critical role in fighting infections, especially infections linked to eczema and allergies. To read our full story follow this
link
Junk DNA is useful in regulating how long cells live
A team headed by Professor John Rasko made this discovery with profound implications for cancer, especially cancers of the blood by using bioinformatics techniques not available until recent times. To read more about this discovery click
here
How prostate cancer grow
Dr Jeff Holst from our Origins of Cancer Laboratory and a team of researchers from Sydney, Vancouver, Adelaide and Brisbane showed that prostate cancer cells 'buff up' like body builders by eating more proteins. Since this takes place through a molecular gate new ways of treatment may be possible to shut this gate. Listen to Dr Holst talk to Radio 6PR about his discovery here
Research excellence
Centenary researchers recognised

This year a number of our researchers have been recognised for their excellence and contribution to their fields. We are delighted to share some of these with you.
Dr Greg Fox
won the annual Rita and John Cornforth Medal for the highest quality PhD thesis across the University of Sydney and for contributions to the University and broader community. Read Dr Fox's story
here
Professor Wolfgang Weninger
, who heads up Centenary's Immune Imaging program, was announced joint winner of the prestigious RPA Foundation Medal. Read Professor Weninger's
story
Professor Geoff McCaughan head of Centenary's Liver Injury and Cancer research program and director of the Australian National Liver Transplant Unit at the Royal Prince Alfred Hospital won this year's Distinguished Service Award of the International Liver Transplantation Society (ILTS). Read Professor McCaughan's story
here
Public support is vital
We are reliant on the Australian Public to support our work
Whilst we receive government grants and support from private trusts particularly for large projects, we are reliant on the Australian public to support our work – donor funding and bequest income are vital to us.
You may not realise just how critical donations from our donors and the public are. For every $1.00 of research income we receive we must find an additional 60 cents to fully fund our programs – donations from the public are an invaluable contribution to this.
Imagine if you played a role in our next scientific breakthrough - with a donation to the Centenary Institute you have the chance to be at the forefront of medical research
Donate
today.
Stay in touch with our work
Visit our website, follow us on twitter or like our facebook page
Don't forget to engage with our digital and

social media for all our latest news and activities.
We actively share our news and updates via our social media channels - following us on
Twitter
liking our
Facebook
page and saving our
website
and
YouTube
in your favourites will ensure you can keep up to date with all that we do.
The image featured in this article was awarded the 2013 Centenary Institute Scientific Image Prize. The annual prize enables our researchers to tell 'the story' of their work through imagery, in the most creative context. Congratulations to Dr Ka Ka Ting from our Vascular Biology group who created this year's winning image titled 'The Eye of Sauron'. To see more on the 2013 prize follow this
link
Have you read our latest Annual Report?
Our latest Annual Report highlights our work in

2012.
Centenary operates on a calendar reporting year - our next Annual Report will be available mid 2014.
Follow this
link
Give a special gift this Christmas
It's not too late for a last minute Christmas gift to Centenary
Still trying to find those last minute special gifts?
Why not make a donation to the Centenary Institute in lieu of a Christmas gift to your loved one.
To donate click
here
Share your belief in Centenary
Your support of Centenary is invaluable and important to us - share your belief in our work with your friends and family.
Forward this message to a friend
this message to a friend
News and highlights
$1 million grant a major boost to immune research
A $1 million grant from the Ramaciotte

Foundation will help Centenary establish the Ramaciotti Centre for Human Systems Biology.
Centenary's Professor Barbara Fazekas de St Groth and Dr Adrian Smith along with Professor Nicholas King from the University of Sydney gained this prestigious grant to purchase Australia's first CyTOF (cytometry by time of flight) mass spectrometer.
To read our full story click here
Golden staph paralyses our immune defences
When golden staph enters our skin it can

identify the key immune cells and 'nuke' our body's immune response.
Now we know how, thanks to an international research group led by dermatologists from Centenary and the University of Sydney. Golden staph (Staphylococuus aureus) is the multi-drug resistant bacterium that is the scourge of hospitals.
Staphylococuus aureus kills many, many people around the world. In fact, in the industrialised world, it kills more than tuberculosis and AIDS put together.
To read our full story click here
New centre set to stop TB in ageing Aussies
A $2.5 million, six-nation initiative to fight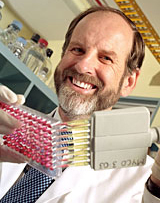 tuberculosis has opened at the Centenary Institute, bringing together over 14 institutes.
Tuberculosis (TB) once killed more Australians than cancer. In 2011 we saw just four deaths. But the fight against TB is getting harder, particularly with Australia's ageing population being more vulnerable and our nearest neighbour, Papua New Guinea, has more than 70 times the cases.
The Centre for Excellence in Tuberculosis Control (TB-CRE) was set up to link researchers in six countries to improve TB control, with the ultimate goal of eliminating TB transmission in Australia, and contributing to the world-wide campaign to eliminate TB by 2050. It is funded by the NHMRC, the National Health and Medical Research Council.
To read our full story click
here
Creative Prize champions the future of research in Australia
The Centenary Institute Lawrence Creative

Prize is a small step towards recognising that the most creative medical research is often done by researchers early in their career - at a time when it's hardest for them to secure funding.
Dr Connie Wong from Monash University was announced the winner of the 2013 Centenary Institute Lawrence Creative Prize at an announcement ceremony hosted by UBS Sydney. The $25,000 prize will help Dr Wong develop her ideas and research on how diet could prevent stroke deaths.
The two runners up were Dr Anne Abbott also from Monash University and Centenary's very own Dr William (Will) Ritchie.
To read about the ground breaking research work of our three finalists follow this
link
Future of Experimental Medicine Conference
The Centenary Institute will host the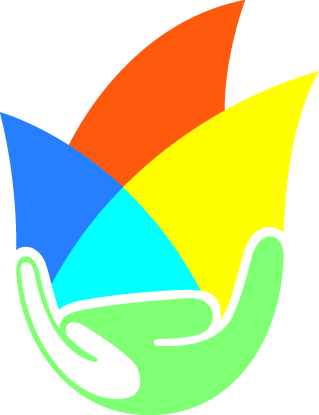 inaugural Future of Experimental Medicine Conference focusing on Inflammation in Disease and Ageing.
To be held in Sydney from 16 - 19 March next year this exciting conference will feature international and national speakers and we believe will give direction for this research area over the next 5 years.
If you would like to learn more about the conference follow this
link
A special thank you
Financial support to Centenary comes in many different ways
Specific donations, general donations, donations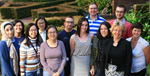 in memory, bequests, community fundraising, corporate, trust and foundation support - no matter how big or small every gift we receive is valued.
Our sincere thanks are extended to all our donors, supporters and organisations for your gifts - whether from your own belief in our work or in memory of a loved one we thank you.
2013 appeal highlights
Chronic diseases, skin disease and TB highlighted in 2013
Our appeals enable us to share our

advances and work in depth.
If you missed our appeals and would like to read about our advances in the areas of Chronic diseases, skin disease and TB please follow the links below.
Help us prevent Chronic diseases
Photograph by Dr Philip Tong