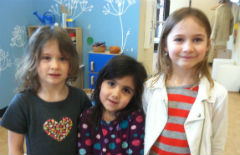 Zimmerman Community Center is offering licensed, after-school childcare for children, ages 4-7, beginning February 4, 2013.
The After-School Activities Program (A.S.A.P.) is an engaging, class adventure, and will provide working parents and parents in school or job training to improve their family's situation. A distinctive quality of A.S.A.P. is Zimmerman Community Center's emphasis on matching enrichment resources in the community -- including theatre, arts, engineering and dance programs -- with the families we serve. Contact Melissa Starrett with any questions.
A.S.A.P. is highly affordable, and the strategic thinking behind the program is built on extensive and ongoing public support. Businesses and individuals can respond to expressed needs, including underwriting of programs and scholarship assistance, to make high quality after-school care available to all children. Please contact Kris Moore for more information.
Zimmerman Community Center is a nonprofit organization with 501c3 determination by the IRS, and contributions are tax-deductible per federal ruling.