In this Issue / En esta edición
* Reports on Taro (Food Sovereignty) Conference and Treaty 42nd Anniversary Conference, Waimanalo, Hawaii // Reportes sobre las Conferencias Taro (sobre Soberanía Alimentaria) y del 42avo aniversario de CITI , Waimanalo, Hawaii
* IITC's International Work to halt Human and Treaty Rights violations at Standing Rock // Trabajo Internacional de CITI para detener las violaciones de Derechos Humanos y Derechos de Tratados en Standing Rock
* OHCHR Expert Meeting Addresses Human Rights impacts of Climate Change // La Reunión de Expertos del ACNUDH aborda los impactos a los Derechos Humanos por el Cambio Climático
* Advancing the New UN Mechanism for Repatriation of Indigenous Peoples sacred items at UNESCO // Adelantando el Nuevo Mecanismo de la ONU para la Repatriación de los artículos sagrados de los Pueblos Indígenas en la UNESCO, 27 de septiembre de 2016
* Annual Sunrise Indigenous Peoples Day Gathering on Alcatraz Island // Reunión de Alba Anual del Día de los Pueblos Indígenas en la Isla Alcatraz
* Indigenous Peoples' Annual Thanksgiving Sunrise Gathering // Reunión Anual de Alba de Acción de Gracias de los Pueblos Indígenas
Events & Training / Eventos y Entrenamiento
Support our work / Apoyen nuestro trabajo

IITC does not receive any state or federal funding for our work. Instead we are supported by the foundation grants and the generous support of private donors, friends and allies. Please consider contributing to support the work of IITC. Whether it be planned giving or a one time donation, any amount helps. IITC is a nonprofit 501(c)3 organizations and all donations are tax-deductible.
CITI no recibe recurso alguno de los Gobiernos estatales o federales. Dependemos exclusivamente de fundaciones y del apoyo generoso de donantes individuales, amigos y aliados para sustentar nuestro trabajo. Por favor, considere la posibilidad de contribuir económicamente al trabajo de CITI, ya sea mediante un apoyo permanente, o haciendo una donación única. Toda donación, por pequeña que sea, nos ayuda. CITI es una organización sin fines de lucro de acuerdo con el artículo 501, fracción c, inciso 3 del Código Estadounidense. Toda sus donaciones son deducibles de los impuestos en los EE.UU.
Para más información acerca de cómo pueden apoyarnos, por favor comuníquese con nuestra Directora Ejecutiva, Andrea Carmen, al andrea@treatycouncil.org ó (907) 745-4482.
Contact Us / Contáctenos
International Indian Treaty Council
2940 16th Street, Suite 305 San Francisco, CA
94103-3664
P | (415) 641-4482
F | (415) 641-1298
info@treatycouncil.org
IITC E-News prepared by Roberto Mukaro Borrero & Andrea Carmen

Translation: Tai Pellicier
Reports on Taro (Food Sovereignty) Conference and Treaty 42nd Anniversary Conference, Waimanalo, Hawaii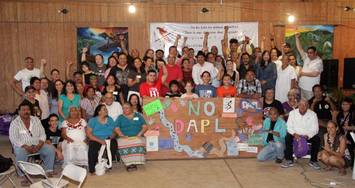 Participants of the 2016 Treaty Conference show support for
the Standing Rock Sioux Tribe // Participantes de la Conferencia de CITI del 2016 demuestran su apoyo a la Tribu Sioux Standing Rock
The Taro Conference and IITC's 42nd Anniversary Conference took place in Waimanalo, Hawaii, from September 7th - 11th, 2016. IITC affiliates, board members, and staff from throughout the Americas, the Caribbean and the Pacific attended the meetings. Discussions, ceremonies, cultural events and a series of resolutions and declarations were adopted as a platform for the IITC work over the next two years. Resolutions included, among others, a solidarity statement for the Standing Rock Sioux Tribe and the establishment of a food sovereignty zone in Shiprock, New Mexico.
Review conference resolutions:
Click Here

Reportes sobre las Conferencias Taro (sobre Soberanía Alimentaria) y del 42avo aniversario de CITI , Waimanalo, Hawaii


La Conferencia Taro y la Conferencia del 42avo Aniversario de CITI tomaron lugar en Waimanalo, Hawaii, desde el 7 al 11 de septiembre de 2016. Afiliados, miembros de la junta de directores y personal de CITI de todas las Américas, El Caribe y el Pacífico asistieron a dichas reuniones. Discusiones, ceremonias, eventos culturales y una serie de resoluciones y declaraciones fueron adoptadas como una plataforma para el trabajo de CITI por los próximos dos años. Las Resoluciones incluyeron entre otras, una declaración de solidaridad con la Tribu Sioux Standing Rock y el establecimiento de una Zona de Soberanía Alimentaria en Shiprock, Nuevo México.
Para revisar las resoluciones de la conferencia: Oprima aquí
IITC's International Work to halt Human and Treaty Rights violations at Standing Rock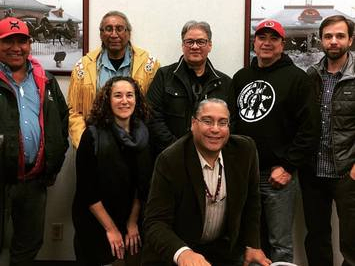 Cheyenne River Sioux Tribe Harold Frazier; Chief Arvol Looking Horse; Alyssa Johl; Grand Chief Ed John; Roberto Múkaro Borrero, IITC; Standing Rock Sioux Tribe Chairman, David Archambault II; Baskut Tuncak, Special Rapporteur on Human Rights and Toxics (In personal capacity) Standing Rock Reservation, October 29th , 2016 // Harold Frazier de la Tribu Sioux Cheyenne River; Jefe Arvol Looking Horse; Alyssa Johl; Gran Jefe Ed John; Roberto Múkaro Borrero, CITI; Presidente de la Tribu Sioux Standing Rock, David Archambault II; Baskut Tuncak, Relator Especial sobre Derechos Humanos y Tóxicos (en capacidad personal), Reservación Standing Rock, 29 de octubre de 2016
Grand Chief Edward John was invited to the Standing Rock Sioux Tribe (SRST) by its Chairman, David Archambault II to conduct a fact-finding mission at the Standing Rock Reservation in North Dakota, USA, from October 29th - 31st, 2016, in his official capacity as an expert member of the United Nations Permanent Forum on Indigenous Issues. He was accompanied by Roberto Borrero, representative of the International Indian Treaty Council, as a Human Rights Observer, based on IITC's General Consultative Status, with the UN Economic and Social Council (ECOSOC). These visits follow-up on two urgent actions submitted by IITC and the Standing Rock Sioux Tribe, on August 19th and September 4th, 2016, addressing violations to Human and Treaty Rights taking place, as a result of the construction of the Dakota Access Pipeline. Grand Chief John and Roberto Borrero have released their reports and findings, which were presented to the Standing Rock Sioux Tribe, the United Nations and the United States. An invitation by the SRST to the UN Special Rapporteur on the Rights of Indigenous Peoples Victoria Tauli-Corpuz has been accepted and is currently in process.
For complete text on these reports, IITC's Press Releases, urgent action submissions and other related work: Click here
Trabajo Internacional de CITI para detener las violaciones de Derechos Humanos y Derechos de Tratados en Standing Rock
El Gran Jefe Edward John fue invitado a la Tribu Sioux Standing Rock (SRST, por sus siglas en inglés), por su Presidente, David Archambault, para que condujera una misión de investigación en la Reservación Standing Rock en Dakota del Norte, Estados Unidos, desde el 29 al 31 de octubre de 2016, en su capacidad oficial como miembro experto del Foro Permanente para las Cuestiones Indígenas de las Naciones Unidas. Fue acompañado por Roberto Borrero, representante del Consejo Internacional de Tratados Indios, como observador de derechos humanos, basado en el Estatus General Consultivo de CITI con el Consejo Económico y Social de la ONU (ECOSOC). Esta visita da seguimiento a dos acciones urgentes que fueron sometidas por CITI y la Tribu Sioux Standing Rock, el 19 de agosto y el 4 de septiembre de 2016, presentando las violaciones de Derechos Humanos y Derechos de Tratados que están tomando lugar como resultado de la construcción de la Tubería de Acceso Dakota. El Gran Jefe John y Roberto Borrero han dado a conocer sus reportes sobre los resultados, los cuales fueron presentados a la Tribu Sioux Standing Rock, las Naciones Unidas y los Estados Unidos. Una invitación por SRST a la Relatora Especial sobre los Derechos de los Pueblos Indígenas de las Naciones Unidas, Vicky Tauli-Corpuz, ha sido aceptada y está actualmente en proceso.
Para texto completo de estos reportes, Comunicados de Prensa de CITI, presentaciones de acción urgente y otros trabajos relacionados: Oprima aquí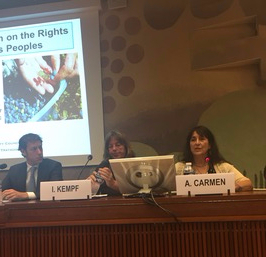 An expert meeting on Climate Change and Human Rights took place on October 6 - 7, 2016 at the Palais des Nations in Geneva. IITC Executive Director Andrea Carmen was invited to present on the Disproportionate impacts of Climate Change on the Rights and Ways of Life of Indigenous Peoples. Her presentation highlighted how Indigenous Peoples' human rights, ways of life, cultures, traditional subsistence and ecosystems are increasingly impacted by the causes and effects of climate change, as well as false solutions carried out without their Free Prior and Informed Consent, She also presented the human rights framework for addressing climate change from the perspective of Indigenous Peoples, based on the United Nations Declaration on the Rights of Indigenous Peoples and other international standards, as well as examples of local impacts and responses based on traditional knowledge and practices. This meeting also proposed ways that human rights must be protected in the implementation of the Paris Agreement, which was adopted by the United Nations in December 2015.
For additional information on IITC's Climate Change work page: Click Here
La Reunión de Expertos del ACNUDH aborda los impactos a los Derechos Humanos por el Cambio Climático


Una reunión de expertos sobre Cambio Climático y Derechos Humanos tomó lugar del 6 al 7 de octubre de 2016, en el Palais des Nations en Ginebra. La Directora Ejecutiva de CITI, Andrea Carmen, fue invitada a presentar sobre los Impactos Desproporcionados del Cambio Climático sobre los Derechos y Modos de Vida de los Pueblos Indígenas. Su presentación resaltó cómo los derechos humanos, modos de vida, culturas, subsistencia tradicional y eco-sistemas de los Pueblos Indígenas están siendo cada vez más afectados por las causas y efectos del cambio climático, al igual que las falsas soluciones que se llevan a cabo sin su Consentimiento Libre, Previo e Informado. Ella tambien presentó el marco de derechos humanos para abordar el cambio climático desde la perspectiva de los Pueblos Indígenas, basado en la Declaración de las Naciones Unidas sobre los Derechos de los Pueblos Indígenas y otros estándares internacionales, al igual que ejemplos de impactos locales y respuestas basadas en conocimiento y prácticas tradicionales. Esta reunión tambien propuso maneras en que los derechos humanos deben ser protegidos en la implementación del Acuerdo de París, el cual fue adoptado por las Naciones Unidas en diciembre de 2015.
Para información adicional de la página de CITI de su trabajo sobre Cambio Climático: Oprima aquí
Advancing the New UN Mechanism for Repatriation of Indigenous Peoples sacred items at UNESCO, September 27, 2016

Annual Sunrise Indigenous Peoples Day Gathering on Alcatraz Island

Indigenous Peoples' Annual Thanksgiving Sunrise Gathering