Contact Us / Contáctenos
Jackie Wardelo
1-405-683-5003 Jackie@treatycouncil.org
Stacie Jones
1-405-887-9753
Stacie@treatycouncil.org
Mayra Mendoza [ES]
1-510-725-8661 Mayra@treatycouncil.org
Nicole Yanes [ES]
1-520-313-7877
Nicole@treatycouncil.org
International Indian Treaty Council
2940 16th Street, Suite 305 San Francisco, CA
94103-3664
P | (415) 641-4482
F | (415) 641-1298
info@treatycouncil.org
---
40th Anniversary International Indian Treaty Conference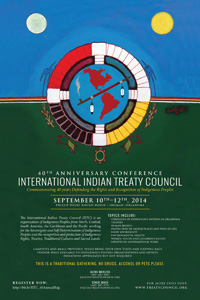 The International Indian Treaty Council (IITC) will hold its
40th Anniversary Treaty Conference
, September 10 – 12, 2014 in Okemah, Oklahoma. The theme of the Conference is "Commemorating 40 years Defending the Rights and Recognition of Indigenous Peoples".
Since its founding in South Dakota in June 1974, the IITC has worked to support the struggles of Indigenous Peoples and Nations for Treaties and Treaty rights, human rights, self-determination, protection of sacred places and ways of life, food sovereignty, environmental health and justice. IITC's work includes advocacy, information sharing, training and capacity building, legal and technical assistance, coalition building, standard setting and policy development that recognizes and respects the inherent rights of Indigenous Peoples.
We look forward to coming together at the 40th Anniversary Treaty Conference to celebrate and build upon our collective achievements, exchange experiences and knowledge, share our cultures, develop strategies in response to current challenges and make recommendations to advance our work and the struggles of Indigenous Peoples worldwide.
Please
visit our website
for additional information including registration, agendas, conference information for participants and information on purchasing ad space in our Commemorative Program.
We look forward to seeing you in Oklahoma!
---
Conferencia del 40º Aniversario del Consejo Internacional de Tratados Indios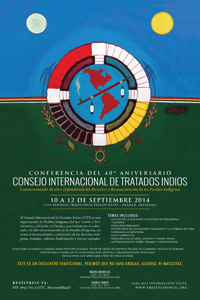 El Consejo Internacional de Tratados Indios (CITI) celebrara su
Conferencia de Tratados Indios, 40 Aniversario
, 10 a 12 de septiembre en Okemah, Oklahoma. El tema de la conferencia es "Conmemorando 40 años defendiendo los Derechos y el Reconocimiento de los Pueblos Indígenas".
Desde su fundación, en Dakota del Sur en junio de 1974, el CITI ha trabajado para apoyar las luchas de los Pueblos y Naciones Indígenas por tratados, derechos de tratados, derechos humanos, autodeterminación, protección de los lugares sagrados y formas de vida, soberanía alimentaria, salud ambiental y justicia. El trabajo del CITI incluye la promoción, el intercambio de información, la capacitación y el entrenamiento comunitario, el apoyo técnico y jurídico, la formación de coaliciones, y el establecimiento de normas y desarrollo de políticas que reconocen y respetan los derechos inherentes de los Pueblos Indígenas.
Esperamos con interés reunirnos en el 40º Aniversario de la Conferencia de Tratados para celebrar y construir sobre nuestros logros colectivos, intercambiar experiencias y conocimientos, compartir nuestras culturas, desarrollar estrategias para responder a los desafíos actuales y hacer recomendaciones para avanzar nuestro trabajo y las luchas de los Pueblos Indígenas en todo el mundo.
Por favor visite nuestro sitio web para obtener más información incluyendo registro, agendas, información de la conferencia para participantes y e información sobre la compra de espacio publicitario en nuestro Programa Conmemorativo.
¡Esperamos contar con su presencia en Oklahoma!
---
Support our work / Apoyen nuestro trabajo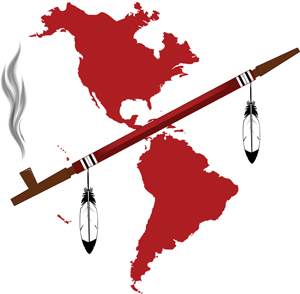 IITC does not receive any state or federal funding for our work. Instead we are supported by the foundation grants and the generous support of private donors, friends and allies. Please consider contributing to support the work of IITC. Whether it be planned giving or a one time donation, any amount helps. IITC is a nonprofit 501(c)3 organizations and all donations are tax-deductible.
For more information on supporting our organization, please contact Andrea Carmen, Executive Director at andrea@treatycouncil.org or (907) 745-4482. You can also donate directly through PayPal.
CITI no recibe recurso alguno de los Gobiernos estatales o federales. Dependemos exclusivamente de fundaciones y del apoyo generoso de donantes individuales, amigos y aliados para sustentar nuestro trabajo. Por favor, considere la posibilidad de contribuir económicamente al trabajo de CITI, ya sea mediante un apoyo permanente, o haciendo una donación única. Toda donación, por pequeña que sea, nos ayuda. CITI es una organización sin fines de lucro de acuerdo con el artículo 501, fracción c, inciso 3 del Código Estadounidense. Toda sus donaciones son deducibles de los impuestos en los EE.UU.
Para más información acerca de cómo pueden apoyarnos, por favor comuníquese con nuestra Directora Ejecutiva, Andrea Carmen, al andrea@treatycouncil.org ó (907) 745-4482