Sad news for the Indigenous Movement Family: IITC Co-founder Pat Ballenger (Anishnabe) Passes On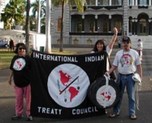 Beloved elder, IITC Board member, and co-founder Patricia Ballenger, Awanakwe ("Water Woman"), Anishnabe Nation, passed from this world on April 2nd 2015.
A lifetime warrior for the rights of Indigenous Peoples, she is shown here on left marching in support of Hawaiian Sovereignty at the Iolani Royal Palace in Honolulu on January 17th, 1993, the 100th anniversary of the illegal overthrow of the Hawaiian kingdom by the United States (with Andrea Carmen and Angel Valencia).
IITC honored Pat for her many achievements and contributions at the 40th Anniversary Treaty Conference in Okemah Oklahoma on September 10th, 2014.

See related article at:
In this Issue / Contenido en esta Edici
ó
n
* Follow-up Meeting on WCIP in Geneva / Reuni

ón

de Seguimiento en Ginebra sobre el CMPI
* Update: OAS Draft American Declaration on the Rights of Indigenous Peoples (OAS) // Versión actualized: Proyecto de Declaración Americana sobre los Derechos de los Pueblos Indígenas de la OEA
* Pit River Tribe and Allies Protest Proposed Geothermal Projects at Medicine Lake
*

Atención: Mensaje de Berenice Sánchez // Attention: Message from Berenice Sanchez
Events & Training / Eventos y Entrenamiento
Indigenous Peoples and the Post 2015 Development Agenda: Leaving No One Behind? 14th session of the UN Permanent Forum on Indigenous Issues, Location: Conference Room 4, UN Headquarters, Time: 13.15 - 14.30, Thursday, 23 April 2015
*
UNPFII 14: Indigenous Peoples' Food Sovereignty: From Community to International Action, April 25, NY // Soberanía Alimentaria de los Pueblos Indígenas: Desde la acción comunitaria a la internacional, 25 abril, NY
Resources / Medios
*
INDIGENOUS PEOPLES AND THE UNITED NATIONS POST-2015 SUSTAINAIBLE DEVELOPMENT GOALS:
Please sign up for our listserv for updates: http://bit.ly/IPMGSDGs
LOS PUEBLOS INDÍGENAS Y LAS OBJETIVOS DE DESARROLLO SOSTENIBLE DE LAS NACIONES UNIDAS MÁS ALLÁ DE 2015:
Para actualizaciones, suscríbase a nuestra lista de distribución:
http://bit.ly/IPMGSDGs
Contact Us / Contáctenos
International Indian Treaty Council
2940 16th Street, Suite 305 San Francisco, CA
94103-3664
P | (415) 641-4482
F | (415) 641-1298
info@treatycouncil.org
Support our work / Apoyen nuestro trabajo

IITC does not receive any state or federal funding for our work. Instead we are supported by the foundation grants and the generous support of private donors, friends and allies.
IITC is a nonprofit 501(c)3 organizations and all donations are tax-deductible.
For more information on supporting our organization, please contact Andrea Carmen, Executive Director at andrea@treatycouncil.org or (907) 745-4482. You can also donate directly through PayPal.
CITI no recibe recurso alguno de los Gobiernos estatales o federales. Dependemos exclusivamente de fundaciones y del apoyo generoso de donantes individuales, amigos y aliados para sustentar nuestro trabajo.
CITI es una organización sin fines de lucro de acuerdo con el artículo 501, fracción c, inciso 3 del Código Estadounidense. Toda sus donaciones son deducibles de los impuestos en los EE.UU.
Para más información acerca de cómo pueden apoyarnos, por favor comuníquese con nuestra Directora Ejecutiva, Andrea Carmen, al andrea@treatycouncil.org ó (907) 745-4482.




Report of the Meeting of Indigenous Peoples on the Follow-up to the World Conference on Indigenous Peoples (WCIP), March 3 – 6, 2015, Geneva
Update: OAS Draft American Declaration on the Rights of Indigenous Peoples (OAS)
Pit River Tribe and Allies Protest Proposed Geothermal Projects at Medicine Lake
Atención: Mensaje de Berenice Sánchez