CONTACT: Morning Star Gali, (510) 827-6719
THE INTERNATIONAL INDIAN TREATY COUNCIL HOSTS INDIGENOUS PEOPLES THANKSGIVING SUNRISE GATHERING TO CELEBRATE SURVIVAL AND SHARE "TRUTH IN HISTORY"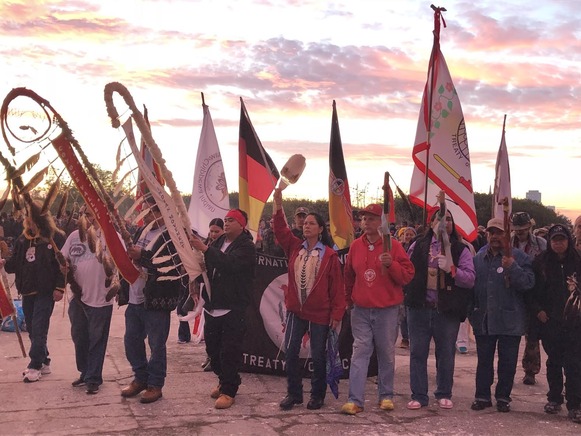 Indigenous leaders with sacred staffs and flags at Alcatraz Island 2017 Sunrise Gathering (Photo: IITC)


Alcatraz Island, San Francisco, CA: In the early morning hours of November 23rd, 2017 over 4000 people gathered on Alcatraz Island for the annual Indigenous Peoples Thanksgiving sunrise gathering organized and sponsored by the International Indian Treaty Council (IITC). Participants included leaders and presenters representing Indigenous Nations from throughout California, North America, the Caribbean, Latin America, Asia and the Pacific. Among the participants was former 49ers quarterback and anti-racism activist Colin Kaepernick whose well-known gesture of resistance to police brutality in this country and ongoing support for Indigenous Peoples' struggles were honored during the gathering. Colin briefly addressed the gathering saying, "Our fight is the same fight, we're all fighting for our justice & freedom...".

Speakers at the gathering called attention to ongoing struggles to protect their Peoples, sacred places and homelands from imposed development. The sacred fire, prayers, songs, dances, ceremonies and drums demonstrated the continued vibrancy of Indigenous Peoples' cultures and ways of life. Statements of thanks were given for the courage and commitment of the many ancestors, leaders and resisters who sacrificed so that these ways and practices could survive.

The gathering opened by honoring the original Indigenous inhabitants of the Bay Area with an Ohlone welcome. Indigenous leaders Lehman Brightman and Dennis Banks who recently made their journey to the spirit world, as well past leaders - including Richard Oakes, who were instrumental in the 1969 Occupation and Bill Wahpepah, who begin organizing the Alcatraz Sunrise gatherings on an annual basis as the Director of IITC's San Francisco Office in the early 1980's - were recognized and honored.

IITC has continued to organize the Indigenous Peoples Thanksgiving and the Day of Solidarity with Indigenous Peoples (AKA "Columbus Day") gatherings each year to tell the true history of these "national holidays" from the perspective of Indigenous Peoples and affirm Indigenous survival and resistance despite the often-invisible history of genocide and Treaty violations that were fundamental to the colonization of this hemisphere. These gatherings also commemorate the 1969 occupation of Alcatraz by the "Indians of All Tribes" 48 years ago this month. This occupation sparked the national and international Indigenous Peoples movement and planted the seeds for many successful Native American advocacy initiatives, including the work of IITC and other Indigenous Peoples at the United Nations, resulting in the adoption of the UN Declaration on the Rights of Ingenious People's 10 years ago.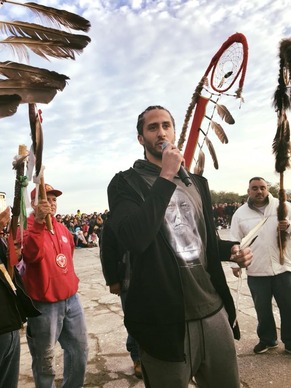 Former 49ers quarterback and anti-racism activist Colin Kaepernick
addressed the sunrise gathering organized and
hosted by the International Indian Treaty Council (Photo: Morning Star Gali)