In this Issue // En esta edición
* 3rd International Indigenous Women's Symposium on Environmental and Reproductive Health // 3er Simposio Internacional de Mujeres Indígenas sobre la Salud Ambiental y Reproductiva.
* 17th Session of the United Nations Permanent Forum on Indigenous Issues // 17a Sesión del Foro Permanente sobre las Cuestiones Indígenas de las Naciones Unidas
* Bonn Climate Change Conference // Conferencia sobre Cambio Climático de Bonn
* 44th ANNIVERSARY INTERNATIONAL TREATY CONFERENCE TO TAKE PLACE AT MATO PAHA (BEAR BUTTE) SACRED SITE IN SOUTH DAKOTA, JUNE 21-24, 2018 // CONFERENCIA DEL 44o ANIVERSARIO DEL CONSEJO INTERNACIONAL DE TRATADOS INDIOS EN EL SITIO SAGRADO MATO PAHA (BEAR BUTTE) EN DAKOTA DEL SUR, 21-24 DE JUNIO DE 2018


==========
The International Indian Treaty Council wishes to express our solidarity with our brothers and sisters affiliated with IITC, and to all of the people from Guatemala, due to the eruption and aftermath, including loss of life, by Volcán de Fuego. Our thoughts and prayers are with you.
// El Consejo Internacional de Tratados Indios se solidariza con nuestros hermanos afiliados en Guatemala y con todo el Pueblo Guatemalteco ante la erupción y consecuencias, incluyendo la pérdida de vidas, ocasionadas por el Volcán de Fuego. Nuestros pensamientos y oraciones están con ustedes.
Events & Training / Eventos y Entrenamiento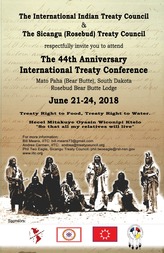 * For more information about IITC's work on Food Sovereignty: Saúl Vicente Vásquez, Food Sovereignty Program Coordinator, (Spanish), binizaa2002@yahoo.com.mx, and Nicole Yanes, IITC Executive Programs Assistant (English and Spanish), nicole@treatycouncil.org

Para más información sobre el trabajo de CITI relacionado a la Soberanía Alimentaria: Saúl Vicente Vásquez, Coordinador del Programa de Soberanía Alimentaria, (español), binizaa2002@yahoo.com.mx y Nicole Yanes, Asistente Ejecutiva del Programas de CITI, (inglés y español), nicole@treatycouncil.org


Featured Photo // Foto Destacada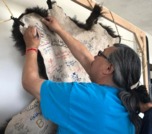 IITC Board member Ron Lameman, Confederacy of Treaty 6 First Nations, signs the buffalo hide "Winter Count" at the 150th Anniversary Commemoration of the Ft. Laramie Treaty gathering, April 29, 2018. IITC Board member Bill Means and Executive Director Andrea Carmen also participated in this historic event. // Miembro de la Junta del CITI, Ron Lameman, de la Confederación de Naciones Originarias del Tratado 6, firma la piel de buffalo "Winter Count" durante la reunión del 150o Aniversario y Conmemoración del Tratado de Ft. Laramie, el 29 de abril de 2018. Bill Means, Miembro de la Junta y Andrea Carmen, Directora Ejecutiva, ambos del CITI, también participaron de este histórico evento.
Support our work / Apoyen nuestro trabajo

IITC does not receive any state or federal funding for our work. Instead we are supported by the foundation grants and the generous support of private donors, friends and allies. Please consider contributing to support the work of IITC. Whether it be planned giving or a one time donation, any amount helps. IITC is a nonprofit 501(c)3 organizations and all donations are tax-deductible.
CITI no recibe recurso alguno de los Gobiernos estatales o federales. Dependemos exclusivamente de fundaciones y del apoyo generoso de donantes individuales, amigos y aliados para sustentar nuestro trabajo. Por favor, considere la posibilidad de contribuir económicamente al trabajo de CITI, ya sea mediante un apoyo permanente, o haciendo una donación única. Toda donación, por pequeña que sea, nos ayuda. CITI es una organización sin fines de lucro de acuerdo con el artículo 501, fracción c, inciso 3 del Código Estadounidense. Toda sus donaciones son deducibles de los impuestos en los EE.UU.
Para más información acerca de cómo pueden apoyarnos, por favor comuníquese con nuestra Directora Ejecutiva, Andrea Carmen, al andrea@treatycouncil.org ó (907) 745-4482.
Contact Us / Contáctenos
International Indian
Treaty Council
2940 16th Street, Suite 305 San Francisco, CA
94103-3664
P | (415) 641-4482
T | (415) 641-1298
info@treatycouncil.org
IITC E-News written and prepared by Andrea Carmen & Roberto Múkaro Borrero

Translation: Tai Pellicier
3rd International Indigenous Women's Symposium on Environmental and Reproductive Health
17th Session of the United Nations Permanent Forum on Indigenous Issues
Bonn Climate Change Conference
44th ANNIVERSARY INTERNATIONAL TREATY CONFERENCE TO TAKE PLACE AT MATO PAHA (BEAR BUTTE) SACRED SITE IN SOUTH DAKOTA, JUNE 21-24, 2018