---
---
FALL EXHIBITION
---
Art Essex Gallery
YOU'RE INVITED TO THE OPENING RECEPTION!
Selected Works: Catherine Christiano * Paul Shulenburg * Karen Woods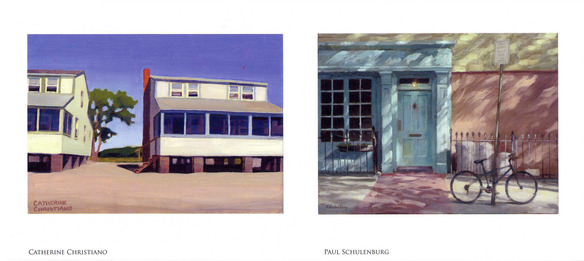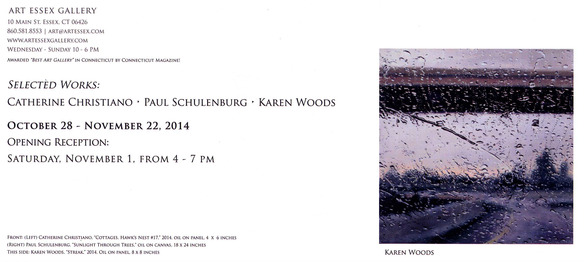 This exhibition will include a selection of my postcard paintings, landscapes, and still lifes on newspaper.
Opening Reception: Saturday, November 1, 4 - 7 pm
Exhibition Dates: October 28 - November 22
Art Essex Gallery, 10 Main Street, Essex, CT 06426
Hours: Wed - Sun 10 am - 6 pm
---
Old Lyme Historical Society Capital Campaign Gift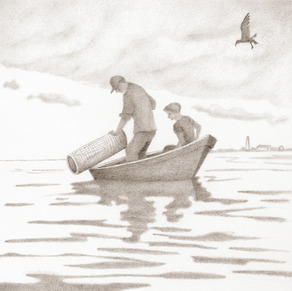 Catherine Christiano's Studio has announced an incentive to help the Old Lyme Historical Society meet its capital campaign goal. The campaign was launched for the purchase of the former Grange hall located at 55 Lyme Street and necessary modifications including a climate controlled archive, office space, and handicap access. All contributors making a donation at the $2,500 level and above by December 31 will receive their choice of one of four archival hand signed Poverty Island limited edition reproductions. For the additional reproduction images refer to the studio
website
. These fine reproductions are illustrations from
Poverty Island,
the first book published by the Historical Society. Written by Neri A. Clark,
Poverty Island
is a memoir of a young man's adventures and hard times during the Great Depression while living on a 500-acre island at the mouth of the Connecticut River.
Old Lyme Historical Society
55 Lyme Street, Old Lyme, CT
860-434-0684
email: info@oldlymehistorical.org
---
A Note from the Artist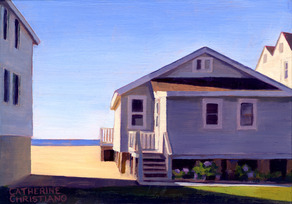 The first postcard paintings I created were for an exhibition I was invited to participate in back in 2005 at the now defunct Project Room 88, a delightful small exhibition space formerly located on East 88th Street in Manhattan. The exhibition was titled "Wish You Were Here" and the only stipulations were that works be the size of a standard postcard, 4 1/4 x 6 inches, and remain unframed. This opened up interesting possibilities. The title was evocative of mementos sent back home and the glossy idealized tourist images I collected as a kid. The small scale offered the opportunity for exploration without the time investment demanded of larger pieces. Also, the "framelessness" and intimate scale lent accessibility.
Ever drawn to the character of homes and the pictorial possibilities presented by structures and their interplay with light, I turned to the beach communities in my town of Old Lyme for my initial postcard pieces. While the paintings are small, their execution was by no means impulsive in nature. For each, the arrangement of design elements including line, color, space, and cropping was considered. However, my concern was not with design alone but to convey a sense of the inner life of the place. From time to time, since 2005, I have returned to the postcard format including a series from a trip to Ireland as well as some still lifes and broader landscapes. However, the Old Lyme beach cottages are a subject that I have continued to return to, like a favorite vacation destination.

---
Image Information from the top:
Precursors (detail in banner image), oil on newspaper on panel, original work is 11 1/2" x 13 1/4", 2014. Photo credit Paul Mutino.
(left image on invitation) Cottages, Hawk's Nest #17, oil on panel, 4 1/4 x 6 inches, 2014.
(right image on invitation), Paul Schulenburg, Sunlight Through the Trees, oil on canvas 18 x 24 inches.
(back image on invitation), Karen Woods, Streak, oil on panel, 8 x 8 ".
Poverty Island - Baiting the Eel Trap, Connecticut River, high resolution ink jet print of graphite original, 7 x 7", 2006.
Cottages, White Sands Beach #1, oil on panel, 4 1/4 x 6", 2014.
All images with exception of those by Paul Schulenburg and Karen Woods are copyrighted by Catherine Christiano, all rights reserved.
---
Did someone pass this newsletter on to you? Join our mailing list!
Newsletters are sent approximately three times a year.