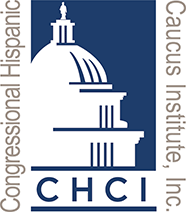 ---
BREAKING NEWS
CHCI-AA is is proud to announce the launch of its Presidential Appointment Initiative (PAI) in partnership with the National Hispanic Leadership Agenda. Click below to learn more!

---
CHCI Alumnus
of the Month
August 2013

---
Junior Alumni
Spotlight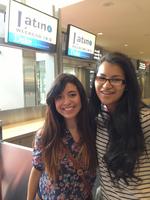 DID YOU KNOW?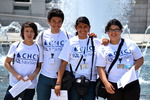 96% of R2L Next Gen participants have graduated high school and enrolled in college.
---
Upcoming Events
"Breaking Through: Latinos Advancing on to America's Boardrooms"
Monday, September 30, 2013


3:30pm - 5:00pm
----
"Cafecito with the Founders"
Tuesday, October 1, 2013
7:45am - 9:00am

----
RSVP by Friday, September 27th
Call 202-548-8798 or
email jarias@chci.org
----

---
Volunteer

Click to register:
Mentoring Power Hour
Monday, September 30, 2013
10:30 AM -- 12:00 PM
---

All events will take place at:
Walter E. Washington
Convention Center
Washington, DC
Letter from the CHCI-AA President

Dear CHCI Alumnus,

We are more than halfway through another exciting year for the CHCI Alumni Association and we have already welcomed 126 new Alumni into our Alumni familia - eight Graduate Fellows, 14 Public Policy Fellows, 22 Spring Interns, 42 Summer Interns and 40 R2L Next Gen participants!

The CHCI Alumni Association now has 2,721 members and as we celebrate the 15th Anniversary, our Quinceañera, we are positioning the organization for the future to better serve you, accommodate our growth, and continue developing the leaders our community and nation need at a critical time. [Read more]
Alumni Updates
CHCI Alumni are making their mark across all sectors - business, education, government, law, nonprofit, technology - the list goes on. Below are just a few of our Alumni success stories. ¡Felicidades a todos!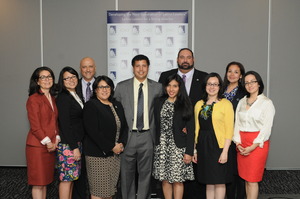 Alumni at 2013 Golf Tournament Dinner
View more photos on Facebook
Cosmo Latina recently published "Leaving My War-Torn Country", a three-part autobiographical story by Fabiola Carrion, 2001-2002 Fellow.

Darius Echeverria, PhD, 1998 Intern and Dean at Columbia and Faculty at Rutgers University, will publish his first book, prospectively titled Aztlan Arizona, in 2013 through the University of Arizona Press.
The research of Miryam Granthon-Gerdine, 1995-1996 Fellow, will be featured in the poster session at the upcoming American Evaluation Conference, following the publication of her work on the HIT and Disparities report by the HHS in May 2013.

Andrea Martini, 2002 Summer Intern, recently accepted an Adjunct Professor position at Broward College, Miami, FL, where she will be teaching immigration law. She was also elected Second Vice President of the American Immigration Lawyers Association South Florida Chapter in May 2013.
Did you start a new job? Move to a new city?
CHCI-AA wants to know!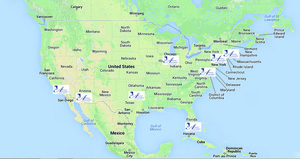 Regional Chapter News
Chicago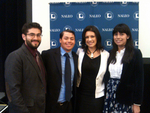 In support of the CHCI-AA Presidential Appointment Initiative, the Chicago Alumni Chapter participated in the National Hispanic Leadership Agenda (NHLA) briefing on Latino Appointments at the National Association of Elected Officials (NALEO) Conference in Chicago on June 29th.
Los Angeles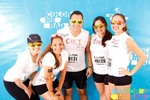 The LA Alumni Chapter participated in the Color Me Rad 5K run in June 2013. A portion of the proceeds from the Color Me Rad Los Angeles race benefited the Special Olympics Southern California.


Miami
On May 17th, the Miami Alumni Chapter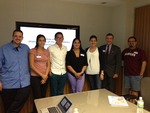 hosted "Like, Follow and Fan: Making Sense of the Social Media Sancocho" with presenter - and CHCI-AA executive board member - Jason Llorenz. Alumni gathered to learn exciting new ways to use social media to advance their careers.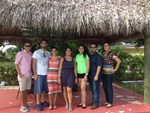 On June 30th, the Miami Alumni used their newly-learned social media skills to gather their fellow Alumni together for their annual Family BBQ Day.
---
Get Involved
CHCI-AA is proud to celebrate 15 years of support and service to the CHCI familia. Help us celebrate this milestone by giving back.

Your tax-deductible gift to the CHCI Alumni Association helps develop the next generation of Latino leaders through lifelong alumni engagement and leadership advancement.

Small gifts add up to BIG DIFFERENCES for CHCI Alumni.
Thank you for your support!
---
¡Bienvenidos, Junior Alumni!
We are excited to welcome our new Junior Alumni to the CHCI Alumni Association. Junior Alumni are all those who have completed the 2013 R2L Next Gen Program (formerly the High School Latino Leadership in DC Program).

In true CHCI spirit, our regional Alumni Chapters stepped up to welcome the graduates back to their respective home cities around the country.
Chicago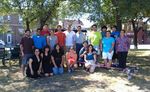 The Chicago Chapter hosted their second annual BBQ picnic on August 3rd to welcome back and celebrate the 2013 R2L Next Gen program graduates back to America's Second City.
New York
On August 15th, the New York Chapter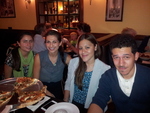 gave the Junior Alumni a warm homecoming - nothing like real New York Pizza for a "welcome back to the Big Apple!"



Phoenix
On August 10th, the Phoenix Chapter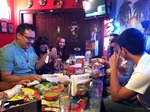 hosted brought together local Alumni with graduates from the 2012 and 2013 graduates of R2L Next Gen for an afternoon en familia.


To learn more about CHCI-AA's regional chapters, click here.
---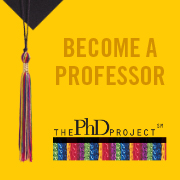 DID YOU KNOW? -- The Ph.D Project hosts an annual conference each year for minority candidates considering a PhD in business? Travel and conference expenses for selected attendees are paid for by The PhD Project.

Learn more at www.phdproject.org
The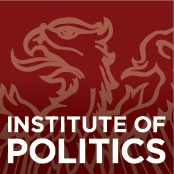 Institute of Politics at University of Chicago offers a unique Fellows Program that presents a unique opportunity for leading political practitioners (e.g. former elected officials, campaign strategists, political journalists, pollsters) to be in residence at the University of Chicago during an academic quarter.
Learn more at politics.uchicago.edu/page/fellows-program.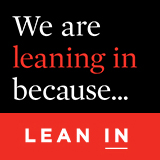 Ever wanted to start a group to help each other grow professionally, but weren't sure where to start?

Have you thought of joining a Lean In Circle?

Lean In provides easy-to-use tools and resources including a mix of thought-provoking videos and discussion guides.

CHCI-AA is looking for volunteers for its pilot Lean In circle. Click here to learn more.