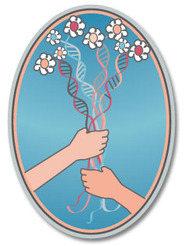 January 2013
Donor Sibling Registry Newsletter
Educating, Connecting and Supporting Donor Families

Greetings from
Wendy & Ryan!
We want to wish everyone a happy and
healthy 2013.
PLEASE NOTE: If you can't view the images in this newsletter, try clicking on the link above to view in a browser.
The DSR had its 12th anniversary in September. We now have more than 38,000 donors, parents and donor-conceived people on the site, and have helped more than 9,700 people (in 40 countries) match with their half-siblings and/or their donors!
As you can imagine, the expenses associated with helping so many people can be overwhelming. To help offset these costs, we're asking you to please re-join and support the DSR - your support is vital to the success of our organization. If you're already a member- thank you! Tax deductible donations are always appreciated
.
The DSR is a 501(c)3 charity organization, and we receive
no outside funding
, so we rely solely on support from our members. Again, a big thank you to those who have supported us in the past - we couldn't have done it without you.
WEBSITE NEWS
: In 2012 we undertook a large, comprehensive website back-end rebuild, including a complete security review, and the installation of a new content management system. The DSR site was originally built in 2003, so much of our code was becoming outdated - it was definitely time for the overhaul.
We were advised to recommend that DSR members update their passwords to more than 7 letters and numbers.
Site security and your privacy are of the utmost importance to us. It's for this reason that we have never, and will never, share any member information with any outside agency.
Check out three new website pages:
LGBT Families
: You might be surprised to know that LGBT families compose around one-third of all DSR members. This new page includes testimonials, articles, and a new blog from a DSR mom.
Donor Offspring
: We've included new writings and perspectives from donor-conceived children and adults, and some new information from our research. Great information for offspring, and for parents and donors.
These two new pages are located under the "DSR Support & Info" tab.
We have also added a new page called
Our Members
under the "About DSR" tab. This new page tells a little bit about the growth of the DSR and who our members
2013 RESEARCH: We'll be continuing our very successful research partnership with the Family Centre at Cambridge University in the UK. This year, we'll be conducting face-to-face interviews with 60 DSR families (parents and possibly children). We'll be focusing on families with adolescents (12-18) who live in and around NYC and have had contact with at least one sibling.
Our aim is to talk with 20 LGBT families, 20 SMC families and 20 two-parent heterosexual families. The idea would be to interview them about their experiences connecting on the DSR. Anyone interested? Please contact Wendy if you'd like to participate in this very important research!
2012 RESEARCH:
Click here
to see all of the DSR's research papers.
Papers Published in 2012:
2013 Upcoming Papers:
Collaboration with the University of California San Francisco's Human Genetics Institute: A study was undertaken that investigated the hereditary and environmental factors that influence physical, behavioral and medical traits among genetic relatives in the DSR. Paper will be submitted to Science.

The Journal of Family Issues: A New Path to Grand-parenthood: Parents of Egg and Sperm Donors
Our paper has been accepted for publication later in 2013. (The journal is apparently backlogged.)
Excerpt: "...third-party reproduction has implications not only for the donor, recipients, and offspring, but also for the parents of donors, who in increasing numbers are learning that they are the biological grandparents of one, or sometimes many, children born outside of their family."

We've almost finished our paper from the surveys we conducted on 1700 sperm donor recipients.
Look for two more papers on our donor offspring research: one has been accepted by Social Science and Medicine, and the other has just been submitted to Contemporary Perspectives in Family Research.
2012 MEDIA
CBS News:
Parents Sue New England Cryogenic Center (NECC) Over Child's Cystic Fibrosis
America Now
:
Rolling the Genetic Dice with a Sperm Donor.
Some sperm banks and egg clinics screen for some diseases, but few screen for potential genetically-inherited conditions. This article talks about the repercussions when thorough screening hasn't happened.
NY Times:
Donor Siblings, A New Kind of Family
. DSR mom Tamsin gives a narrative in the NY Times about the process of defining family, when donor-conception is involved.
NY Times:
In Sperm Banks, a Matrix of Untested Genetic Disease.
The case of a child with cystic fibrosis, which was genetically linked to the donor used to conceive him, highlights the need for more regulation of the sperm bank industry. In this case, the sperm had been purchased from New England Cryogenic Center (NECC) who had purchased it from a bank that is no longer in business, and it was at least 20 years old.
BioNews Commentary:
A call by the Donor Sibling Registry to stop using the figures of 30,000 - 60,000 US sperm donor births.

2012 PRESENTATIONS
In 2012 we continued our efforts to help educate the reproductive medicine industry about donor families.
9/12 ASPIRE (Asia Pacific Initiative on Reproduction) Conference in Osaka, Japan. Lunchtime talk by Ryan and Wendy: The Donor Sibling Registry - A Global Registry for Donor Families. We also also met with faculty at Keio University in Tokyo to discuss why donor offspring are curious about their roots, and how the Japanese can help to better educate the public and their own reproductive medicine industry.
7/12: ESHRE (European Society of Human Reproduction and Embryology), Conference in Istanbul, Turkey. Oral presentation: A survey of

1700 Sperm Donor Recipients

(women who have used donor sperm).
4/12 American Adoption Congress, Conference in Denver, CO. Wendy and Ryan participated in panel.
3/12 Pacific Sociological Association Conference, San Diego, CA. Our co-author Pat Jennings (CSU East Bay) presented: Sperm Donor Conceived Children Speak Out About Donor Conception.
3/12 CU Law School, Boulder, CO, sponsored by the Law Students for Reproductive Justice and the Health Law Society. Wendy and Ryan introduced law students to many of the issues surrounding donor conception.
2013
: We've been invited to present at the 15th Congress on Human Reproduction.
NEW BOOK COMING FOR DONOR FAMILIES!
We're almost finished writing a book for donor families that covers everything from disclosure, donor offsprings' curiosities, connecting with donors and half-siblings, to celebrating these new relationships and re-defining this new "family." It will be published by the Penguin Group later this year.
DSR TV SHOW
We're developing a new pilot for MTV News and Docs. Filming took place over the holidays, and we'll be editing for the next few months. Then, the pilot (hopefully episode #1 of a series) will be presented to MTV. Last year's pilot (linked on the DSR
homepage
) was nominated for an Emmy!
DSR Outreach
In November, we mailed educational materials and DSR brochures to more than 650 egg agencies and clinics and almost 200 reproductive attorneys. We invited them to educate their donors and recipient parents on the importance of connecting on the DSR. We continue to see more and more egg donors and recipient parents join the DSR together, establishing contact after, or even during, pregnancy. The information we sent is all located on the
Egg Donation page
of the DSR- check it out!
Alexis Rebane

In 2012, the DSR hired its first staff member! As Wendy and Ryan's long-time friend, Alexis is very excited to be a part of the DSR. She worked with Wendy for three years when the DSR was a young organization, and has watched it grow and develop over the past several years. Alexis has done an amazing job so far, helping with our outreach projects and continuing to work to develop the website.