Bettering the Lives of Millions of Babies?
We've got an app for that!
HHI's proud to team with HealthPhone to provide educational content to mothers of children age zero to three in India. A portion of HHI's mother training will soon be available to mothers in India via video on mobile phones. Its not actually an app, its way better!

This is great news for millions of new mothers and their babies in some of the most rural and underdeveloped areas of the world. HealthPhone's technology allows us to provide life-changing content to millions mothers and in that way better the lives of millions of babies we would otherwise not be able to reach.

HealthPhone content is distributed through microSD card which can be viewed on the majority of the more than 867 million mobile phones currently in use in India. The project will launch in Maharashtra in the coming weeks and plans to distribute the microSD cards to expectant mothers and those with children under the age of two across that state. The information can be viewed without a cellular connection and at no cost. This means that mothers will have their own personal health and nutrition video reference library, in their own language, to look after their children and family. She can use it when she wants, where she wants - amazing!!!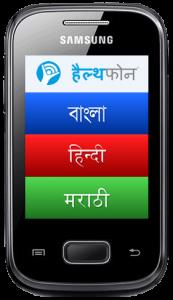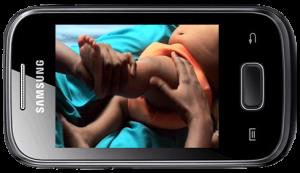 "HealthPhone is excited to have Hands to Hearts International's instructional video, in 24 languages, added to our library of resources for millions of mothers in India", said Nand Wadhwani, Founder of HealthPhone and The Mother and Child Health and Education Trust. "It furthers our joint goal of providing quality health education that is both meaningful and supportive to marginalized mothers."

HealthPhone makes health and nutrition content created by HHI, UNICEF, WHO, UNESCO, UNFPA, UNDP, UNAIDS, WFP and The World Bank easily viewable on mobile phones, available in up to 60 different languages - all at no cost and without the need for a cellular connection! HealthPhone is genius, and we are honored to be a part of their efforts to educate, empower and save lives!
Why say "no" when we could say "yes!"?


HHI Goes to Namibia - Recently a group of mothers in Namibia gathered with their babies to participate in HHI's first ever training in their country, all thanks to a young woman who was determined to make it happen.
Geri Kemper is from HHI's hometown of Portland, OR, but she's been living and working as a Peace Corps volunteer in rural Namibia for the last year-plus. She speaks the language, offers support, training and friendship to all of her new community. Recently, she made reached and made a bold request, "please bring HHI to the families of my community."

This is not how HHI normally works. It was outside our box. HHI's protocol is that HHI is always led via locals, for locals, in collaboration with a community or national organization. But... we were intrigued and inspired. HHI is not meant to be available for a few, no baby comes with an instruction manual, and Geri was living in this community, trusted by this community. We couldn't say "no", so we said "yes!". Read more and see the pics.
---



News & Updates:
Trot for Tots - A big Thank You to all our new friends, amazing volunteers and generous sponsors for making our first ever Trot for Tots such a great day and successful fundraiser! Our sponsors were: gDiapers Full Sail Brewing Co. Redbird Design Road ID SwapServe One Leg Crow BrewCycle Bank of America K & D Services See all the pictures from the day here.

New York Times: "Status & Stress"
An important article that gets to core of why HHI's work is critical and long lasting - check out the whole article & get a deeper look at issues of early childhood. NYT article
"A nurturing bond with a caregiver in a stimulating environment appears essential for proper brain development and healthy maturation of the stress response. That sounds easy enough, except that such bonds, and the broader social networks that support them, are precisely what poverty disrupts."